Hello friends, Today here I'll tell you how you can clear default application preference in Android Smartphone. As we know that there are lots of apps available for Android smartphone that can open or play any kind of file, Sometimes we install multiple apps that can open only same type of file (eg. Video, Music, Document or zip files). We install many Video Player for only for play movies or video song and multiple document reader or editor only for document reading & for editing. When we want to open the file in the Android smartphone, if we have installed multiple apps that can open those files, then we will get a Compete action using screen and we have the option to open that file with our desired app.
For example, we have installed two or more Video Players (eg. MX Player Pro, UX Player VLC Media Player etc.), If we play any movies or Video Song then we will get an option to choose an app to play your Movie or song.
If here, we accidentally select Always option. Its mean, we are giving default "file open with" power to that app. So If we did this by mistakenly then when we open the file, it will automatically open with default apps which we have selected. This creates the problem for us sometimes, because if the file is not fully supported by the app then we will not be able to open or play with other apps easily. So Should be careful here when selecting default app. Though if you have little a bit knowledge about how to reset default app preference then you can easily clear default application from settings. Or if you don't know more about this here I'll show you how to clear defaults application preference & reset it to Complete action using the screen.
Must See:
Clear Default app settings on Android Smartphone?
If you want to clear default application settings then first go to your smartphone Settings, In Settings, you will need to find Apps or Application manager (may differ on different devices). After finding, open the Apps or Apps manager.
In the Apps manager tap on All tab from the top bar. basically, in apps you will see five tabs: Download, External SD Card, Running, All, Disabled. So you can select any tab by swiping screen from right to left or Left to right. In All tab, you will get all System Apps or Downloaded apps list. Now scroll down & find your default apps from the list, When you get your app then tap on the app.
Now you will in  App info settings page, scroll down the page & tap on Clear defaults app option.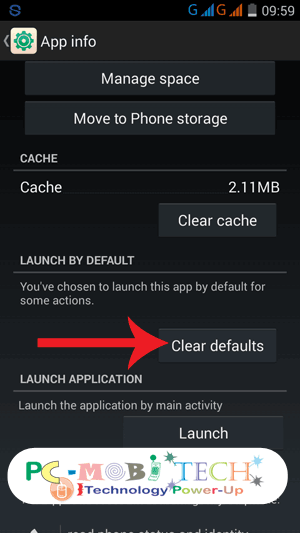 Now you have successfully cleared Defaults application preference & again you will see Complete action using screen & can select your favorite app for open your files.
Another way to clear Defaults application preference.
If you have a problem with above trick then alternatively you can try third party apps eg. Reset-the-default-app, and Launch-by-default. Download one of these, you will easily get your all defaults apps list and can remove default with 1 click clear defaults button.
In case you're using latest Android version Nougat or Oreo, then the many things are changed now, So read the post for resetting default apps on Android Oreo & Android Nougat.
Must-See: How to stop unwanted news stories on Google Now.
Thanks for Visiting.