Developer Options menu enables the Advanced features for Android Developers. Such as USB debugging, USB storage protection, Setup Desktop Backup Password, Control Phone Animations speed, Force-Enable FXAA For OpenGL Games, See Background process, Show your Fake GPS Location, Stay Awake While Charging, Show CPU Usage etc. Developer options contain some advanced features and only useful for Developers, So due to this, It is hidden on all android versions by default.
But there are some options in this. Which is also useful for Web Geeks, one of which is USB debugging. So if you want to enable or disable Developer options and USB debugging on Android Phone, then here I'm going to tell you to step by step guide.
Must-See: How to enable & use Android Battery Saver to save phone Battery.
How to Enable Developer options:
To Enable Developer options in any android version, You'll have to go in the Android Smartphone Settings. And in the Settings menu scroll down the page and tap on "About Device" option.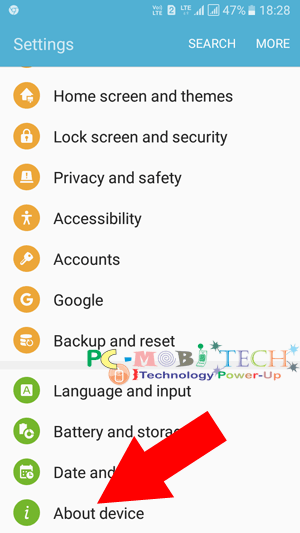 Now in the About device, if you're using Android 5.1 Lollipop or below version then you'll see "Build Number" option. And for Android 6.0 MarshMallow or above version tap on the "Software info" option. And in the Software Info, you'll get "Build Number" option.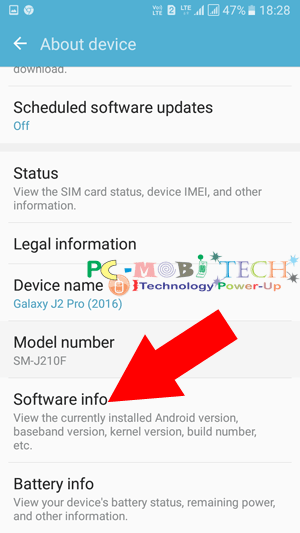 To enable Developer options, tap on the "Build number" 5 to 6 times and you'll see a message "Developer mode has been enabled" or "You're now a developer".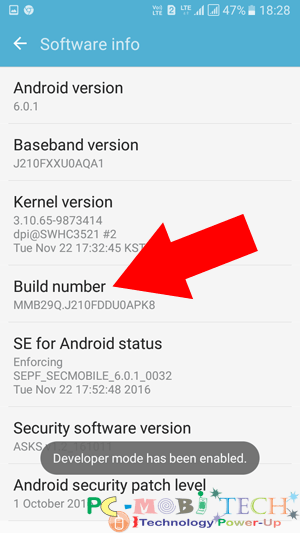 Now Developer option is successfully enabled. And the option will be visible in the Phone "Settings".
How to Activate USB Debugging:
"USB debugging" is an option which available in the Developer options menu. If you think this option is only for Android developers, then it is not completely true. USB debugging option helps  PC application to communicate your Android device via USB cable. So you can control Android device directly from your Computer.
For examples:
You can directly install Android apps on your Phone using Android apps installer PC software such as Wondershare apps installer or

mobogenie

.
It helps to the Backup whole Android phone ( Apps, SMS, Contacts, Call Logs, Photos, Videos, Music & Settings) using "Android Backup utilities for PC".
Android Phone can be Root and unroot using Phone rooting Utility such as Kingo root PC utility.
You can mirror your Phone screen on PC. So the phone screen can be viewed on PC and can be controlled using Phone mirror utility such as Vysor.
You can also install a custom ROM.
But before USB debugging activation, you'll need to know that this is a sub-option in Developer options. So this option can't be activated until developer option has not been enabled. If you have not done this, then enable it first.
If you've enabled developer options then Go to Phone "Settings" and tap on Developer options. And in the Developer options tap on the USB debugging toggle button to enable this option.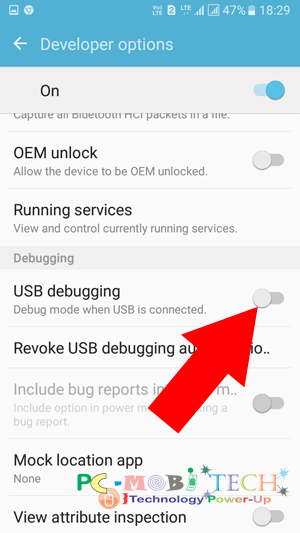 Now USB debugging option has been successfully activated. And you can use start using Android phone advanced features.
How to disable Developer options and USB debugging.
After using Developer options and USB debugging, If you think, these option is not necessarily more, then it would be good for your Smartphone security disable developer options. So how to do this?
To disable Developer options Go to Phone Settings and tap on Developer options. And in the Developer options tap on top right toggle button and the options will be disabled after doing this.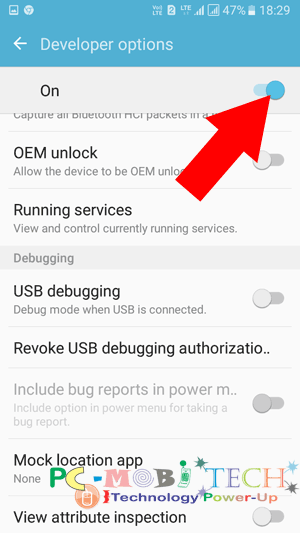 But it will not hide Developer options from the Settings menu. If you want to completely hide this option then follow the steps below:
For Android 5.1 Lolipop or below version: Go to Phone Settings > Apps (Application manager)> Choose "ALL" tab and tap on "Settings" from the list. And after that tap "Clear data" button.
For Android 6.0 MarshMallow or above version: Go to Settings> Applications>Application manager>Settings>Storage and tap on "Clear data" button.
These steps were working best until Android MarshMallow 6.0 but after that Developer options are moved to another place and the activation place is also changed. So if you're using a latest Android Operating System then read: Developer-Options-on-Android-Oreo. Or if you have still any problem with Developer options then leave a reply in the comment section, I'll try to solve this.
Also See: