In my previous post, I explained that
how to block all ads with UC Browser & surf faster
. In this post, we'll talk about how to Enable or Disable Facebook push notifications of UC Browser. UC Browser has a good feature for Facebook users. This feature is Facebook Add-ons. Facebook Addons provides real-time Facebook push Notifications messages to every UC user, who always want to connect with their Facebook account. You can also manage your Push Notifications. Which types of Push notifications do you want to receive in the notification bar.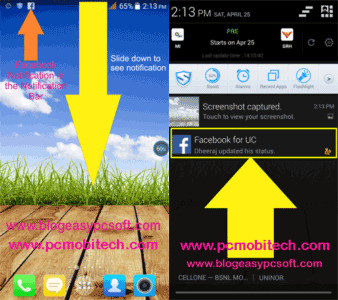 When Facebook Notification's Turn's on, You will receive real-time Facebook notification's of your Facebook account in the Notification Bar.
How to Enable or Disable Facebook Notifications-
Facebook Notification is enabled By default. If it is not enabled, You can Check this in AddOns Manager.
In the menu option Swipe the menu from right to left-
And you will see another menu & then tap on Tools option (Add-ons)-
In Add-ons Manager tap on Facebook-
Now Check Facebook Notification is active or not,

If it is active then it will appear in blue and appears in gray colors when it is disabled state.

You can tap on the button to Enable & Disable.
Facebook Notifications Enabled Mode
Browse Facebook Faster: This option enables Faster surfing mode for Facebook. If you don't have a 3g or 4g network then this option works perfectly on slow (2g) internet connection.
Facebook Quick Access: This will enable a Facebook widget in the notification bar. So you quickly access Facebook Features
Facebook Notifications: By default, it is set in Enabled mode. If it is enabled then you will get live push notifications related to your Facebook friends activities.
Update:-
In UC browser has also included another Quick Access option in version 10.9.0,
where you can also Enable and Disable Facebook Widget the Notification bar. Read this-
How To configure Facebook push Notifications settings-
You can also manage your notification types. Which notification types do you want to receive in Facebook friends activity notifications in the notifications bar.
 To manage push notification services Tap on Notification Settings in Facebook Add-ons-
Now a webpage will open after that select or deselect Checkboxes push notifications types & after selection Click on Save–
I hope that you'll have got your problem solution here. Thanks for visit!
Also See:
~Problem or suggestion leave a reply~