Hike is also one most popular instant messaging app on android smartphone. It has some key features which does not available in Whatsapp & others apps. Many users prefer Hike because of its Stickers option. Now you can send Hike Stickers to Whatsapp,  facebook messenger, Wechat & others with Hike Stickey feature. Stickey allow you to directly connect stickers option menu with others apps screen. When you open your app then Hike icon appear on the screen with which you can easily send lovely hike stickers to many others Messaging apps. So How you can send Hike Stickers to other apps? Follow these easy steps.
How to use Hike Stickey & share Stickers to Whatsapp & facebook?
Start your Whatsapp, facebook & other apps with which you want to share Hike messenger stickers. When your app will open, then you will see a Hike icon on the screen. Tap on this icon.
Now Hike Stickers list open, choose stickers as you select in Hike application.
When you tap on any sticker then select contact list will appear now tap on your friend contact or group from the list.
Now as you do normally share photos, just the sticker can also share. Information Fill in the caption box and tap the send button.
Now the sticker has been successfully sent.
How to Enable & disable Hike Messenger Sticky?

Open your Hike messenger app & tap on 3 dotted menu at top right bar, a menu will appear tap on the Settings from the menu.
Now in Settings tap on Stickey option.
If you want to enable or disable Stickey just tap on the toggle button slider in the front of Select all option. You can also choose your favorite app from the list with which you want to use Stickey.
Update: If you see any red warning in Stickey. As you are seeing in above screenshot: "Hike needs Accessibility Services to enabled for this feature. Please tap here and select hike". Then you will need to enable Hike Accessibility option. To enable Hike Accessibility option tap on red warning and enable Hike option. Alternatively you can enable this function in Smartphone Settings>>tap on Accessibility option>> tap on hike>> tap toggle button to enable Hike services.
If you have any problem with Hike icon when you use Whatsapp or facebook,  simply press Hike icon for a few moment then an⊗ icon appear on the screen. to delete the icon drag this icon to the ⊗.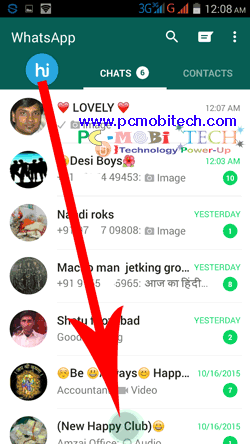 Must see-
Thanks for reading!
IF YOU LIKE THEN PLEASE SUBSCRIBE MY BLOG.