Hike is also one most popular instant messaging app on Android smartphone. It has some key features which do not available in Whatsapp & others apps. Many users prefer Hike because of its Stickers option. Now you can send Hike Stickers to Whatsapp, Facebook Messenger, Wechat & others with Hike Stickey feature. Stickey allow you to directly connect stickers option menu with others apps screen. When you open your app then Hike icon appear on the screen with which you can easily send lovely hike stickers to many others Messaging apps. So How you can send Hike Stickers to other apps? Follow these easy steps.
Note: Hike Messenger Shutdown:

Kavin Bharti Mittal, CEO of Hike Messenger, through his Twitter handle, said the Hike chat app would be shutting down from January 15, 2021. "Today, we are announcing that we will be sunsetting StickerChat in Jan'21," Mittal had recently tweeted.
Use Hike Stickey & share Stickers to Whatsapp & Facebook?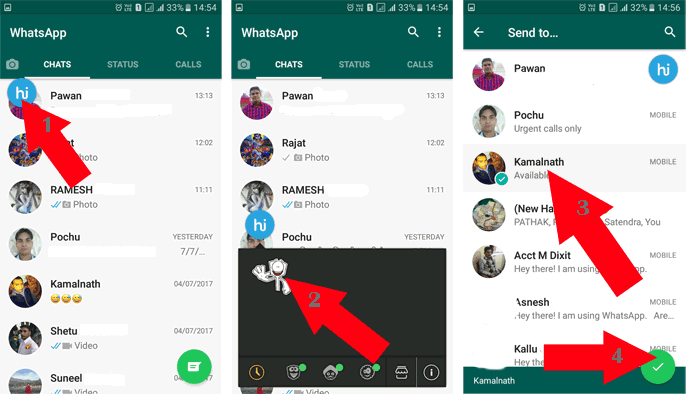 Start your Whatsapp, Facebook & other apps with which you want to share Hike messenger stickers. When your app will open, then a Hike Stickey icon will appear on the app screen, tap on this icon. Now Hike Stickers list will open, choose one sticker from the list as you select in Hike application. As soon as you tap on any sticker then WhatsApp, Facebook or other app contacts list will appear. From the list choose one or more friend contact or group, and then after selection click on the Select button.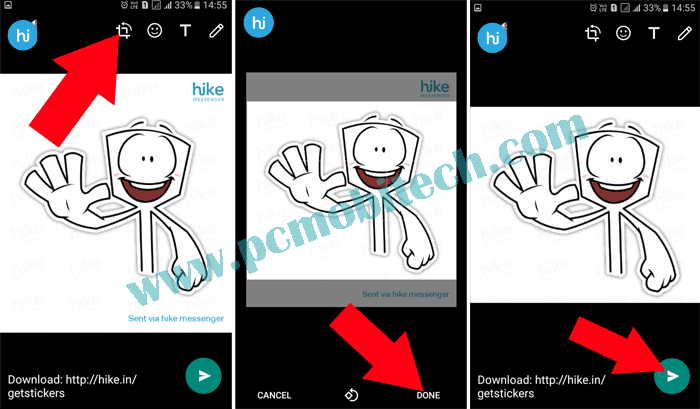 Now as you normally share the photos, same as the Hike Sticker can also share. You can also remove the Hike Credit using Crop Picture option and can add Smily and text on Hike Stickers. To remove Hike Credit "Send via hike messenger" tap on the Crop picture icon and adjust the screen to crop the picture tap on the Done button. On the Next screen tap the Send button. Now the sticker has been successfully sent to the selected contact.

How to Enable & disable Hike Messenger Sticky?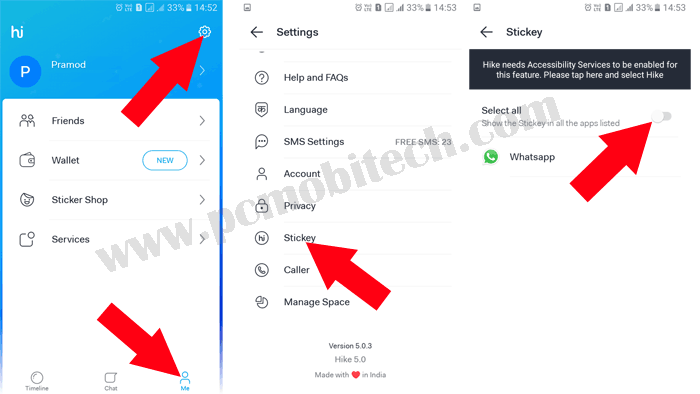 Open the Hike Messenger app on your Android or iPhone & tap on Me icon available at the bottom right corner. Now you'll see your profile page. Here tap on the Settings (Gear icon) from the top right corner. In the Settings scroll down the list and tap on the Stickey option. If you want to enable or disable Stickey just tap on the Toggle button in the front of Select all option. You can also choose a single app from the list only if you don't want to enable Stickey for other apps.
But as you are seeing in above screenshot It is showing a message: "Hike needs Accessibility Services to enabled for this feature. Please tap here and select hike". This means if you want to Send Hike stickers with other then you'll need to enable Accessibility option for Hike.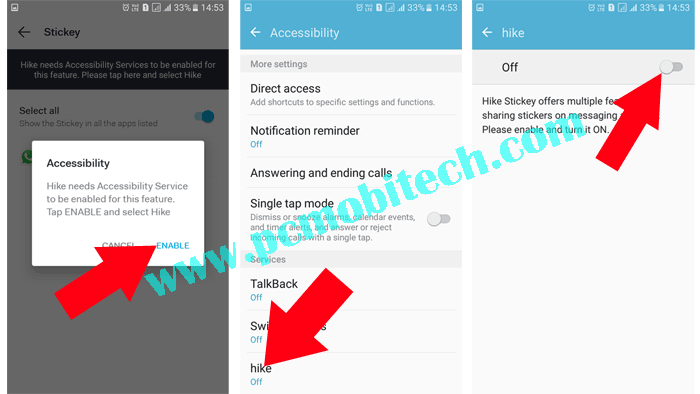 After toggling Select all button. Hike will ask you to enable Accessibility feature, so tap on the ENABLE button. Now in the Accessibility scroll down the page and tap on the hike. And in the hike tap on the toggle button to turn on Accessibility option for Hike messenger.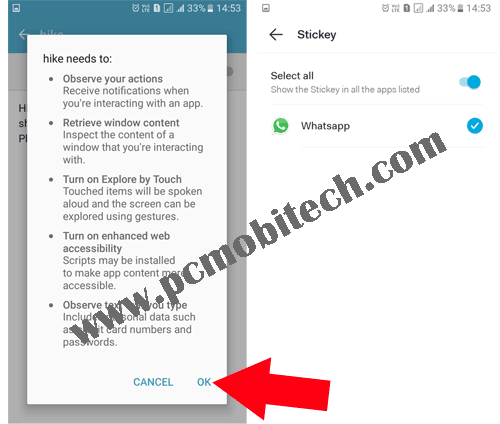 Now "hike needs to" confirmation screen will appear, Tap on OK to enable Accessibility option for Hike. Once you tap on the OK Hike Sticky option is enabled for the selected app.
Alternatively, you can enable this function in Smartphone Settings>>Accessibility option>> hike.
If you have any problem with Hike icon when you use Whatsapp or Facebook, simply press Hike Sticky icon for a few moment then an⊗ icon appear on the screen. to delete the icon drag this icon to the ⊗.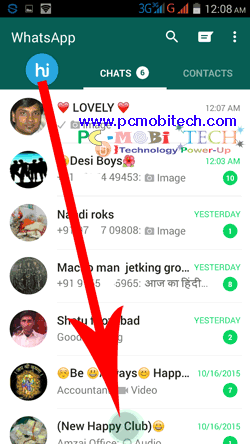 You May Also Like:
Thanks for reading!
IF YOU LIKE THEN PLEASE SUBSCRIBE MY BLOG.