Free messaging service provider Hike launches new Hike Direct feature, Hike Direct allows you to chat & share files with your friends without the Internet Connection. You can share stickers, transfer any types of large files (like photos, movies, videos, audios or others etc.) without the Internet because it uses WIFI, WIFI hotspot, WIFI Direct feature, which is already present in your smartphone. It works exactly like a file sharing apps like – Xender, Send Anywhere, Zapya, Shareit etc. So you can transfer big files over 1 GB easily.
Note: Hike Messenger Shutdown:

Kavin Bharti Mittal, CEO of Hike Messenger, through his Twitter handle, said the Hike chat app would be shutting down from January 15, 2021. "Today, we are announcing that we will be sunsetting StickerChat in Jan'21," Mittal had recently tweeted.
This feature works great in colleges, offices, bus & train trip because Hike Direct allows mobile devices to connect with one another directly within a 100-meter radius. According to Hike- "Files as large as 70MB can be sent in over 10 seconds". But we can't say because it totally depends on your WIFI Hotspot or WIFI Direct device. Overall it is a great feature for Hike lovers, so how you can use Hike Direct feature…
To get better connectivity first update your Hike messenger to the latest version for Chat Without Internet feature. If you don't have Hike messenger on your Android and iPhone then download it:
>>From Google Play Store<<
How to connect Hike Direct?
Follow these steps-
Open the Hike messenger into your Android or iPhone and on the chat screen tap on any friend's contact, with which you want to connect through Hike Direct.
Now tap on top right corner 3 dots and you will see a menu, tap on the Hike Direct.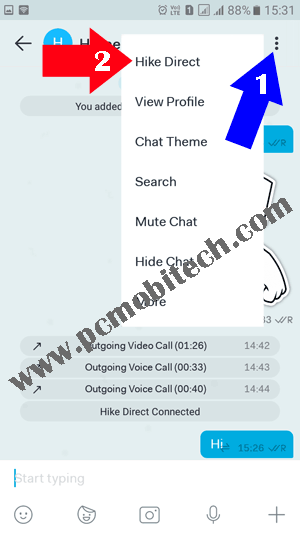 And asks your friend to repeat the same process into their smartphone. Now Hike Direct is connecting to your friend device.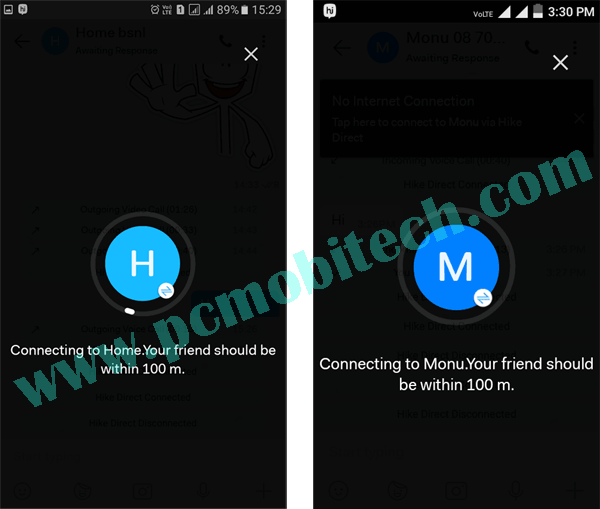 When the search is completed then Hike Direct automatically connects to your friend's smartphone.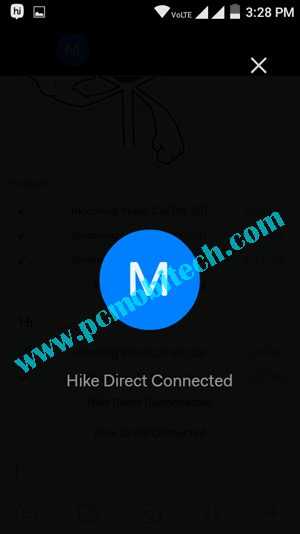 That's it, Now use Hike Direct feature and Chat, Call and send files without the Internet…
Note:
This feature works only within a radius of 100 meters.
To use Hike Direct option also ask your friend to tap on Hike Direct option from your chat.both you and your friend must turn on Hike Direct option into your smartphone.
As now, Hike Direct only works for 1 on 1 chats. It doesn't work for group chats. Wait for future updates for group chatting.
You May Also Like:
Happy Free Chatting!