Good news for every Whatsapp User, Whatsapp is now going to free for lifetime. On Dated 18/01/2016 Whatsapp has announced that they have decided to give Whatsapp service free for the lifetime & will no longer charge any subscription fees.
The new year brings a windfall for WhatsApp users because there is no need to worry about any kind of Whatsapp Subscription fee. As we expected, my service is going to expire on February 28, 2016, and today dated 22/01/2016 they converted my one year license for life-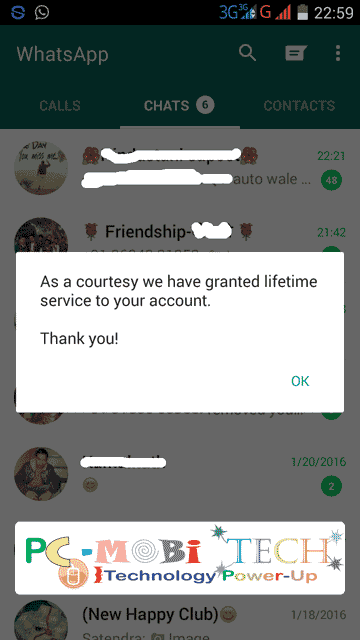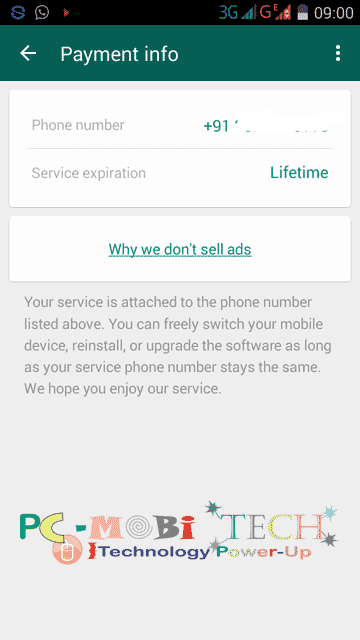 Voila!
Why Whatsapp is going to free for lifetime-
According to WhatsApp's founder Jan Koum that the annual subscription fee is difficult for some Whatsapp users-
"As we have grown, we have found that this approach has not worked well," WhatsApp admitted in a company blog post today. "Many WhatsApp users do not have a debit or credit card number, and they worried they'd lose access to their friends and family after their first year."
So that's it, many WhatsApp users stop using the service after one year after completion because they don't have a debit or credit or they don't know how to use it.
How they'll manage Whatsapp service free for lifetime-
Only one thing is coming to mind that why are they giving you free Whatsapp service for the lifetime. What will they earn free service? According to Official Whatsapp blog post- They're not going to use third-party ads such as banners advertising, which is very common in free applications. They'll try other ways that they use Whatsapp to communicate with businesses and organizations that will pay to Whatsapp for their services. For Example-
A bank will pay to Whatsapp paid account to communicate with their customers about a recent bank transaction notification.
An airline can use Whatsapp for notifying a delayed flight.
You will get this notification on your Whatsapp through the text messages and phone calls.
Now enjoy Whatsapp for free lifetime.
Also See: