Today our privacy protection is most important thing. There are many smartphone apps, which have our personal information. These apps like mail application (Gmail, Email), Messages, Gallery, Social media applications (Whatsapp, Facebook Messenger, Twitter etc.).
We have several personal messages, videos, audios, pictures etc. into our smartphone, that we do not want to share with others. Therefore, it is necessary to protect these applications from the reach of others. To protect these applications many Applock apps are available in the Google Play Store. By installing those, we can start protecting our applications with the password or other security. If 360 Security Antivirus is already installed on your smartphone, then you do not need to install another one. Because it already offers App lock feature, so it can protect all installed applications for free.
About 360 security App-
360 security antivirus is best mobile security antivirus on android. It provides the best virus protection for your Android smartphone and also has some other premium features. Security 360 all in one security application for Android, It provides Free virus protection features for your smartphone, along with cleaner, booster, call blocking, mobile tracker, Applications Manager, Data Monitor, and Applock. You can easily lock your apps with the password. If you don't have 360 security antivirus then mobile security app 360 Security can be freely downloaded from Google Play store.
Also See
How to lock Android apps with 360 Security Antivirus?
Open the 360 Security app and tap on the top left corner 3 line menu button, a menu list will open, tap on the AppLock option from the list. Next, select the check boxes of those apps that you want to protect with 360 Security Applock Security and after selection tap on the Lock button, which is available at the bottom of the screen.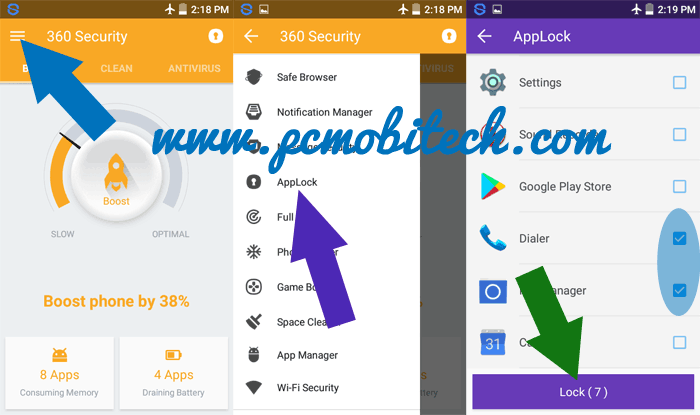 Now you'll need to create a pattern or Pin password, it will protect your application from others. So when anyone will open the protected app then the password or pattern screen will appear first. Draw a pattern lock or Pin Lock password and again verify the same. As soon as you create the password Last Step on screen box will appear, tap on the Confirm to continue. Next screen will ask for permission authorization. Tap on the Got it button.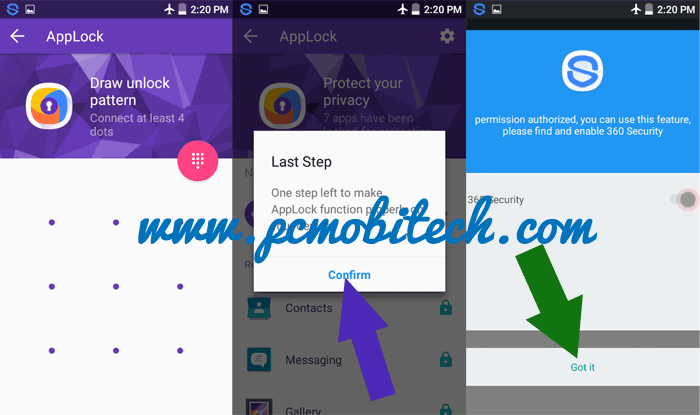 And Apps with usage access permission screen appears. Tap on the 360 Security Toggle button and Allow access? permission box will ask you for confirmation. Tap on OK to confirm. After that press back button and Lock success screen will show you the list of the apps that will be locked with 360 Applock, tap on Confirm to start 360 Security applock feature.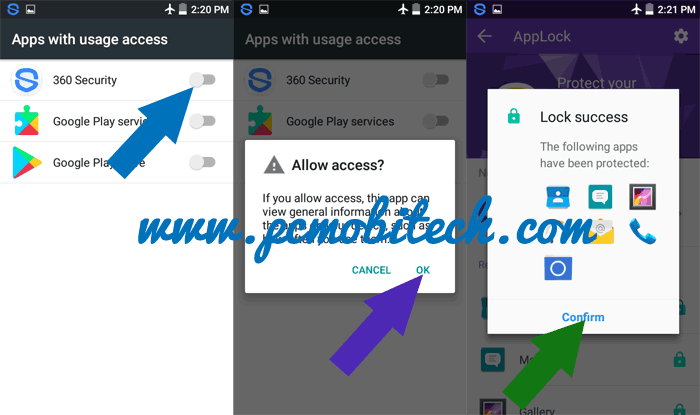 Now when you open the Applock option in the 360 Security you'll see the lock icon on right of the every installed app. You can lock and unlock app by simply taping on the Lock icon.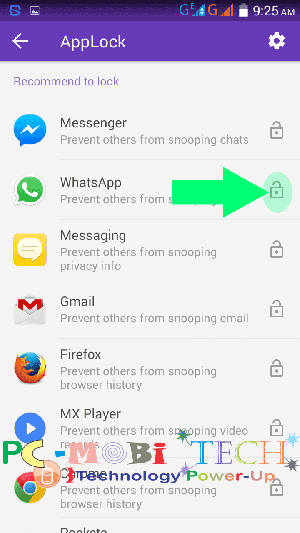 If your application locked then you will see the green lock icon in the front of the app. You can also unlock by tapping again on this icon.
360 Security AppLock Settings:
In the 360 Security Applocking application list screen, tap on the Settings (gear) icon at the top right corner.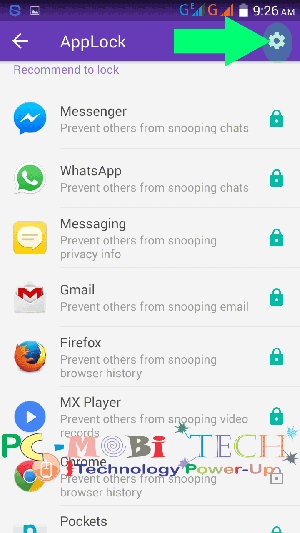 In AppLock Settings you will see 5 options- Change passcode, Security question, Re-lock Option, Delay to re-lock, Clear Data Protection.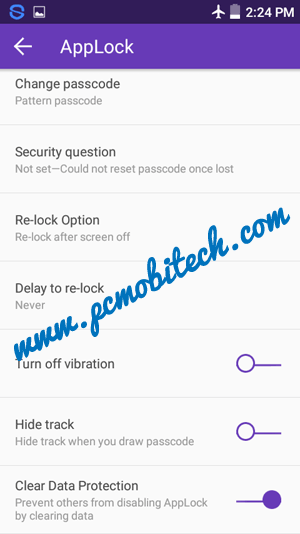 Change Passcode- As soon as you click on Change Passcode. So you'll see the pattern lock or PIN code lock option. If you see the pattern lock and you want to lock pincode, then tap on the pink circle available under the Draw unlock pattern. You can easily switch between pattern lock & pincode by tapping on this pin circle.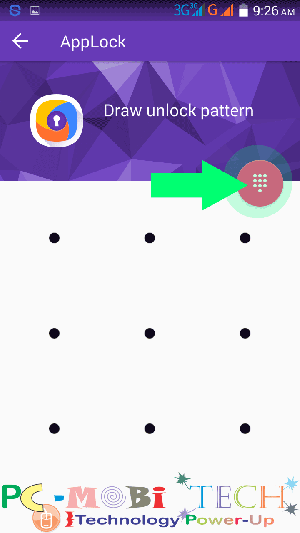 Security question- Now you can set a security question in 360 Security antivirus Applock. If you forget the password of the 360 security Applock, then you can password recovery with the help of the Security Question. You can set one question from 7 types of security question.
How to setup Security question?
Choose a security question from Tips menu.
Enter an answer in the Answer box.
Tap on the √ icon from top right corner to save security question.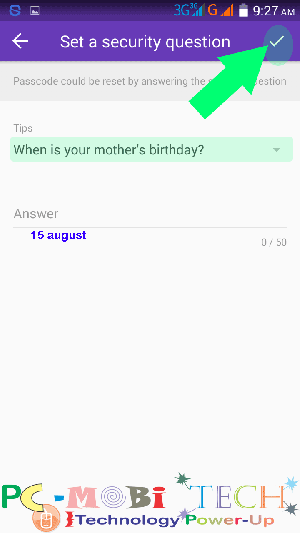 Re-lock Option- You can select the option you wish to Re-lock. In it, you will find two options.
Re-lock after quitting- Your application will not be locked until then, as long as you do not close the application.
Re-lock after screen off- your application automatically locked, after screen going off.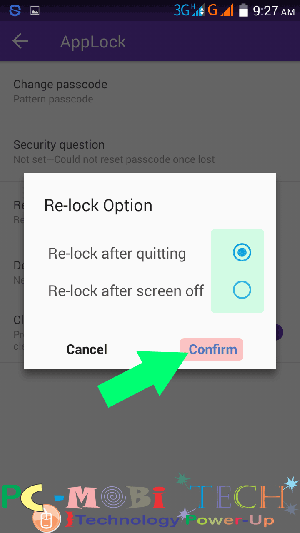 Delay to re-lock- With this option, you can set the locking time of application. The option works with "Re-lock after screen off options". You can decide here how long after the close of the screen to lock the application. to set application lock timing, select radio button of 5s, 15s, 30s …… etc & after click on Confirm.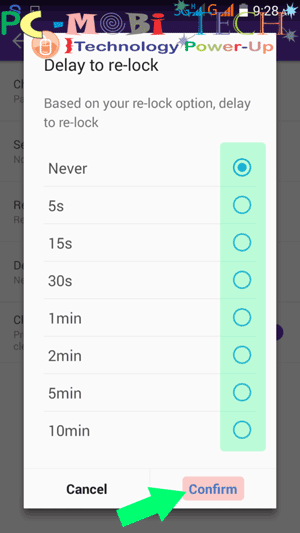 Turn Off Vibration: When you draw a pattern or type the password then the phone vibrate, This toggle button will disable vibration on Password screen.
Hide track: It will hide the pattern pattern track when you draw the passcode.
Clear Data Protection- It is the most important option. If you do not want any other person to open the application by resetting the settings of the Applock. To implement this option, So if someone without your knowledge would like to reset the settings of the Applock, so too can not.
Note: Clear Data protection will not work in full protection mode until you have not enabled Device administrator power for 360 Security, So enable Administrator privileges to 360 security.
Go to smartphone settings>>Security>>Device administrator. And tick the 360 security check box, if it asks you to activate protection simply click on Activate option.
How to unlock apps-
Many times it happens that we forget the password And without password can not unlock apps. So I'm telling some ways for you to be able to unlock apps.
Open 360 Security app on your Smartphone. tap on Menu option & open Applock. Now it will ask you for your password. Now tap on the 3 dotted menu that available upper right corner of the screen, tap on FORGOT passcode from the menu. As soon as you tap on it. It will ask you to log in to Google account. To log on, click on Confirm. Now log in to your Gmail account to reset Applock.
If you have not turned on clear data protection option then you can disable Applock by clearing 360 security app data.
How to clear 360 security app data to reset Applock?
Go to smartphone settings>> Apps (Application manager)>>tap on 360 security>>tap on Manage space>>tap on confirm.
Note: It will also delete all of 360 Security data- All Files, account, antivirus database & settings.
Try to uninstall 360 Security app.
More detail information on How to unlock apps from 360-Security Applock (with pictures preview) read >>this post<<.
If you have locked Smartphone Settings and can't uninstall 360 Security Antivirus then read this post: Android Settings locked with AppLock password (How to Uninstall app?)
Any type of problem, suggestion. Please leave a message in the comment box.
Please share this with others.