Adobe is the one best widely used PDF Reader software. It is available for free, so anyone can easily download and install it on their PC. But the problem is, when you want to download it from the official site, Adobe only gives online downloader. Due to this Adobe Acrobat Reader can't be downloaded or installed if the PC doesn't have an active Internet Connection.
So when you need Adobe Reader for a Computer in which the Internet connection is not available, Adobe Acrobat Reader Offline Installer version only can solve your problems.
Download Latest Acrobat Adobe Reader Offline Installer
Adobe Reader can be downloaded or installed in two ways: Online and Offline. By default Adobe only offers online installation method for every software. Means, Adobe provides a utility software that will install the software only if it is connected to the Internet.
The second method is offline, but it is a bit difficult for new users because when they go to Adobe site, there is no full offline version available that can be downloaded from other Internet-connected PC and later the setup can be used that pc, in which the Internet is not available.
To solve all of your problems, here I'm sharing latest Adobe Reader DC Full version Offline Installer links for Windows XP, Vista, 7, 8, 8.1, 10, 11, Mac OSX and Android:
Download Adobe Reader DC 2022.003.20282 Offline Installer Link: Windows 10, 8.1, 8, 7, and Vista 
Download Adobe Reader Windows X64 ⇓
Download Adobe Reader Windows X86 ⇓
Download Adobe Reader 11.0.08 Offline Installer Link: Windows XP
Download Adobe Reader DC 2022.003.20281 Offline Installer Link: Latest Mac OSX
Download Offline Installer Link for Adobe Reader DC 22.5.0: Latest Android
Download Adobe Reader Android X64 ⇓
Download Latest Adobe Reader Version from Official Site
Do you want to download Adobe Reader Offline Installers in other languages such German, Japanese, French, Italian, Korean, Russian, Swedish, Turkish, Korean, Portuguese, Dutch, Danish, Czech, Polish, Chinese, etc.? Then you can follow the steps below to get the full version installers for Windows XP, Vista, 7, 8, 8.1, 10, 11, Mac OSX and Android
First, go to official Adobe reader download page: Click here to go.
Now you'll see Adobe Acrobat Reader DC Distribution page. On this page, select your preferred version Step 1 select Windows version, from Step 2 Select your language, and in Step 3 list select the latest Adobe Reader Direct Offline Installer.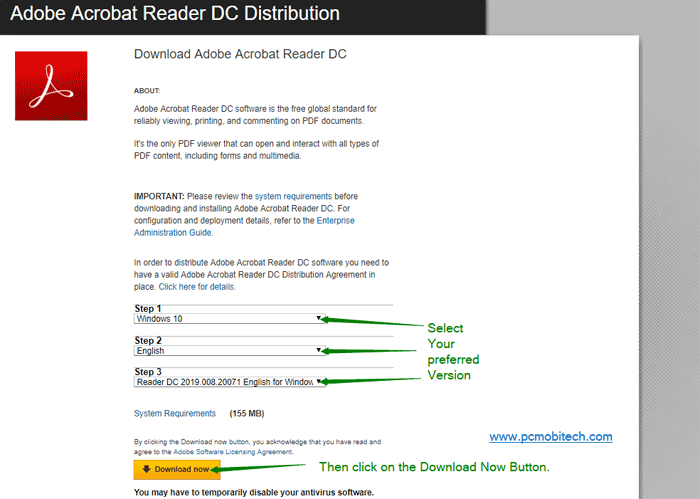 After selecting the correct Adobe Reader version, click on the "Download now" button. And your Download Manager program will start downloading the Adobe Reader latest version offline installer.
You May Also Like:
Install Adobe Acrobat Reader DC
Adobe Acrobat Reader DC installation is so much easy, follow these five steps to install the Adobe Reader DC into your Computer System:
After downloading, go to download folder. Right click on the Setup file and choose the Run as administrator option from the context menu.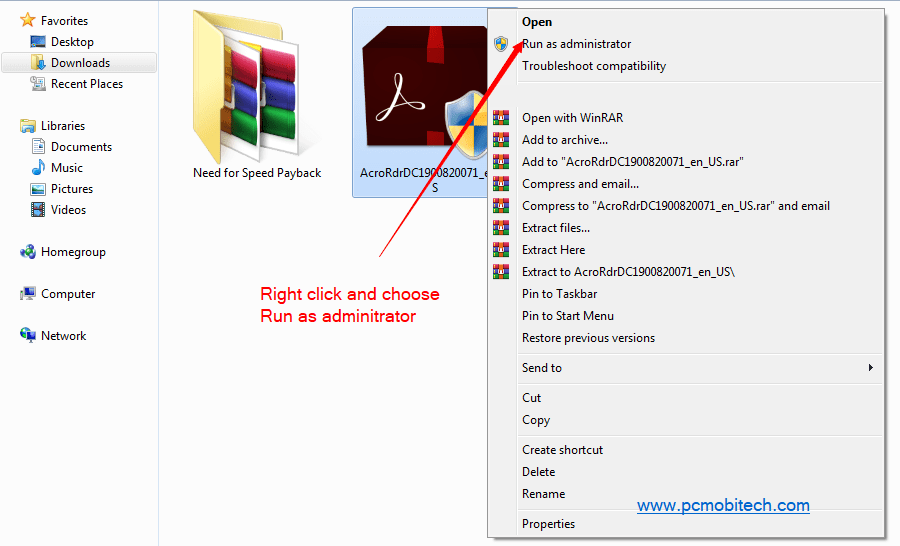 Now, User Account Control Dialog box will appear, click on the Yes button & allow administrative access to Adobe Reader DC setup.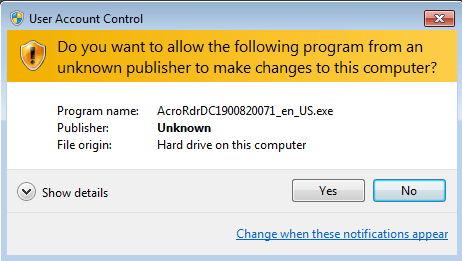 Next, Setup will extract the content, wait for few seconds.
Once file extraction completes, you will see the Adobe Acrobat Reader DC (Continuous) – Setup screen. Here, you can Select of Change the Destination Folder path, after selecting click on the Install button.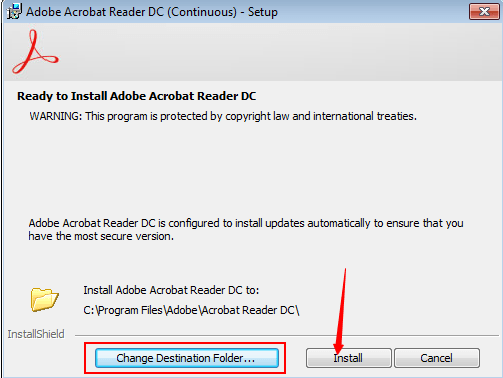 The Adobe Acrobat Reader installation will be started, wait for a few minutes. Once it completes, click on the Finish button.
You have now successfully installed the Adobe Acrobat Reader DC latest version into your PC, and you're ready for the use of number one PDF Reader.