We always face battery problem on Laptop, whenever we browse the INTERNET with any browser (Mozilla Firefox, Google Chrome, Opera, Safari, Microsoft Edge & Internet Explorer browser.). The Laptop battery drains much faster than normal Laptop use, It is because mostly browser uses high CPU to maintain the Laptop performance. CPU needs more power, So it uses more battery. Due to this battery drains faster.
In the view of this problem, Opera included a "Power Saver" option for the Laptop's users. When you are surfing online using Opera browser, if the Power saving mode is running, it uses less power than the normal mode. Opera developers claimed if the Power saver is enabled along with the Adblocker, you can browse online more than 50% percent than the normal use.
How does it work?
According to Opera developers When the option is turned on then it stops background activity. It automatically pauses browser theme animation and Plugins. So Opera browser uses less CPU which saves battery power.
How to enable Opera battery power saver?
When you install or upgrade Opera Browser and after then open it. If your laptop is running on battery then the battery icon will automatically be glowing, to remind you to enable Battery saver and Adblocker.
But as soon as you connect the power cable to the laptop, the Power saver mode automatically disables. And you will need to enable this feature every time. when you restart the laptop or the Opera browser. So how to re-enable Power saver mode when you are using your laptop Battery.
Start Opera browser in your laptop and click on Battery icon from the top right bar.
After clicking on the battery icon you'll see Power saver menu, now click on the toggle button to enable the Power battery saver mode.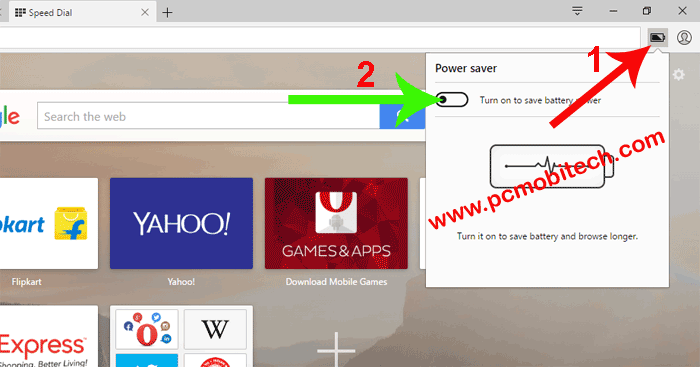 Note: If you see the battery icon color in Black, Its mean battery Power saver mode is disabled. After enabling Opera Power saver feature the icon color will be changed to blue.
Also See: