PC cleaner software is crucial for your Windows computer. When we buy a new Windows PC, the Windows operating system and software applications load much faster. However, with time, the Windows system starts to slow down, and software applications take longer to start. This is because, over time, your computer accumulates a lot of unnecessary data, also known as garbage data. This data serves no purpose for you and adversely affects the speed of your desktop computer or laptop.
While you can manually delete garbage data, doing so requires good technical knowledge about old system restore files, temporary internet files, temporary Windows files, registry entries, and more. Deleting the wrong file by mistake can lead to problems for your Windows computer. To avoid such issues, it's better to use PC cleaning software. In this article, I'm sharing the three best free PC cleaner software options for 2023 that allow you to quickly clean your Windows computer or laptop without manual intervention, making it faster than ever.
3 Best free PC Cleaner Software:
1. Glary Utilities:
Glary Utilities is the best all-in-one PC cleaning software. It offers more than 20 powerful tools that optimize your PC performance at the highest level. You can optimize your computer quickly with the 1-Click Maintenance button, eliminating the need to wait for PC analysis. Glary Utilities performs a deep scan of your computer, fixes errors, resolves crashes and freezes, making your computer up to eight times faster than before. Although Glary Utilities has a premium design, all premium features are available for free for personal use. Additionally, you have the option to upgrade to the Pro version for business purposes at any time.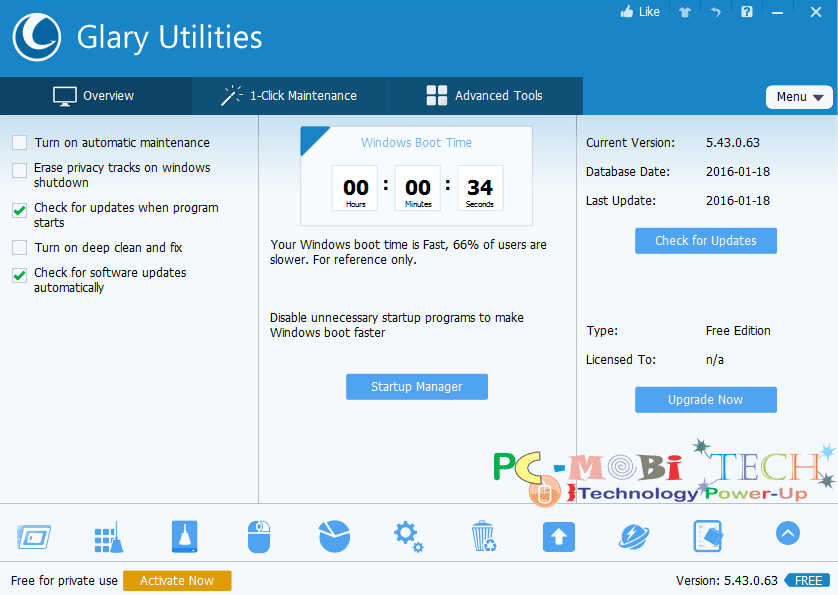 Features:
Advanced Tool:
Clean Up & Repair: Disk Cleanup, Registry Repair, Shortcuts Fixer, Duplicates Files Finder, Empty Folder Finder, Context Menu Manager, Uninstall manager.
Optimize & Improve: Startup manager, Disk Defrag, Memory Optimizer, Registry Defrag, Check Disk, Driver Manager, Software Update.
Privacy & Security: Tracks Eraser, File Shredder, File Undelete, File Encrypter, Browser Assistant, Process Manager.
Files & Folders: Disk Space Analyzer, File Splitter, Quick Search.
System Tools: System Information, Registry Backup, Registry Restore, Repair System Files, System Backup, System Restore, Undo Changes.
Requirements:
Fully compatible with Windows XP, Vista, 7 (seven), 8.1 & 10, and Windows 11 (supports both 32-bit and 64-bit versions).
Download Size: 14.94 MB
2. Piriform CCleaner Free:
Piriform CCleaner is the most popular computer cleaner software for Windows. CCleaner is an award-winning PC optimization tool that has been downloaded more than 1 billion times. It offers advanced tools, including the Windows Cleaner, Applications Cleaner, and Registry Cleaner. With CCleaner, you can remove unwanted software, stop background services, identify types of files using disk storage, eliminate duplicate files, restore your system, and wipe your disk drive. If your PC is running slow, CCleaner can easily clean up old files and registry errors, making your computer faster immediately.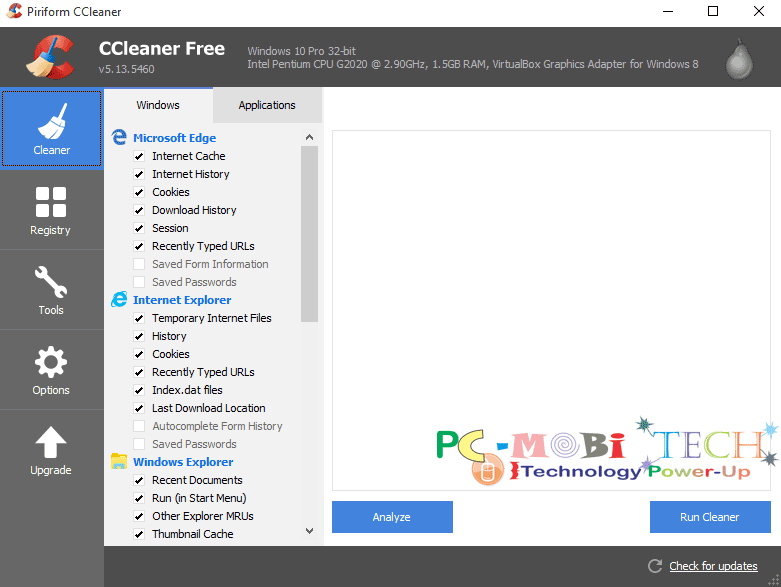 Features:
Windows & Application Cleaner
Registry Cleaner.
Tools: Uninstall manager, Startup Manager, Disk Analyzer, Duplicate Finder, System Restore & Drive Wiper.
Requirements:
Compatible with Windows XP, Vista, 7, 8.1, 10, and Windows 11 (supports both 32-bit and 64-bit versions).
Download Size: 6.64 MB
You May Also Like: The Best CCleaner Alternatives for 2023
3. Eusing Cleaner:
Eusing Cleaner is a lightweight Windows PC cleaner with a size of just 1.50 MB. It identifies unnecessary files in your system and registry records. With Eusing Cleaner, you can quickly clear unwanted data, fix registry errors, and manage your internet history. The interface is simple, making it ideal for those who prefer not to navigate through numerous features.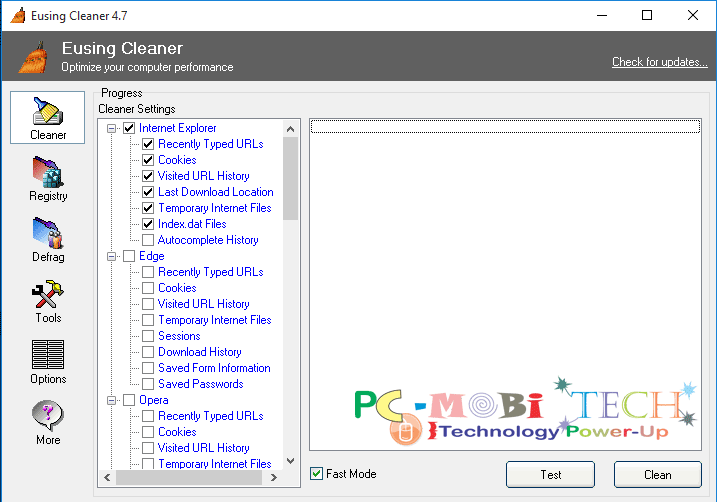 Features:
PC Cleaner.
Registry Optimizer.
Disk Defrag.
Tools: Startup Manager, Index.dat viewer, Backup Full Registry, Windows Backup.
Requirements:
Windows 9x, Me, 2000, Windows XP, 2003, Vista, 7 (Seven), 8.1, 10 & Windows 11 (supporting both 32-bit and 64-bit versions).
Download Size: 1.50 MB
All the mentioned PC cleaner software options are free for personal use. If you intend to use them for business purposes, you will need to purchase a pro license.
Please share with us which one you prefer.