Do you use your smartphone camera as a document scanner? If yes, then you will be curious to know that which app is best for document scanning? Many people must have used the CamScanner app, which is a most popular Document scanning app with 100 million downloads in Google Play Store. but in recent report it had found that the CamScanner app was doing some malicious activities and stealing the users data. Learn more about CamScanner malware.
Best Document Scanner Apps Android & iOS
If you're also searching for CamScanner alternative apps , Then here I'm listing 5 best Document Scanner apps that can be safely used for Android & iOS based smartphone. As CamScanner add the watermark on the scanned image but these apps don't apply any watermark, so these are great alternative for you.
#1 Adobe Scan: PDF Scanner, OCR
Adobe Scan is one best PDF Scanner. it is developed by Adobe, so you don't need to panic for your smartphone security. It is packed with enriched features. It can quickly scan all type of documents, hand notes, computer printed papers, receipt, ID's etc. It smartly recognizes the document type and automatically crop the image, so you don't need to edit the image which will help you saving too much time. Along with this it has lots of option with that you can improve the scanned documents quality.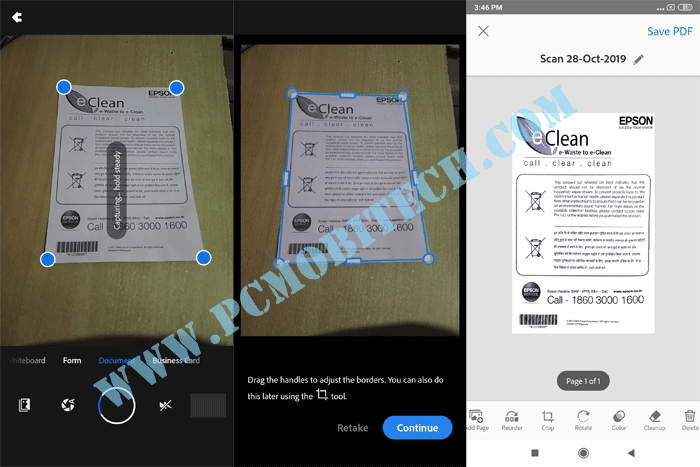 If you depend on CamScanner for scanning texts from documents (OCR), then you will feel very happy because with the Adobe Scan you can also do the same work. So you don't need to worry for OCR scanning. Even it is best Cam Scanning app but it doesn't apply watermark as CamScanner does. As a best alternative you can go with Adobe Scan without thinking anything.
Pros & Cons:
It quickly detects documents edges, It supports Optical Character Recognition (OCR) and Batch scanning, After scanning you can export scanned documents to JPG and PDF. It doesn't have any cause except you will have to create an Adobe account, which can be easily create by using Google and Facebook Account. Adobe Scan can be installed for Android from Play Store and for iOS From Apple apps store:
#2

Office Lens from Microsoft

Office Lens from Microsoft is another great choice for scanning documents via Mobile phone camera. If have used Microsoft software such as Office then you will feel very familiar with Office Lens. It has a several great scanning ability such as it can scan those documents that written by ink pen, and whiteboard notes etc. After scanning you can easily export & edit them into the Word or Powerpoint documents. It automatically saves the scanned images into the Onedrive, so later you can quickly access them with any other device.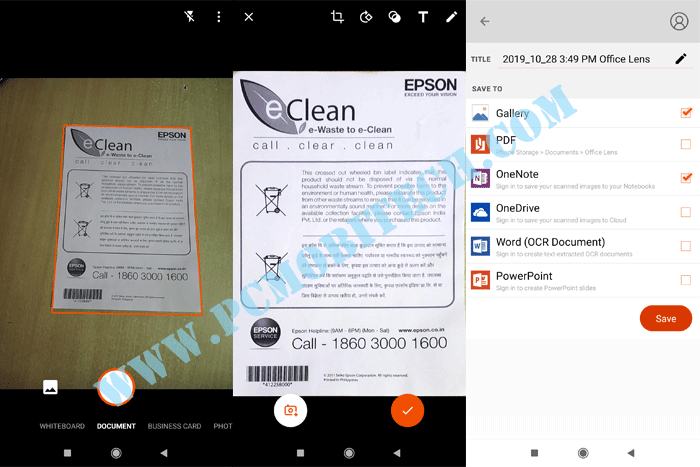 Pros & Cons:
It also supports OCR, automatically crop the document from edges, after editing you can export the file into PDF and JPG, You can annotate the document by exporting into the Word and Powerpoint document. Connect app to OneNote and OneDrive. Export scanned document without watermark for free. The only drawback is with the app that it doesn't support batch scanning, rest you will love the app because it is official app from Microsoft. It is a free app which is available for both Android & iOS platform:
#3 Scanbot
Scanbot is another popular document scanning app for Android and iOS. If we compare its features to above mentioned scanning apps then it is one best alternative to CamScanner because it gives almost same options that you get in CamScanner. Scanbot can scan every type of documents, receipts, ID's, sketchboard or whiteboard, even it can also scan QR codes. After scanning you can edit the documents and can add annotations easily, once editing completes export the image to PDF and JPG.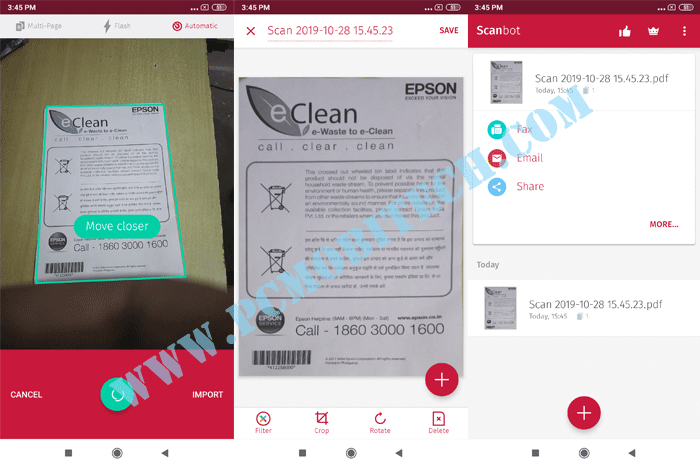 Pros & Cons:
Same as others it also has edge to edge scanning technology and automatically cut the unwanted parts from the scanned image, supports multipage or batch mode, has optical character recognition feature, save files to cloud, annotation support, output can be exported to PDF without watermark for free, text in document search support. Scanbot also has the premium version with extended feature support and free app can be installed from Android and iOS store:
#4 Evernote Scannable
Evernote Scannable is most popular iOS app. So if you have the Apple iPhone & iPad then it will work great for you. It has almost same features as you get in CamScanner, Adobe Scan, Office Lens, etc. It scans all the document with better brightness. It is also available for Android but in different name 'Evernote'. Evernote Android comes inbuilt document scanner which provides similar functionality to Evernote Scannable. So you don't need to worry if you are Android user then go for it.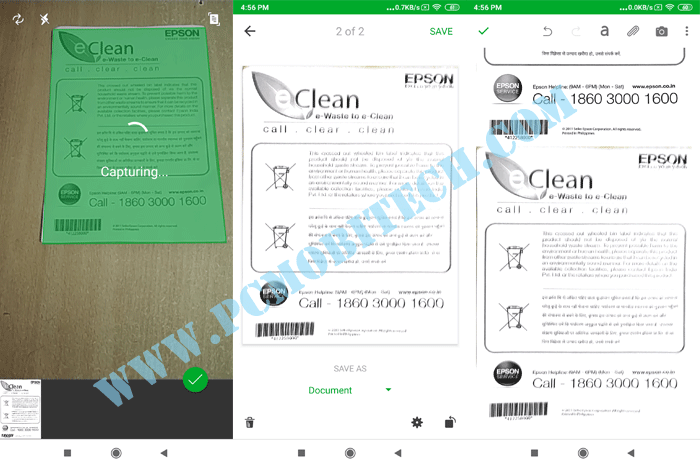 Pros & Cons:
It comes with Smart Edge detection features, which automatically crop the images from corners. You can export the scanned documents into PDF and can save them to cloud directly. It support batch scanning and doesn't leave any watermark on the outputs. The only thing it doesn't have OCR support and you will have to signup for an account before start using it. The App can be downloaded for Android & iOS from following locations:
#5 Google Drive
Surprised? and now you are thinking what am I saying, but it is true that Google Drive also has a document scanning option. It doesn't have too many features like other full featured document scanner as above mentioned. If you need a simple document scanner which support cloud uploading then Google Drive is best option for you.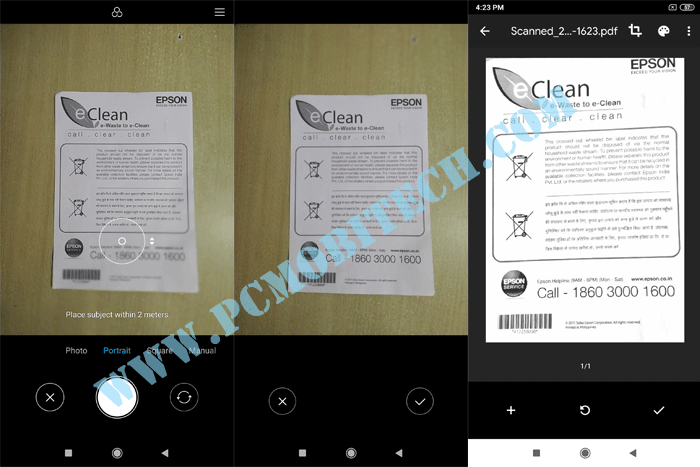 Pro & Cons:
The app is powered by Google, so you can feel safe because unlike CamScanner your documents will be uploaded to Google drive. It is a simple app but it doesn't mean it can't have document scanning features, it can easily capture image and crop with its edge to edge detection technology. It also offers a basic image editor option, so you can do editing after capturing images. Basically this app comes preinstalled in your smartphone if your phone doesn't have it then can be downloaded for free from:
Here I have listed best and tested apps, in the apps market lots of document scanning apps available with very good rating, CamScanner was also a well rated app but it got caught several times for doing suspicious activity. In this post I have mentioned those apps that have been made from most trusted and old brands. So try these, if you want to secure your data from being theft.