Steam is the first name that comes to mind when we think of the digital distribution of games for PC. It has the record for serving up to 2.4 billion games as of March 2017. The reason why Steam became so popular over the past century is because of the features they offer, like excellent security, a plethora of games, and fantastic deals.
While it has indeed worked for the gaming community and kept the interface smart and straightforward, this platform does have some shortcomings as well. The customer service for this platform is truly poor and lacks indie games. It also takes a revenue cut of 30% from the developers- these disadvantages sometimes make gamers look for Steam alternatives.
Simply because it has the best revenue does not mean that you have to limit your purchase to Steam, especially when there are so many alternatives for you to choose from. Let us now have a look upon 6 most promising Best Steam Alternatives-
6 Alternatives to Steam Gaming Store
Luckily for the gamers out there, there are some awesome Steam Gaming Store Alternatives available in the market with top-notch feature sets. With these alternatives, you can find out the games at discounted prices, plus some of the others let indie developers get a platform for themselves.
So, without any further ado, let us start delving into those top alternatives of Steam store-
1) Origin
Origin is a one-stop destination for all EI games of your choice. Origin provides a huge discount on games every month even for more popular franchises like SIMS and FIFA, which makes it entirely too good to be true. Another fantastic option provided by origin is to mimic consoled team gaming with Live audio and chat that enhances the experience even more.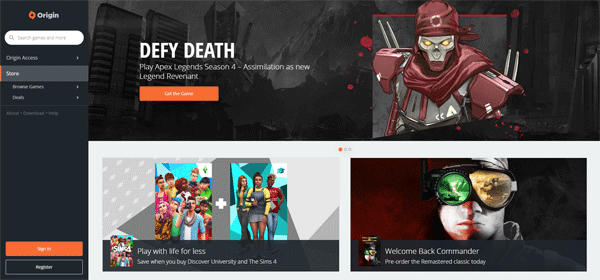 You can also simply try it out with free demos and trials which are available for almost all the games on Origin, and the collection just seems to grow as the days go by. With the help of Origin Access, you will get unlimited access to all the games that are being launched by gamers every month. Not only this, but you will also be able to get previews of upcoming titles but also receive a 10% discount on the purchase of every game.
From Origin store, you can browse the wide range of games such as All PC Games, The Sims, Apex Legends, FIFA, Star Wars, and Plants vs. Zombies, Need for Speed, Madden, Anthem, and Battlefield.
2) Windows Store
Although it is hard to believe, Windows 10 now had a built in-game store for avid lovers of gaming! You may have missed out on this because the more significant apps are hardly worth a look at the Windows Store, but this one is truly one not to be missed!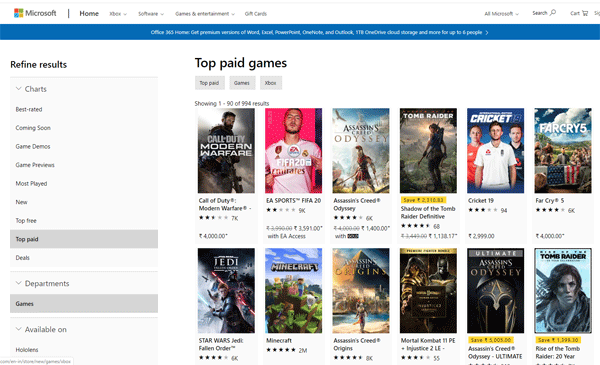 Although it is true that the selection of games on the Windows Store is not unlimited and hence not that exciting, what is truly amazing is that it has some exclusive game titles, as well as the PC versions of some mobile games that you won't find anywhere else except here.
Some titles can even save your achievements over the XBOX and the PC version using the Windows store. Although there are some problems associated with this store, it is one handy outlet right there. You can find different sections such as Top Free Games, Top Paid Games, Best Rated Games, Trending Games, Featured collections, etc.
In addition, you can find a significant range of categories such as Card & Board, Puzzle & Trivia, Word, Racing & Flying, Role Playing, Family & Kids, Action & Adventure, etc.
3) Uplay – Ubisoft
Uplay by Ubisoft is somewhat similar to Origin in that it is a combined gaming platform as well as a social platform for gamers. But one thing that is different from Origin is that players have to purchase other stores because Uplay releases the games on other stores like Steam. In this, the player cannot simply buy from another store but has to first activate the Uplay client to make the transaction. It is still worth having a look, mainly because the Uplay storefront has much that you need to see and exciting games that are available here.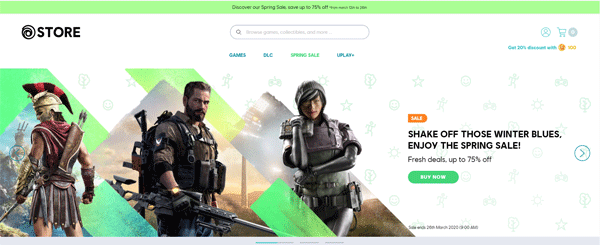 It even offers discounts on newly released games that are not offered anywhere else. There are also 'unit' rewards that are earned in-game and can be used to make a digital purchase.
It offers you a unified ecosystem where you will get the opportunity to play your games, explore new worlds, and browse dedicated content with the utmost ease. Plus, you will also be able to connect with friends, chat with your friends, and manage your groups.
4) Green Man Gaming
This platform is relatively new on the online gaming steam market and us hence making exclusive moves like the introduction of a console steaming program.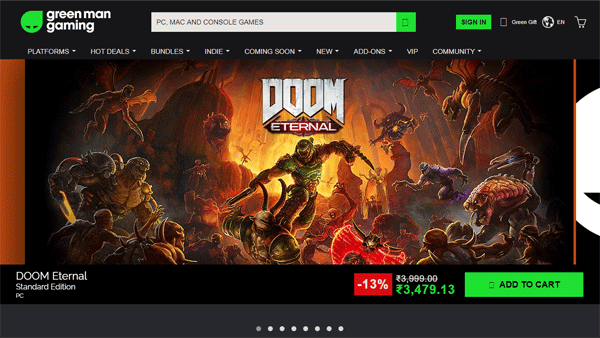 This platform is still in its budding stage, but the company has assured that all the things will be in place and running in no time at all. Green Man Gaming provides a design that is somewhat similar to its other competitors. Users can find an extensive range of PC as well as Mac gaming titles in its extensive catalog with a wide plethora of games.
You will also be able to gain early access to some of the most anticipated games by the most prominent developers in the market. The ones who are fans of indie games will also get the flair of these. Huge amounts of discounts are also provided on several games that may even go up to 90% off retail price. Here you can find games for the PC and VR platforms.
5) Gamers Gate
This is one of the most popular and the oldest alternative to Steam, providing you with a huge number of high profile and exclusive titles just like Steam. Some of the biggest games on the platform and in the gaming world like Far Cry 5 and Resident Evil 7 are on discount at this store either through the downloadable client or their website.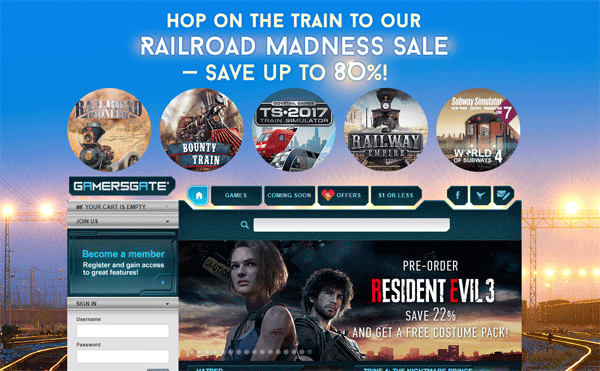 Another great feature of this platform is that all the games are provided without any DRM restrictions. One of the unique aspects of this platform is Blue Coin currency which can be earned by helping other players or by participating in community activities. These coins can hence be used to buy games at lower prices. You just need to register here and you will have all the amazing access of Gamers Gate- one of the top Steam Game Store Alternatives.
6) Direct2Drive
This platform was available even before IGN's old game store but now functions as an independent business. The main idea of this platform remains the same- pay for your game and download them straight away, no hassles! Most of the games here can be downloaded directly. However, they can also be bought with DRM activation on stores like Uplay, Steam, and Origin.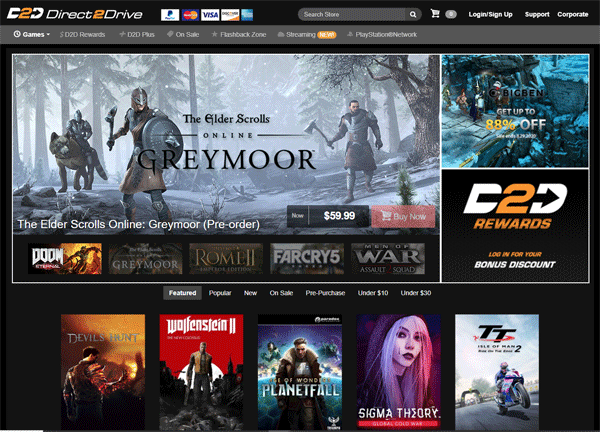 There is a possibility that you will get a tremendous amount of discount on the games or even on several games bought together, this platform, however, does not have a loyalty program. You can easily find the game of your choices by going through different genres, platforms, and publishers.
Wrapping Up!
Now, on the concluding note, we hope the aforementioned list of Best Steam Alternatives will help you get the one that best fits with your requirements. Choose from this list of Steam alternatives and get gaming right away!
Check for discounts on different stores before making a purchase! Do share the experience with your chosen alternative of Steam Gaming Store with us in the comments below.