Apple recently introduced the new 15-inch MacBook Air during their WWDC event, along with the Mac Studio and Mac Pro. In terms of specifications, there isn't much that sets the latest 15-inch MacBook Air apart from the 13-inch model released last year, aside from the larger display. However, the new MacBook Air does come with some visually appealing wallpapers that you might be interested in using on your own laptop and desktop. If you're interested, you can download these high-resolution wallpapers for your Apple Macbook and Windows PC directly from here.
Notable Features Highlight of

Apple MacBook Air 15-inch
The latest MacBook Air is a great choice for people who want a laptop with a large display. It has a 15.3-inch screen with a resolution of 2,880 x 1864 pixels, giving it a sharp and detailed picture. The display has a notch design, and the pixel density is measured at 224 pixels per inch. The refresh rate of the screen is 60 Hz, which means it updates the image 60 times per second, and it has a maximum brightness of 500 nits, ensuring a vibrant and bright display.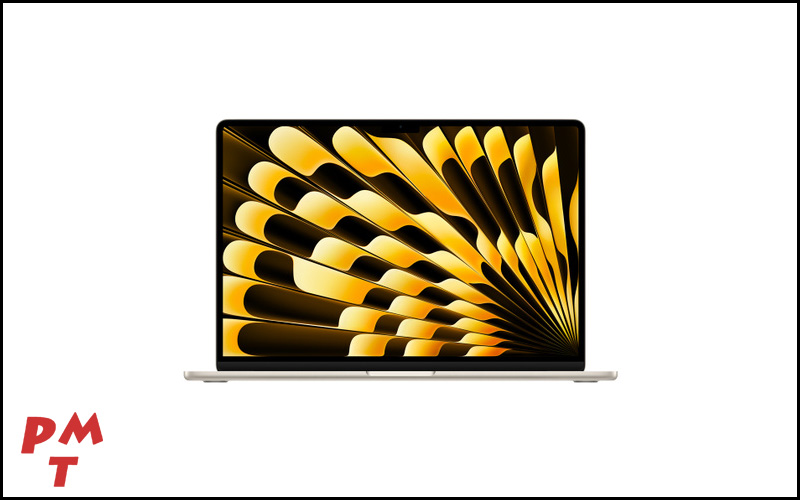 Under the hood, the MacBook Air 15-inch is powered by the Apple M2 8-core chip. This is the same central processing unit (CPU) used in the previous year's MacBook Air model. However, the latest version has an upgraded graphics processing unit (GPU) with two additional cores, making it a 10-core GPU. This enhancement results in improved performance, especially when working on graphics-intensive tasks. Notably, the MacBook Air 15-inch is also recognized as the thinnest laptop in the world, measuring just 0.45 inches in thickness.
One notable difference between the MacBook Air 15-inch and its predecessor is the audio system. The latest model features a six-speaker sound system, while the previous version had four speakers. Additionally, the new model incorporates two additional GPUs for enhanced graphics capabilities. Other specifications, such as 8GB of RAM, a high-quality 1080p camera, up to 2TB of storage, and Wi-Fi 6 support, remain the same as the previous MacBook Air.
The latest MacBook Air starts at a price of $1,299, while the 13-inch MacBook Air from 2022 is available starting at $1,099.
Official MacBook Air 15-inch Wallpapers: High-Resolution Images for Your Device
The newest MacBook Air comes with some really cool wallpapers. Even if you don't plan on buying a new MacBook, you can still enjoy these wallpapers on your desktop computer. They look amazing not only on Macs but also on iPads and Windows PCs.
The wallpapers resemble the ones you would find on the 13-inch MacBook Pro model from Apple. However, Apple has adjusted the colors specifically for the 15-inch model to offer a refreshed wallpaper collection.
We have a preview of the wallpapers for the 15-inch MacBook Air. Please note that these preview images are of low quality, so we advise against downloading them. Instead, we provide a Google Drive link below where you can find the original images in high resolution (6016 x 6016 pixels).

You can access the Apple MacBook Air 15-inch Wallpapers on ⇒ Google Drive.
In total, there are four new wallpapers available for the latest MacBook Air. The colors of these wallpapers include Yellow, Light Blue, Blue, and Purple. Once you download them, you can set them as the background images on your Mac or desktop.
If you're not sure how to set an image as your desktop background, don't worry. We've listed all the steps below to help you out.
How To Change Your Windows Desktop Background Image:
Press the "Windows" and "I" buttons simultaneously to open the Settings menu.
Click on Personalization in the left-hand pane.
Select Background.
Choose "Picture" from the dropdown menu next to "Personalize your background" (if it's already selected, you can skip this step).
Next to "Choose a photo," click on "Browse photos."
Locate and select the image you want to use as your desktop background.
That's it! You have successfully changed your desktop background image.
As for the new Macbook Air 15-inch wallpapers available for the Desktop Computer, we would love to hear your thoughts. Please share your feedback in the comment section below.