When Windows 10 was released, we were thinking this update will have a big change. Microsoft also has given free Windows 10 upgrade for Windows 7, Windows 8 and Windows 8.1 users. But after the Windows 10 Upgrade from Windows 8 or 8.1. It came into view in terms of design and features that are not too much difference between Windows 8.1 and Windows 10. Many features and design look like the Windows 8.1. But Microsoft has made a nice change in Windows 10, it was the StartMenu.
Windows 8.1 looks good in design. but it doesn't have the StartMenu, as was available in the previous version of Windows. Because of this, the version came under criticism. Some people liked this change and many didn't. It was also said that this version is specially designed for touch-screen computers and laptops.
But Whatever, Windows popular Start menu has come back in Windows 10. And It is not only Windows 10 is better in the many terms eg: Security and stability.
How to Turn On Full-screen Start Menu In Windows 10?
However, Windows 10 Start menu is nicely designed but many people still prefer Windows 8 Metro style Start menu. So if you want Windows 8 Start menu in Windows 10 and don't want to go back then don't worry Metro-style Start menu has not been fully removed from Windows 10. This is disabled by default, So if you want to enable this feature in Windows 10 then follow the steps below:
Right-click on the Desktop and choose "Personalize" option from the context menu.
You will see "Personalization" Window With Background Settings. Now click on "Start" from the left.
In the "Start" Settings you will need to enable "Use Start full screen" option. By default, it is off. To Turn On this feature simply click on toggle Use Start full screen.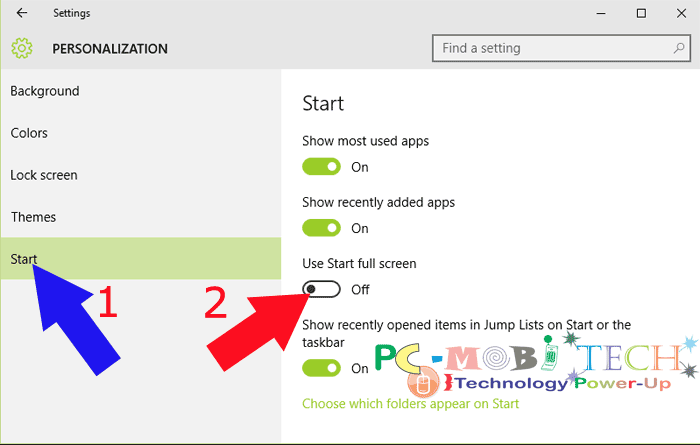 Now You have been successfully enabled Windows 8 full-screen start menu in Windows 10. Same as available in Windows 8.
Also See: