Sharing Android Smartphone (Mobile) Internet to PC-Laptop is much easier nowadays, It is because of WiFi. Using WiFi you can share Mobile Internet data to Desktop PC and Laptop at a faster speed. Therefore, everyone firstly chose WiFi. But the problem begins when you want to share your smartphone data with the computer. And the PC-Laptop WiFi doesn't work due to drivers problem. Or when your Computer doesn't have WiFi adapter, then what would you do?
Don't worry there are some other ways are also available with that you can easily share your mobile data without a WiFi adapter.
You can Share Smartphone (Mobile) Internet in two ways:
(1) Bluetooth. (2) With Data Cable.
This is another Wireless Internet sharing feature available on all Android smartphone. Most Android smartphone users stopped using Bluetooth after releasing WiFi. Due to Bluetooth Wireless data transfer is much lower than WiFi. This idea can be gauged from the fact that with the Wi-Fi data can be transferred up to 250Mbps speeds while Bluetooth 4.0 can transfer only 25Mbps speeds. But you can use it as an alternative when your WiFi adapter is not working.
Must-See: Send-receive files from one device to another if the friend is not near to you.
Before starting Internet sharing you will need to pair your Smartphone with Desktop-PC/Laptop. So read this post first: Share Android Smartphone Internet to PC-Laptop via Bluetooth. After pairing both devices, you can share your android mobile Internet via Bluetooth Tethering. Go to Smartphone Settings>>More>>Tethering & portable hotspot>> And tap to Bluetooth tethering toggle or checkbox depends on your android version.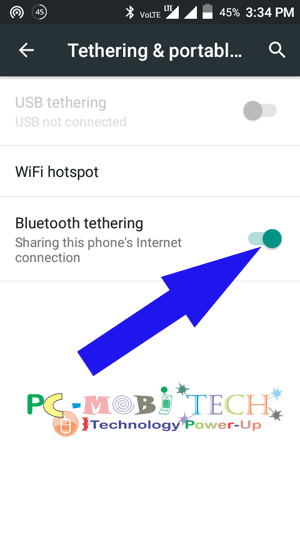 Now right click on your PC/Laptop Bluetooth icon available in the notification icon area. And choose to Join a personal area network option. You will see devices and Printers, right click on your available smartphone icon and go to connect using>>Click on Access Point. Now you are ready to get Android Mobile Internet data on PC.
This is the simplest way but you will need a Data transfer cable. Whenever you want to share your smartphone Internet then first connect this USB cable to smartphone and PC/Laptop. And after this share your android mobile Internet via USB Tethering. Go to Smartphone Settings>>More>>Tethering & portable hotspot>>And tap to USB tethering toggle or checkbox to enable sharing Internet via USB cable.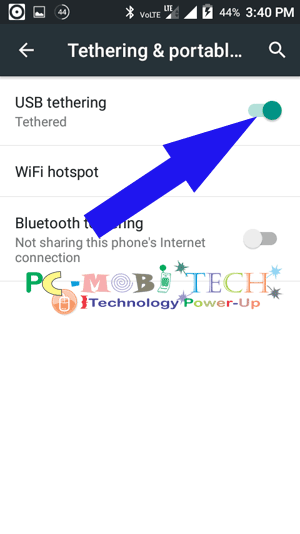 All the USB drivers will be automatically installed and your smartphone will start sharing Internet to PC-Laptop.
Also See: