As we know that Video Calling feature is now available in WhatsApp Instant messenger. So now all we can do free video calling to each other using WhatsApp. But many WhatsApp users still do not understand that how to use this feature. If you are not able to understand that, in WhatsApp How do free video calling? Then here I'll show you how you can use Video Call feature and can make a free video call in WhatsApp.
How to do a free Video call in WhatsApp Messenger:
You can use free WhatsApp video calling on 2G, 3G and 4G (LTE) data connection but it works well with 4G LTE Internet Data connection because when we checked it on 2G and 3G network then It lags too much. To making a free video call to your friends and family follow the steps below:
Launch WhatsApp and open any friend contact number.
In friend contact chat screen tap on top phone icon. Now you will see Video Call option. To make Video Call tap on the Video Call.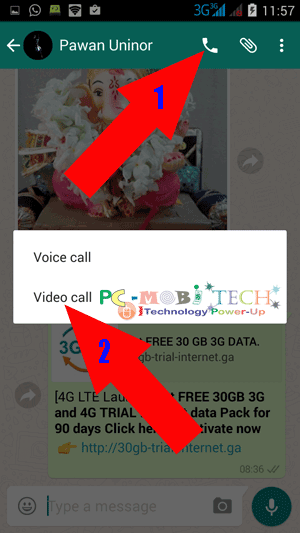 Now enjoy Free video calling feature in WhatsApp.
Also See: