Netflix is one of the most-watched streaming services in the world that has single-handedly changed the way people watch television. Its primary business is online streaming services based on subscription. One thing that differentiates Netflix from other services is its policy of streaming a whole season at one go. This is applicable for only Netflix original shows. A viewer can watch the full season at a stretch without thinking about the suspense in the next episode. Some of its popular shows are 13 reasons why; Sex Education, The Witcher, The Crown and Messiah.
Netflix is an American origin production company that is a media-service provider. It was founded in the year 1997 and since then has grown leaps and bounds. In the last twenty years, this most amazing channel has taken over from traditional television and shown the world that there is another way to watch shows. By the end of the fiscal year, 2019 Netflix had more than one hundred and forty-eight million subscriptions in the whole world.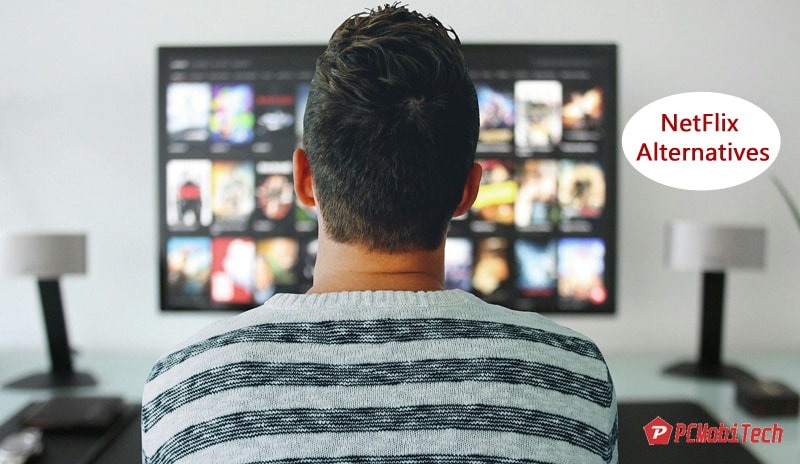 Best Netflix alternatives:
It is a fact that Netflix has created a special place for itself in the heart of its loyal audience but remember the world is not only about a single streaming service. Until and unless you have several services where is the healthy competition? Everyone cannot afford the high subscription rates of Netflix and this is why you need an alternative that will be able to meet specific requirements of the audience in an effective and reasonable manner. Several platforms are available in the market with some unbeatable content and these are
1. Amazon Prime Video
If you are looking for top ten alternatives of Netflix then look no further than Amazon Prime Video. The American origin company was launched in the year 2006 and is operated by its parent company Amazon and owned by Jeff Bezos. It has a worldwide presence in more than one hundred countries all over the world. The user can easily stream content from laptop, PC or desktop via the website. An app is also available for Android and iOS phones. The world-famous internet service deals in video-on-demand services and digital distribution.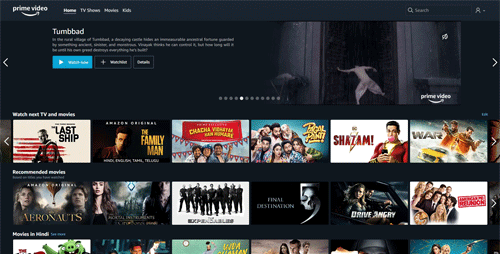 The popularity of Amazon Prime Video has spread far and wide and it has become one of the most-watched streaming portals in the world. It has some great content for its subscribers like television shows, movies, third-party content and original series that deals in different genres. Some of its popular content is Man in the High Castle, Hand of God, Tom Clancy's Jack Ryan and Ninja Turtles. Besides membership fee, Amazon Prime Video has kept its subscription price at 8.99 dollars per month and if you increase it to 12.99 dollars/month user can get a full prime membership and access to its video library which is to be revered and also other related benefits. It offers a free trial of thirty days to interested parties so that by the end of the month they are hooked and become its paid members.
2. HBO Now
One of the top ten alternatives of Netflix is HBO Now that streams television shows, movies, sports activities, programmes related to kids and documentaries etc. Its popularity reached new heights because of some hit shows like Westworld, Game of Thrones, Sex and the City etc. The channel deals in OTT streaming and video-on-demand services and it is its content that has made it one of the most popular channels in the global arena.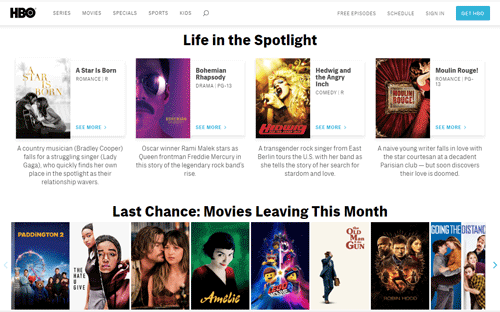 HBO Now is a standalone service that is available in English language and is telecast only in the United States and some of US territories. It is an American origin company with Warner Media as its owner. Founded in the year 2014 it has a subscriber base of an estimated five million users. Currently, it is possible to watch HBO Now from unlimited devices like computers, mobile phones, Smart TV, tablet, and Xbox One. It offers a monthly subscription plan of 14.99 dollars and a thirty-day trial run for free to hook its users.
3. Hulu
Hulu deals in services like television-on-demand, video-on-demand and streaming media. Launched in the year 2007 it has increased its user base to an estimated twenty-five million subscribers. Hulu is available via Xbox One, PC or by downloading it for Android and iOS mobiles. The user has to register himself with membership fees of 4 at $5.99 every month to watch its popular content.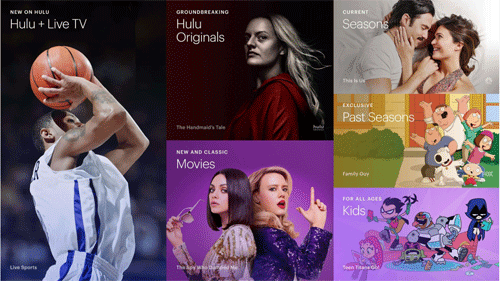 If you are looking for top ten alternatives of Netflix then the American origin company Hulu is a perfect choice. It is one of the most popular and in-demand portals that has been able to carve a unique name for itself. It offers both original and third-party contents including television shows and movies like The Daily Show, Community, Battleground, and The Morning after, The Golden Girls, Flow, X-Files and Family Guy.
4. YouTube
YouTube is one of the top ten alternatives of Netflix and operates as a subsidiary of Google. This American origin company is a video-sharing portal that allows its users to comment, report, share, rate, view, upload and add to playlist on videos. The channel allows users to subscribe to other users also.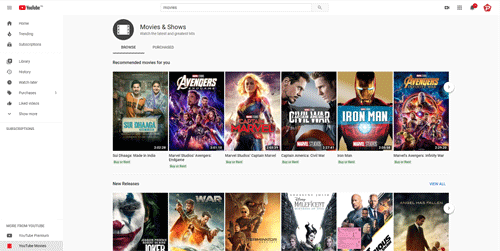 YouTube has gained immense popularity because of its corporate media and user-generated videos and its most-watched content includes movie trailers, music videos, video clips, documentary, audio recordings, live streams etc. The channel and some of its creators use Google AdSense to earn advertising revenues. Most of its videos are free for viewing but the exception to the rule is premium channels, YouTube Premium, YouTube Music and film rentals.
Also Read:
5. Disney+
Disney is an American origin company that is associated with mass media entertainment. It was founded in the year 1926 and with time has become a force to reckon with. This diversified multinational conglomerate is known for its television, film production and theme parks. In January 2021 it launched Disney+ with a range of movies and TV shows in the US, Australia, Canada and Netherlands.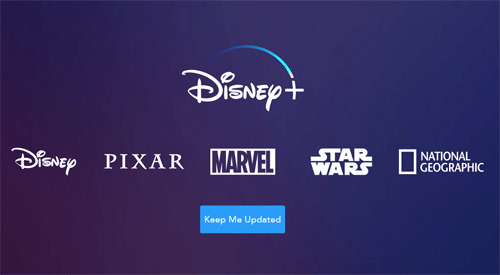 Disney+ has been rightly acclaimed as one of the top ten alternatives of Netflix because of its huge subscriber base that reached ten million sign-ups in the first week. The streaming service has become a major player in a short span of time. It has put its onus on new content to create a fan base of its own. Here you can watch classics like Star Wars, Marvel, Pixar etc and new content like The Mandalorian which has created a buzz amongst Star War fans.
6. FuboTV
FuboTV is an internet television over-the-top service that was founded in the year 2015. This streaming service has put its onus on the distribution of live sports like international soccer, MLS, NHL, NBA, MNB, NFL, and movies along with network television series.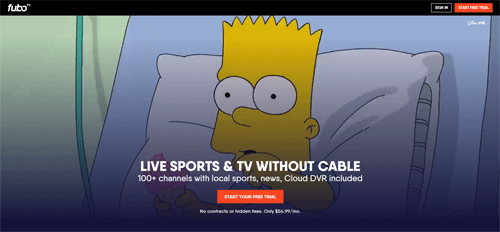 FuboTV services are available in the United States, Spain, and Canada and have the distinction of being the only vMVPD model to launch outside of North America. It can be streamlined via the web, tablets, mobile devices and Smart TVs and currently has an estimated 400,000 subscriber base. Fubo TV offers its subscribers several options like Fubo Standard with 100+ channels, a base package, and add-on packages like Sports Plus, Extra, Latino Plus, Fubo Cycling and Portugues Plus.
7. CBS All Access
CBS All Access is an OTT streaming service operated and owned by CBS Interactive. The video-on-demand service offers its viewers content from CBS library, content that has been aired on its broadcast properties and original content. CBS All Access is an American origin service that serves Australia, Canada and the United States.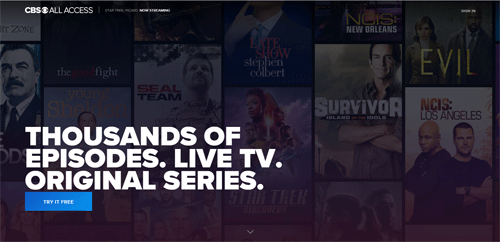 By the year 2019, CBS All Access had a subscriber base of more than four million. It has proved its worth as one of the top ten alternatives of Netflix because of Star Trek: Discovery and Grammy Awards. It is possible to access and view CBS All Access via registration and monthly subscription plan.
8. Acorn TV
Acorn TV is a streaming service of American origin that offers subscription television programming. It is owned by its parent company RLJ Entertainment, Inc and is available in Mexico, Spain, New Zealand, Australia, Canada, Ireland and the United Kingdom. Acorn TV in the year 2013 relaunched its standalone service with monthly as well as annual subscription plans and has an estimated subscriber base of 430,000 paid subscribers.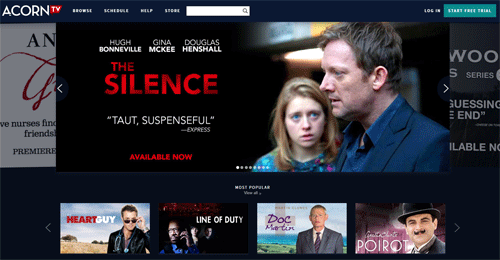 Acorn TV is accessible via several devices like Roku, Apple TV and Amazon Fire TV. Its content includes classic and new mysteries, documentaries, comedies and dramas. Its exclusive content offering includes The Witness for Prosecution, Partners in Crime, Foyle's War, Doc Martin Series 6 and Curtain: Poirot's Last Case. The last one was nominated for an Emmy in Best Television Movie category. Since its launch, Acorn TV has been offering United States premier of some of the finest British Series like Midsomer Murders and Vera.
9. Philo
Philo is associated with pay television and offers its viewers OTT streaming services. It is acclaimed as one of the top ten alternatives of Netflix because of its subscriber base that is at nearly fifty thousand subscribers. Philo is an internet TV company based in California that was founded in the year 2009 by its co-founders Tuan Ho and Nick Krasney.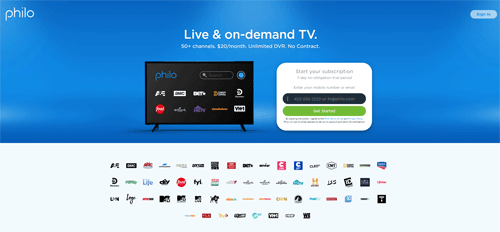 Philo streaming services are available via mobile devices, tablets, computers and television. The expansion plans of the company include the integration of a social platform that will connect viewers to new content. The video-streaming service provides its viewers with a mix of lifestyle and entertainment channels at a very reasonable price range. What it lacks is news and sports content. The best thing about Philo is that it allows the viewer to save entire shows for on-demand viewing. Earlier the network offered its new subscribers a plan of 16 dollars per month but as of 6th May 2019, a single package is available for everyone at 20 dollars per month.
10. Sling TV
Sling TV was founded in the year 2015 and operates from headquarters based at Colorado in the United States. It is associated with pay television and deals with OTT internet television. With a subscriber base of 2.2 million users, this American origin company acts as a subsidiary of Dish Network.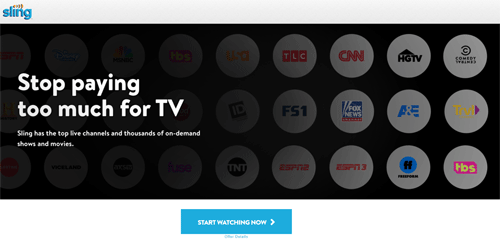 Sling TV is a well-known portal that allows live television program, movies and television shows. It can be streamed through several platforms like Linux, Windows 10 and macOS in computers, Chromecast, Apple iOS and Android in mobile and Xbox One and some other TV-Connected apps. It has several subscription plans for its users. With a 30 dollar per month, basic membership deal users get access to Thirty Plus channels and with 30 dollars and 45 dollars, to forty and all-channel respectively.
There are a number of streaming options out there to quench your thirst for different genres. Some are free and some payable but after looking at top ten alternatives you cannot deny that the alternatives have unparallel content.