Many people rely on BitTorrent or µTorrent to download Torrent files. However, these Torrent clients pose significant privacy and security concerns, as your real IP address is always visible on the Torrent network, making it easier for hackers to attack your system. Even with the best VPN for Torrenting, there is still a risk involved in downloading Torrent files.
Fortunately, there is a faster and safer alternative to download all your favorite books, videos, software, apps, and games without compromising your PC's privacy and security. Online Torrent Downloader sites offer a built-in Torrent downloading application that eliminates the need for a standalone Torrent client. This reduces the risk of IP leakage and makes downloading Torrent files a much safer task. By using these online Torrent Downloader sites, you can enjoy the convenience of Torrent downloading without the worry of compromising your privacy and security.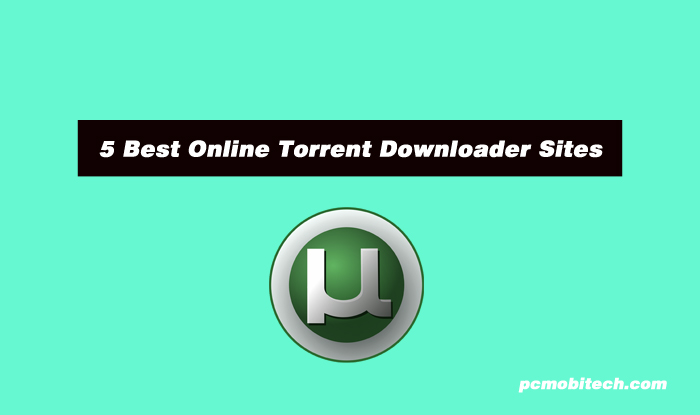 Once you upload the Torrent or Magnet link in the app, it will fetch and download the entire content into the cloud. From there, you can securely use any download manager, such as Internet Download Manager, and the file download will commence. This is a time-saving alternative as Internet Download Manager downloads files 10-20 times faster than traditional Torrent clients.
However, it's worth noting that many online Torrent downloader sites have limitations and only allow for a limited amount of data download for free. To help you out, we've compiled a list of the top 5 best online Torrent Downloader Sites that offer maximum data download and also provide premium download services at an affordable price. These sites provide a safe and secure way to download Torrent files, while also offering a range of additional features that make downloading large files hassle-free.
Top 5 Online Torrent Downloader sites
After checking many online torrent downloader apps, I found following sites are faster and reliable:
#1. Seedr
Seedr is one fastest online Torrent downloading site. Along with Torrent, it also allows other sources to download, as well as after downloading data into your seedr's account you can do video streaming anytime-anywhere. You will get higher security and it will securely save files without touching your device. It uses 256bit encryption, so no one will be able to trace what are you downloading from your account.
In the free subscription you can download or save 1 file at a time into your account and free space is limited to 2GB, however free space can be expanded by doing Tweeting Review (500MB), Blogger post (500MB), YouTube review (1GB) and Pinterest post credit (500MB), so you can get 2.5GB extra space after doing the above things.  If you purchase its premium service including Basic 30GB, Pro 100GB, and Master 1TB pack, then you can download bigger files with the fastest speed. When you save anything from the Internet, then it scans for viruses with Kaspersky Antivirus Security, Google Drive sync, and many more.
#2. Zbigz
It is the first online Torrent downloader application and still, we can say it is a popular site for downloading & Streaming. With the Zbigz unregistered users can download upto 100mb and registered users can download upto 1GB of the file but the free plan is limited and you will suffer in downloading speed as well. If we talk about the premium plan then under the prime plans all the restriction will be removed and you can choose the Unlimited premium pack from 5 different plans: 5 Days, 1 Month, 3Months, 6Months, and 12Months.
You May Also Like:
#3. Bitport
Bitport is another online torrent downloading site. It is also offering upto 1GB torrent file download but again you will have some restriction such as downloading speed, 1 slot for download, 1 file per-day only, etc. Bitport Premium plan is available in three different packs: 30GB, 100GB, and 250GB. So it doesn't give unlimited features in the premium pack but offers unlimited Torrents, unlimited download speed, Video Streaming Support, Antivirus scan with Eset Nod32 Security Antivirus and Google Drive sync support.
#4. Boxopus
Boxopus offers a similar service to Bitport. In the free plan, you can download upto 1GB file with some restrictions but all the files will be scanned with Virus Total service. Google Drive and Dropbox sync features are available in three different Boxopus Premium packs: Tiny bucket (30GB), Big bucket (100GB), Huge bucket (1TB), so you can choose what is best for you.
» Goto Boxopus «
#5. Offcloud
It is another good Online Torrent Downloader site and a good alternative of zbigz.com. It offers 1GB of Torrents download at a time but you can download upto 10GB of files monthly in the free Offcloud account. Same as Zbigz, it also gives all things unlimited in premium plan. If you want unlimited download, Video streaming support, and better security, then you can also go for paid plans: $9.99/month, $29.97/3 months, $69.99/year, and $139.98/2 years and a $299.99/lifetime limited pack.
Online content storing is a costly service, therefore you will never get unlimited storage and downloading for free. Here I have listed those services, who gives better security and privacy at a cheaper price, as well as offer free service.