Sharing a single or multiple messages, Videos, Audios, Documents file in WhatsApp is so simple. because for this you will need to select multiple messages and choose a contact to send. But you can't send a file to multiple contacts at once. This problem is now solved. Now you can send Single or Multiple messages to multiple friends in just one try.
For an example, Your one friend send you multiple jokes, Videos and Mp3 Songs. After reading, watching & listening. You also want to share these with other friends. Then you just select all those files and will send one by one to each friends. But this takes too much time and you will need to do this again and again for every friends. So keeping this thing in mind WhatsApp has make it more easy. So how to send files to multiple WhatsApp contacts at once?
Howto share Multiple files to multiple contacts in one try?
If you are going to share a message to many friends & relatives then this WhatsApp feature will really help you much.
Go to your Friends contact or in a WhatsApp Group, from wheres you want to share your file. After this tap and hold the message for few moments, So the message will be selected automatically, If you want to select other messages along with this then simply tap only one by one (You don't need to hold other message) and they will be also selected.
After selection tap on top right send ⇒ icon.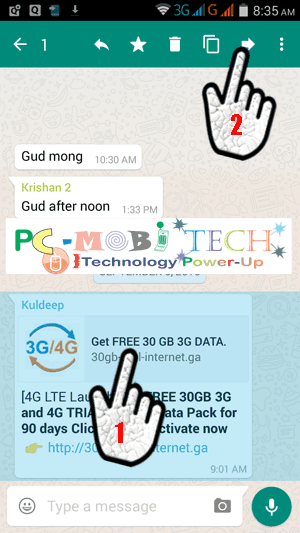 On next you will see Forward to… screen. Tap to select multiple WhatsApp contacts. And after selection tap on bottom right Send

>

icon.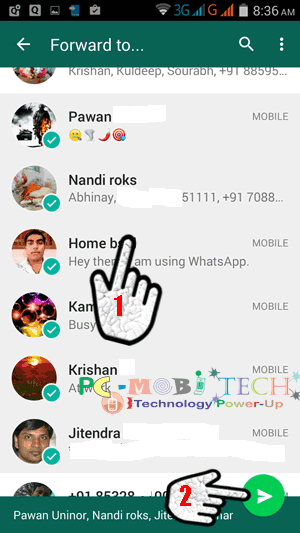 Now your message will be delivered to multiple contacts in just one try.
Also See: