Have you mistakenly sent a message to your WhatsApp friend or family member? If yes, then now you can delete all those messages which you have sent by mistake within 7-minutes. There is also another condition; the message can be only deleted if the receiver has not checked it. Means the message has been delivered to your friend number, but they have not opened the note yet. As you already know if the receiver checks the message then two blue-ticks will start appearing on the message which means it has been read.
WhatsApp is now giving way to opt-out erroneously sent messages including Text message, Photo, Video, Audio, and document files. The WhatsApp "DELETE FOR EVERYONE" option is available with the version 2.17.403, and it will work only when you and your friend are using the latest version.
Delete Mistakenly Sent Messages on WhatsApp
Usually, you never need to deletion of a sent message because you always first check before posting to your friends. However, the problem only occurs when you forward a received message to many friends. And you make selection of multiple-contacts then just the things happen because during the multiple-number section if a number wrongly selected, that's why the message goes to others too.
So If you have made this mistake, then follow the below steps immediately before seeing your friends.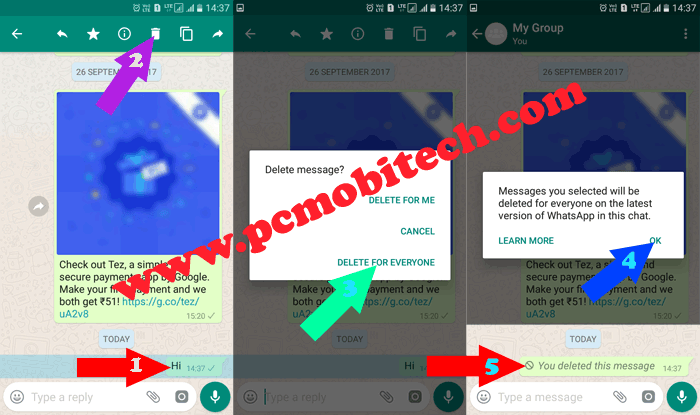 Go to that contact chat screen, on which you have mistakenly sent the message. After this tap and hold the sent-message for few moments, and you'll see some options on top of the WhatsApp screen. From the options tap on Delete (recycle) icon. Now "Delete message?" dialog box will appear, tap on the option "DELETE FOR EVERYONE", this option will remove the message for everyone (if you have sent the message in a group chat). Another message will appear on the screen (this is a temporary message and will be hidden after deleting message two or three times.) tap on OK to continue. Now you will see a message "You deleted this message" on the place of your message. If you see this message then the means the message has been removed for everyone.
You May Also Like: