Do you want to create a fancy colorful text based "Status" and want to show it to selected contacts of WhatsApp instant messenger? Then it is a good news for you because a Colorful text status feature is now available in WhatsApp. So whenever you think to share your thought with your WhatsApp Friends then the Colorful text based message will be a fantastic option.

Along with this, you can also show or hide your
WhatsApp Status
to selected WhatsApp contacts which were not possible before. Earlier, you could only share photo based status, but this could not show your expressions properly. But now you can share your thoughts using text message status with others.
Create a Colorful Status:
So now the question is how to do this, How to make a colorful WhatsApp status and hide or show them to few people. It is so easy just follow the steps:
Open WhatsApp in your Smartphone and tap on the "STATUS" tab. On Status screen click on the Pencil icon to create a new text based colorful status.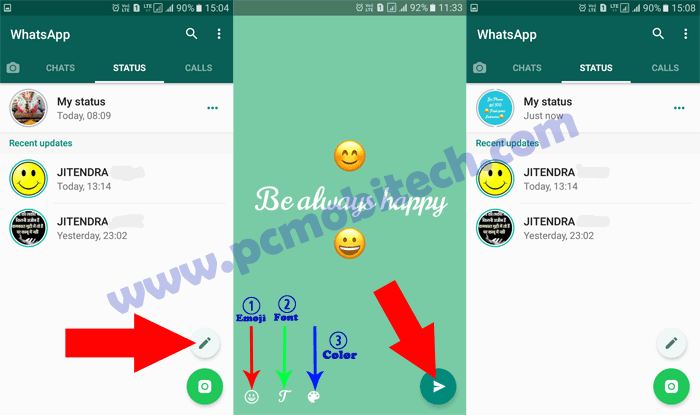 Now enter a text message and include the Emoji, change the Font, and color to make it more beautiful and eye catching. After making tap on the Send button. And the message will be set as your WhatsApp status.
Show or Hide your WhatsApp Status to selected contacts.
Showing or Hiding WhatsApp Status to selected contacts is now an easy task, because before you could only hide your status to those people who didn't save in your contact list or you could hide it completely from all contacts. But this thing is now changed and now you have the option to show the status to selected favorite contacts or you can exclude few contacts to see your Status.
To show your WhatsApp Status to selected status, open your Whatsapp and tap on the top right 3 dot menu and you'll see a menu, tap on the Settings. In the Settings tap on the Account option. And next tap on the Privacy option.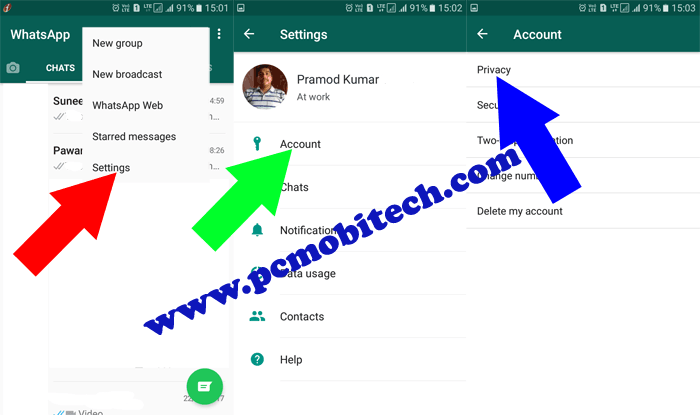 In the Privacy, tap on the Status option. Now you'll see 3 options: My contacts, My Contacts except, Only share with.  The "My contacts except" and "Only Share with" both options are good but have the difference. If you choose the "My Contacts except" option then it helps you to exclude those number with them you don't want share your status. And "Only share with" option allows you to select those numbers with which only you want to share your Text based lovely status.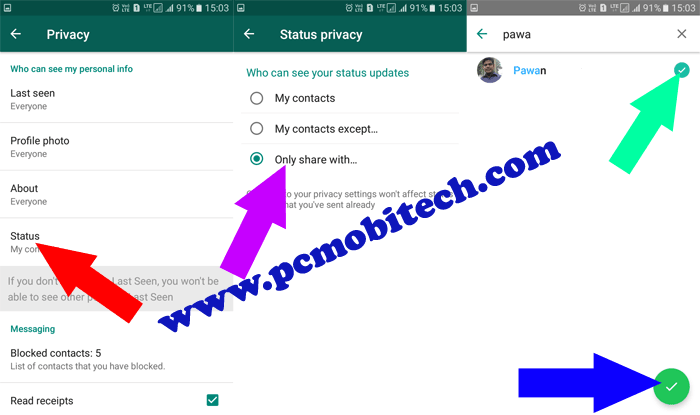 So select the "My contacts except" if you would like to exclude few contact and choose "Only share with" in case you want to show the status few friends. Here I'm going to select the option "only share with" because I want to show the status only one friend. After tapping on the option choose the contact from the list and hit the green tick (√) button and the list will be saved for future use.