With StrongVPN, you can enjoy a smoother and hassle-free internet experience with unrestricted access, while strengthening your anonymity and privacy. The company is committed to providing a private and secure web experience without any hidden fees, false advertising, or intrusive logging.
About StrongVPN:
StrongVPN originated as a small company in South Lake Tahoe, California back in 1994, initially focusing on selling PCs. Over time, they expanded their services to include dial-up internet services for the local area through their website California.net. As they grew, StrongVPN ventured into dedicated servers and colocation services, expanding their network to encompass over 950 servers.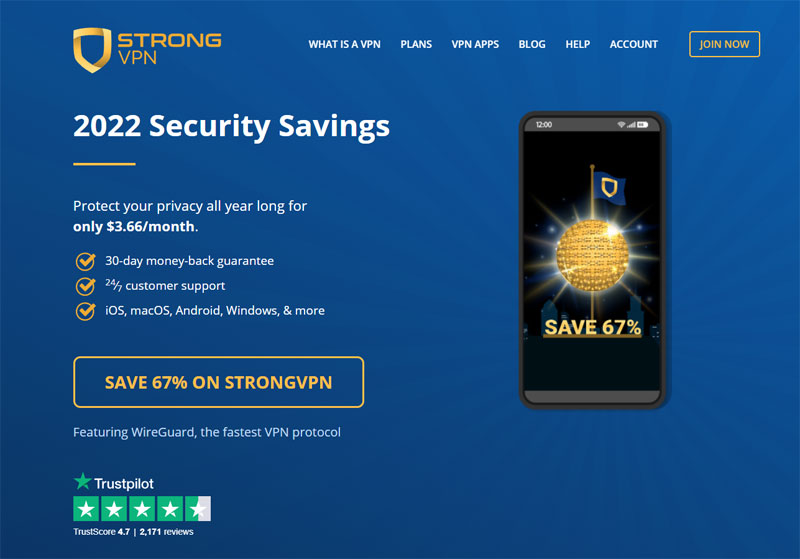 In 2005, StrongVPN launched their VPN services, offering privacy solutions in more than 30 countries, including popular locations like the United States, Australia, France, Japan, and Malaysia. Their dedication to privacy and their extensive server network allow users to enjoy a secure and reliable VPN experience.
With StrongVPN, you can trust that your online activities are protected, giving you peace of mind while browsing the web. Experience the power of StrongVPN's privacy services and unlock a world of unrestricted internet access.
Get Upto 67% Off Now + 250 GB of SugarSync® Secure Storage
Wide Range of StrongVPN Services:
When you choose StrongVPN, you gain access to a diverse range of VPN services designed to cater to your specific needs. StrongVPN offers compatibility with various devices, including Windows, iOS, macOS, Android, routers, and more. Setting up and securing your internet connection with StrongVPN is a breeze, ensuring that you can browse the web with peace of mind.
Here are some of the available services offered by StrongVPN:
VPN Apps: StrongVPN provides user-friendly apps that allow you to connect to their VPN network seamlessly. These apps are available for various platforms, including Mac, iOS, Android, and Windows.
VPN Routers: With StrongVPN, you can easily configure your router to establish a VPN connection, ensuring that all devices connected to the router benefit from enhanced privacy and security.
Kodi VPN: StrongVPN offers specific support for Kodi, a popular media streaming platform. By using StrongVPN with Kodi, you can enjoy a secure and unrestricted streaming experience.
Fire Stick VPN and Fire TV VPN: If you own an Amazon Fire Stick or Fire TV, StrongVPN provides dedicated VPN support for these devices, allowing you to access geo-restricted content and protect your online activities.
VPN Servers: StrongVPN boasts a vast network of servers located in various countries worldwide. These servers enable you to connect to different regions, granting you greater flexibility and access to region-specific content.
VPN with Cloud Storage: StrongVPN combines its VPN services with cloud storage, providing you with a convenient and secure solution to store and access your data.
With StrongVPN, you can enjoy the benefit of up to twelve simultaneous connections. This means you don't have to compromise on privacy when using multiple devices concurrently.
Choose StrongVPN for a comprehensive VPN experience that safeguards your online activities across various devices, ensuring your privacy is always protected.
Why Choose StrongVPN
StrongVPN stands out as an excellent choice for several compelling reasons:
Stellar Reputation: StrongVPN has earned high praise, including a 5/5 rating from CNET, highlighting its exceptional infrastructure and competitive performance.
Cutting-Edge Security: StrongVPN utilizes the WireGuard protocol, a next-generation encryption protocol, renowned for its robust security measures. This ensures that your online activities remain private and protected from any potential threats.
Optimal Performance: With StrongVPN, you can expect superior speed and performance, thanks to its advanced infrastructure. Upon launching the application, you are presented with a user-friendly interface featuring a map and location selection buttons, allowing you to easily connect to the closest server for optimal speeds.
Extensive Server Network: StrongVPN offers an extensive network of servers located across various countries worldwide. This broad coverage allows you to access content from different regions, providing you with unrestricted internet access and the ability to bypass geo-restrictions.
Intuitive User Experience: StrongVPN ensures a seamless and hassle-free user experience. The interface allows you to effortlessly choose the best available location or explore the detailed list of servers in different countries, catering to your specific requirements.
With its strong reputation, state-of-the-art security features, impressive performance, and wide server network, StrongVPN guarantees a reliable and enjoyable VPN experience. Choose StrongVPN to enjoy unrestricted internet access, enhanced privacy, and optimal connection speeds.
Some of the key highlights that deserve your attention here are-
Notable highlights of StrongVPN
950+ servers in 30 countries and 59 cities
59,500 VPN IPs
Up to 12 simultaneous connections
Best Available Location' feature
Zero logging
Security on public Wi-Fi networks
L2TP, SSTP, OpenVPN, IPSec, and IKEv2 protocols
No speed limits
WireGuard® protocol for all apps and platforms
Light Mode and Dark Mode app options
StrongVPN Few Features:
Extensive Server Network: With over 950 VPN servers in 30 countries and 59 cities, StrongVPN offers a wide range of options for selecting your preferred VPN location. This enables you to bypass geo-restrictions and access blocked websites with ease.
Abundant VPN IPs: StrongVPN provides users with a staggering 59,500 VPN IPs, ensuring a diverse range of IP addresses to enhance privacy and security.
Simultaneous Connections: StrongVPN allows for up to 12 simultaneous connections, meaning you can protect multiple devices simultaneously without any additional cost.
Best Available Location: The "Best Available Location" feature simplifies the process of finding the optimal server by automatically selecting the closest and fastest server for your needs.
Zero Logging Policy: StrongVPN follows a strict zero logging policy, ensuring that no personal data or browsing activity is stored on their servers.
Enhanced Security: With support for L2TP, SSTP, OpenVPN, IPSec, and IKEv2 protocols, StrongVPN offers robust encryption and security for your online activities. Additionally, the inclusion of the WireGuard® protocol enhances speed and performance across all apps and platforms.
Customizable App Experience: StrongVPN provides users with the choice of Light Mode and Dark Mode app options, allowing for a personalized and visually pleasing user experience.
Device Compatibility: StrongVPN offers dedicated apps for various operating systems, including Windows, Mac OS, Apple iOS, Android, Amazon Fire TV Stick, Routers, Linux, Ubuntu, Synology NAS, Kodi, Amazon Kindle, and Chromium OS / Google Chrome OS. This wide range of compatibility ensures that you can protect all your devices effortlessly.
Support: StrongVPN offers 24/7 email and chat support for its premium customers, ensuring prompt assistance whenever you need it.
Money-Back Guarantee: With a 30-day risk-free money-back guarantee, StrongVPN allows you to try their service without any worries. If you are not satisfied within the first 30 days, you can request a refund and cancel your subscription.
In conclusion, these notable features make StrongVPN an excellent choice for securing your online activities. With a robust server network, device compatibility, strong privacy measures, and dedicated customer support, StrongVPN offers a comprehensive VPN solution worth considering.
Now it is your turn!
Tell us what kinds of features are you looking for in your VPN? Are you satisfied with the feature sets of StrongVPN? Share your views within the comment section below.