An efficient VPN service provider always strives to offer affordable VPN services to customers, but very few provide a free plan. However, TunnelBear goes the extra mile to build trust among users by offering a free VPN plan. Additionally, they also provide premium VPN plans at reasonable prices, ensuring that it won't burden your wallet. Currently, there's a TunnelBear VPN deal/sale with a 58% discount offer, making it even more attractive.
About TunnelBear VPN
If you're searching for a VPN that is user-friendly for both individuals and teams, TunnelBear VPN is an excellent choice. With TunnelBear, you can easily secure your internet connection through an encrypted tunnel to various locations worldwide. It effortlessly bypasses internet censorship, allowing you to navigate the online world without limitations.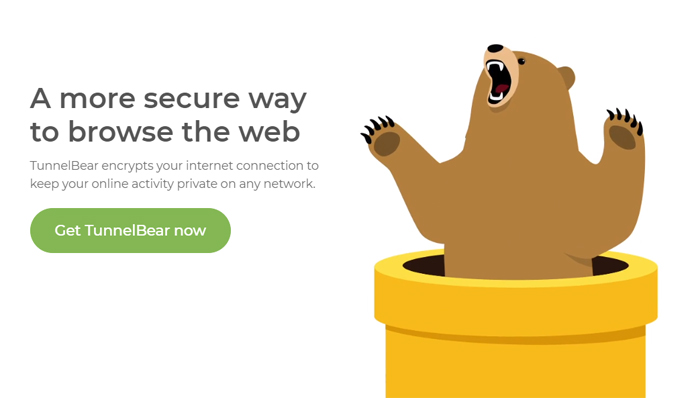 By selecting TunnelBear VPN, you safeguard your privacy, enjoy the benefits of five simultaneous connections, conceal your real IP address, and gain access to BBC iPlayer. TunnelBear is highly regarded for its compatibility with popular streaming platforms like Netflix and Hulu, making it ideal for online streaming, torrenting, downloading, and prioritizing security and privacy. With TunnelBear VPN, you can fulfill your requirements for acceptable speeds and top-notch privacy.
Get TunnelBear VPN at 58% discounted Price
Wondering how TunnelBear came in the picture of Virtual Private Networks? No worries! – Let us have a loop upon its history-
History of TunnelBear VPN
The history of TunnelBear VPN dates back to its establishment in 2011 by Daniel Kaldor and Ryan Dochuk, who had a vision of creating a user-friendly VPN solution that prioritized speed, top-notch security, private browsing, and a VPN browser. With its headquarters based in Toronto, Canada, TunnelBear quickly gained recognition as a public VPN service.
In 2018, TunnelBear reached a significant milestone when it was acquired by McAfee, a well-known cybersecurity company. This acquisition further solidified TunnelBear's position in the VPN market and brought additional resources and expertise to enhance its services.
Overall, TunnelBear's journey from its founding to the acquisition by McAfee showcases its dedication to providing an accessible and secure VPN experience for users around the world.
Tunnel Bear VPN Apps
You can find out a wide variety of applications of TunnelBear for your personalized use. Different TunnelBear VPN apps are-
1- TunnelBear for iOS- iPhone & iPad
Its key features are-
Always On
Simple Design
Beautiful Map
Strong Encryption
3D Touch
2- TunnelBear Blocker for Chrome
Notable highlights are-
Powerful
Handsome
Love Content
Bears
Simple Design
Take back control
Browse more private
Blocks Email Tracking and Ultrasonic Tracking
3- TunnelBear for Chrome, Firefox, & Opera
Important idiosyncrasies are-
Easy Installation
Only Your Browser Data
Multiplatform
Simple Design
Independently audited
No logging
Lightning fast
4- TunnelBear for Android
Key features are-
Always On
Simple Design
Beautiful Map
Strong Encryption
Android Widget
5- TunnelBear for Windows & Mac
Top highlights are-
Simple and Handsome
VigilantBear
Strong Encryption
GhostBear
Trusted Networks
Now, as you are well aware of different apps of TunnelBear VPN, let us now understand some of the most significant reasons why you should opt for this Virtual Private Network-
Pricing Plans of TunnelBear VPN
Three pricing plans of Tunnel Bear are accessible to you-
1) Free Version
Testing and limited usage
500MB of secure browsing
2) $3.33/mo Plan
All-day security and peace of mind
Unlimited secure browsing
5 connected devices
Priority customer service
3) $5.75/user per month
For businesses securing 2+ users
Unlimited secure browsing
5 connected devices per user
Dedicated account manager
Centralized team billing and management
Why Choose TunnelBear VPN?
TunnelBear VPN offers numerous compelling reasons to choose it as your preferred VPN service. Here are some of the key features that make TunnelBear stand out:
Protection against password and data theft
By using TunnelBear VPN, you can effectively safeguard your passwords and data from potential hackers, especially when connecting to insecure public Wi-Fi networks. TunnelBear blocks unauthorized access, ensuring your sensitive information remains secure.
Access to global content
With TunnelBear VPN, you can access content that may be restricted to certain regions. By changing your virtual location, TunnelBear enables you to enjoy your favorite websites and apps no matter where you are in the world.
Easy bypassing of local censorship
TunnelBear VPN allows you to bypass government-imposed censorship, granting you access to apps and websites that may be blocked in your region. By shifting your virtual location, TunnelBear helps you overcome these restrictions.
Powerful protection of online privacy
With TunnelBear VPN, your online activities are shielded from prying eyes. Internet service providers and network owners are unable to monitor or track your online behavior, ensuring your privacy is strongly protected.
Prevention of IP-based tracking
Many advertising services employ IP addresses to track user behavior across various websites. TunnelBear prevents this type of tracking by presenting a new IP address, thwarting ad services from monitoring your online activities.
7-day free trial
TunnelBear VPN also offers a 7-day free trial, allowing you to experience its features before committing to a full year plan. You can take advantage of this trial to evaluate the service and make an informed decision.
Check this: TunnelBear VPN Free Trial (7 Days Free).
Choose TunnelBear VPN for a secure, unrestricted, and private online browsing experience.
Final Thoughts about TunnelBear VPN!
TunnelBear VPN offers a user-friendly experience that allows you to effortlessly access websites from around the world. With TunnelBear VPN, you can enjoy the benefits of playing on new game servers, bypassing restrictions on work and school networks to access blocked sites and apps, avoiding speed throttling, and experiencing true freedom on the web.
We would love to hear about your personal experience using TunnelBear VPN. Please share your thoughts and feedback with us in the comment section below.