Are you receiving the "Disconnected – You cannot play on secure servers for one of the following reasons" error in CS:GO (Counter Strike Global Offensive)? Even after trying all the suggested fixes, you're still unable to join the current game that is in progress. No need to worry! I'll provide you with step-by-step instructions on how to resolve this error.
While playing on official CS:GO servers in the Matchmaking (MM) mode, I encountered an unexpected disconnection right after the round started. As a result, I received the following error message: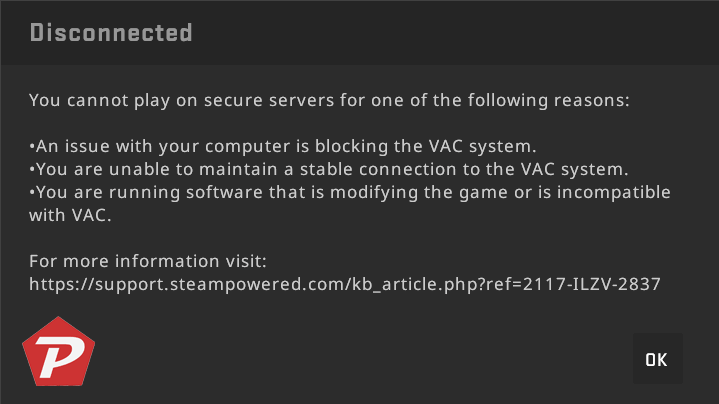 According to the CS:GO Error box it says:
Disconnected – You cannot play on secure server for one of the following reasons:
An issue with your computer is blocking the VAC system.
You are unable to maintain a stable connection to the VAC system.
You are running software that is modifying the game or is incompatible with VAC.
After receiving that message, I made an immediate effort to reconnect to the game server. Unfortunately, I was once again kicked out due to the same error. This situation left me with very little time because I was about to be abandoned in just 8-10 minutes, resulting in a frustrating 30-minute ban.
CS:GO Error FIX: You Cannot Play on secure servers for one of the following reasons
So without wasting any time, I quickly attempted several solutions to address the issue and managed to rejoin the game in time. Here are the steps I followed to fix it:
Restart Steam and System
I tried restarting both Steam and my operating system entirely, hoping that it would fix the issue. However, when I attempted to join the game again, I was met with the same error message. Undeterred, I decided to take another step and verified the integrity of the game files:
Verify Integrity of Files
To verify the integrity of your CS:GO game files. I followed these steps:
Open the Steam client and go to your Steam library.
Look for CS:GO in your library.
Right-click on the CS:GO entry.
From the menu that appears, select "Properties," which is the last option.
In the CS:GO properties window, click on the "Local Files" tab at the top.
On the left side of the Local Files tab, you'll see an option that says "Verify integrity of game files." Click on it.
Steam will now start verifying the integrity of your CS:GO game files. This process may take a few minutes.
Once the verification is complete, restart your computer.
Still having any confusion on Verify Integrity of files please check this post: How to Verify Integrity of Files of CS:GO?
After restarting the system, I attempted to rejoin the game, only to encounter the same error message once again. It was clear that the underlying issue had not been resolved yet. Taking a moment to reflect, I considered the possibility that there might be a conflict with the CS:GO VAC (Valve Anti-Cheat) system. With this in mind, I proceeded to try additional steps to address the problem:
Disable Conflicting Software
According to the official Steam documentation, this error can be caused by several common software conflicts. If you have any of the following software running, please disable it while playing CS:GO:
CCleaner
Powershell
Cheat Engine
IObit Start Menu 8
DLL Injectors
Hypervisors
Steam Idlers
Process Hacker
However, I realized that none of the mentioned software was installed on my PC. In order to investigate further, I examined the list of startup programs and identified a program called "Riot Vanguard Anti-Cheat" (Vanguard tray notification) as the only potential culprit. With very little time remaining to make a decision, I chose to disable it and restarted my system.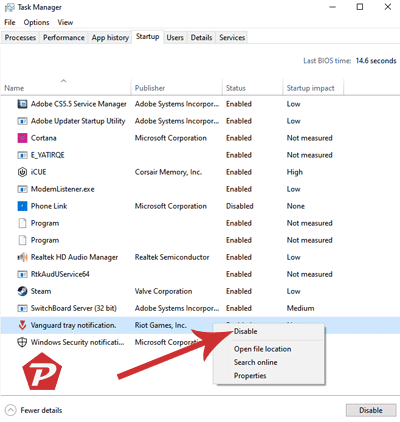 I was aware that this was my final opportunity to join the game, as the third round was already in progress, and I knew that if I failed to reconnect, I would receive a 30-minute ban. After restarting my system, I wasted no time and promptly attempted to rejoin the game. Miraculously, the issue was resolved, and I was able to successfully enter the game, albeit missing out on the third round. My friends informed me that I had just received a 30-minute abandon ban moments ago, which came as a surprise. However, despite this setback, we rallied together and managed to secure a victory in the match.
I hope this post proves helpful in resolving the issue of "Disconnected – You Cannot Play On Secure Servers For One of The Following Reasons." If you have any questions or suggestions regarding the post, please feel free to share them in the comment box. Your feedback is highly appreciated.