In my previous post, I have told about Kaspersky Antivirus & Security android app activation in simple steps. And after the activation, you can use it for lifetime without any charge. But if you want to enable advanced security protection to your Android Phone then you'll need to activate Kaspersky Antivirus & Internet Security Anti-theft feature. Kaspersky Anti-theft is an advanced mobile tracking feature and will help when you will lose your Smartphone. After losing the phone you can ring, track, lock, take a photo of thief & can hide personal info using My Kaspersky account.
Kaspersky account gives you exact place where you can find the Phone, in case It doesn't track the phone location then the phone can be locked using lock command. So for getting Anti-theft (Mobile tracker) security protection with Kaspersky Antivirus & Internet Security follow the steps below:
Kaspersky Antivirus & Security Anti-theft activation:
If the Kaspersky Antivirus & Internet has not activated yet then read this post first, if you have already registered & activated it then follow the steps below:
Launch the Kaspersky Antivirus & Security app into your smartphone and after launching tap on menu expand icon.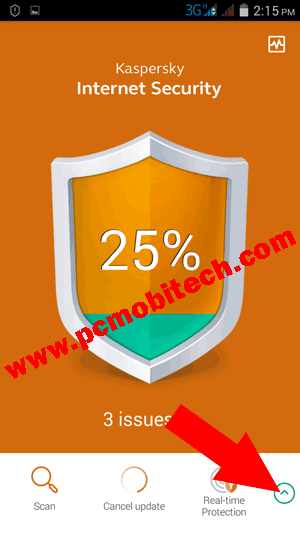 After click on Menu expanding icon, tap on Anti Theft icon from the menu.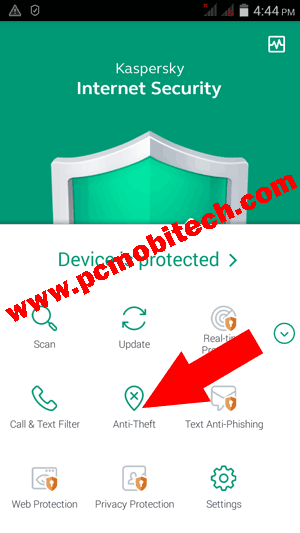 On next tap on CONTINUE button.
Next screen will ask to set a 4 to 6 digit numerals code, this code will protect your Kaspersky settings and private data when the device is lost or stolen by someone. To set the code tap on SET CODE button.
Now Create a secret code screen will appear, here create & recreate (Reenter same code) a 4 to 6 digit code and tap on SAVE button.
On next screen it will ask you to Grant Advanced Permissions, means you will need to allow Device Administrators power to Kaspersky Anti theft. To set Kaspersky Internet Security as a Device Administrator tap on NEXT button.
Next Tap on Activate button. If any confirmation dialog box will appear then tap on OK.
Now the Kaspersky Internet Security Anti Theft feature has been successfully activated and to complete process tap on DONE button.
Must See:
Kaspersky Anti-theft Settings:
However Kaspersky Anti-theft setup is completed but here are some more other settings, with that you can make your Android Device more secure. After the activation Kaspersky Anti-Theft you will see following options: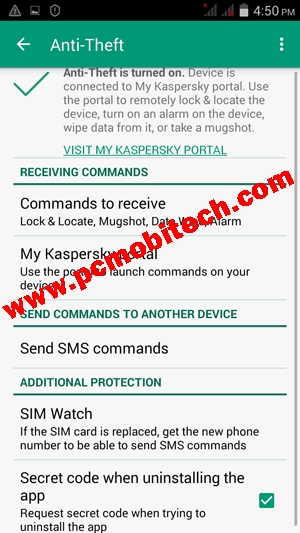 RECEIVING COMMANDS:
Command to receive:
These Commands will help you when is your device lost or stolen. You can send four: Lock & Locate, Mugshot, Data Wipe, Alarm commands from My Kaspersky Portal online account. So if you want to disable any commands from the list then simply tap on Command to receive option and uncheck the checkbox & tap on Save button.
My Kaspersky Portal:
Here you can check your Email ID with which your device has been linked.
SEND COMMANDS TO ANOTHER DEVICE
Send SMS commands: This option will help if you have lost your device then you can use any other Android phone which is also installed Kaspersky Antivirus & Security and activated Antitheft feature as well. then other devices can be used for sending SMS command to your lost phone. In this situation just open other Kaspersky anti-theft installed phone and
Use Send SMS commands option and tap on SEND SMS COMMAND NOW button.
A small dialog box will appear to choose your SMS command:

Lock & Locate

,

Full Reset

,

Data Wipe

,

Alarm

and Hiding private contacts & related information.
To send any command tap on the command eg: Alarm.
Another dialog box will appear, here enter the lost phone number and Secret code of the lost phone which you have created when you have enabled the Anti-theft feature on your lost phone.
And the lost device will be the alarm if the lost phone is switched on.
ADDITIONAL PROTECTION
SIM Watch: This option enables SIM card change protection. if the SIM Watch option is turn on anyone will want to replace the SIM card, after changing the phone will be locked automatically and a SIM card change message will be sent to the registered number. To enable SIM Watch option to follow the steps tap on SIM Watch option &: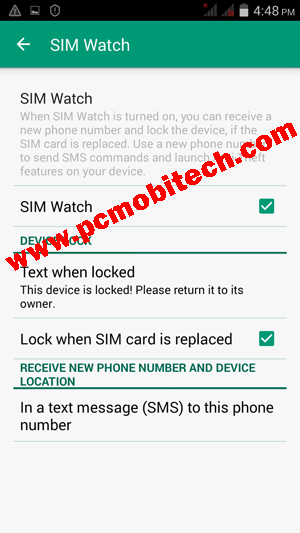 Tick the SIM Watch check box.
Tick the Lock when SIM card is replaced option checkbox.
Now tap on in a text message (SMS) to this phone number option and enter a phone number with country code. Eg +910444758596. And tap on Save to save the number.
Secret code when uninstalling the app: Tick the check box if you want to enable Uninstalling protection for Kaspersky Antivirus and Internet Security app. So if someone will want to uninstall the app then the Secret code will be needed to disable this protection.
You May Also Like: