Avast Anti-Theft is most popular and powerful mobile tracking application. Avast Anti-Theft has many Advanced features: Geofencing, Lock phone, Sound siren, Deny program manager access, Deny phone setting access, Prevent USB debugging, Force data connection on, Low battery notifications etc, which makes it a complete phone tracking app. It is available free for your android smartphone and can be downloaded from Google Play Store. If you already have Avast Mobile Security then Anti-Theft works better. But the activation of Anti-theft is a bit difficult for beginners. If you are a beginner and want to activate Avast Anti-Theft, So here I'm going to share Avast Anti-theft (Mobile tracker) full activation process step by step with that you can easily Activate Avast Anti-theft.
Avast Anti-Theft (Mobile Tracker) Activation Process:
After the Avast Anti-Theft android app installation, open the app. On the first screen Enter your actual name in Your name box. And after this tap on Continue button.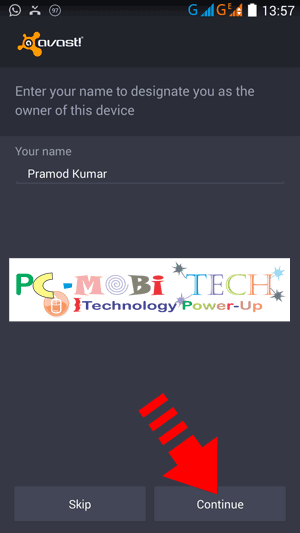 On next you will see a message "Set up your Avast PIN (used to authorize your future access to the Avast toolset)". To set up an Avast PIN tap on Continue button.
As soon as you will tap on the Continue button. An Activating PIN box will appear. Here you will need to first enable PIN recovery option. You can get PIN reset request via Avast Account or with the Phone number. But Phone number recovery is easier than Avast Account. Tap on the Phone number to continue setup.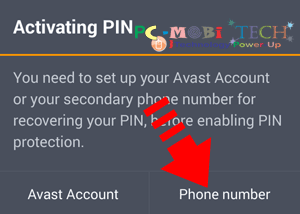 Recovery phone number box will appear to enter your mobile number with the country code eg: +91xxxxxxxxxx or +1xxxxxxxxxx etc. After entering tap on Save.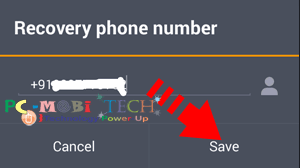 Now you will need to create a New Avast PIN. Enter & re-enter 4-6 digits number for your Avast Anti-Theft PIN password. after entering tap on Confirm to continue.
Note: This PIN will be needed when you will open Avast Anti-Theft settings.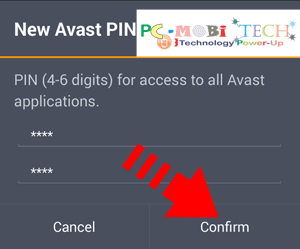 Must-See: Lock & Unlock apps with Avast Mobile Security AppLock.
After tapping on Confirm. You will need to enter your another mobile number for SIM card change notifications. When you lose your phone or someone steal. And when Someone will be changed your SIM to the new one then Avast Anti-Theft will send a SIM change SMS, This message contains the new SIM number.
After entering the number with the country code tap on Continue button.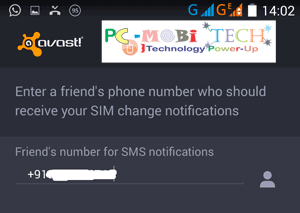 On next Avast Anti-Theft ask you to activate your Avast account: "Avast Anti-Theft supports controlling your device via the web at my.avast.com. We suggest connecting your device to the account now."  Avast Account will useful for you when you will lose your smartphone. If you don't want to create this account yet then tap on the Later button. To create an Avast account Continue button.
On next you will see Sign into Avast screen If you already have an Avast Account then tap on Sign in. To Create a new Avast account tap on Register.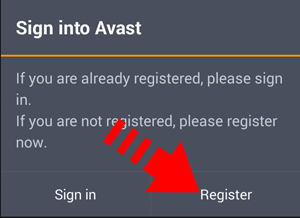 Register Avast Account screen appears, Enter your email id in the first box, Enter & re-enter a password for your Avast account in the second and third box. Or you can register the avast account with your Facebook account but for this, you will need to allow access to the Facebook account. After entering correct information tap on Register.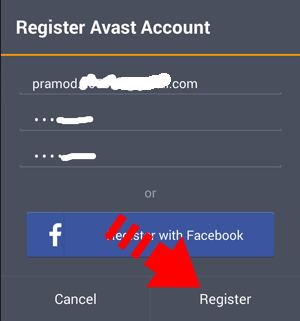 After registering you will need to setup SMS sending behaviour of Avast Anti-Theft. Here enable all the toggle buttons and If you receive any on-screen message then simply press OK. After this tap on Continue button.
If you have done all things correctly then you will see an activation success message: "Avast Anti-Theft has been enabled and the launcher icon will be hidden when your device is restarted. You can open the Interface by calling your Avast PIN". Now tap on Confirm to continue to full activation.
That's it! Now You have successfully activated Avast Anti-Theft on your smartphone.
Please note that once successful activation your Launcher icon will be hidden. And you can't directly access Avast Anti-Theft settings or feature. If you want to change any settings of Avast AntiTheft then you will need to download any of following Avast app:
Avast Cleanup and boost, Avast Mobile Security & Antivirus, Avast Battery Saver, Avast SecureLine VPN, Avast passwords and Avast Wi-Fi Finder.
After Download, open any of one and tap on More By Avast icon on top of the app and then tap Avast Anti-Theft to open its settings.
Also See:
Thanks for visiting. If you find this post helpful then please share this with others.