Sometimes we face error in an app on Android Smartphone, this error causes stop using the app and We can't download or Play apps without solving the problem. Some common errors (Code- 24, 194, 403, 413, 491, 492, 498, 481, 903, 905, 907, 911, 919, 920, 923, 927, 961, 504, 505 etc) are related to downloading problem in Google Play store. When the problem occurs, then a message on the Google Play Store screen will appear eg:
"Angry Birds" Could not be downloaded due to an error. (905)
These are bugs in Google Play store If you are facing same problems then here I'll tell you how to fix Google Play store 903, 905, 907, 911, 919, 920, 923, 927 etc download error and insufficient storage error.
How to Fix Google Play store error problem?
First we fix Google Play Store code -24, 194, 403, 413, 491, 492, 498, 481, 903, 905, 907, 911, 919, 920, 923, 927, 961, 504, 505 application download error: To solve this problem follow these points below
Go to the Android smartphone Settings.
Tap on

Apps

or

Application Manager

.
In the application manager, tap on top All tab and scroll down & tap on Google Play Store.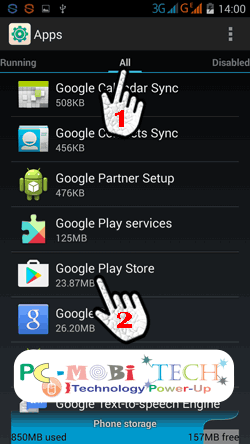 Now you are in App info page. Here tap on

Clear data

button to reset Google Play Store.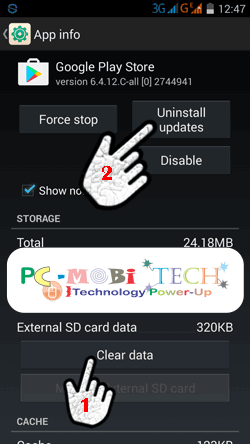 After Clearing data Google Play store, check your problem has been solved or not, if The problem is not solved then in the App info tap on Uninstall updates button and restart the smartphone. Now you have successfully reset your Google Play store to Factory defaults and you will need to re-setup your Google Play store account with your Gmail ID.
Note: If the problem is not solved yet then again go to smartphone settings>>tap on Apps (Application manager)>> tap on top All tab>> scroll down & tap on Google Play services >>In the Google Play Services App info Page tap on Uninstall Updates button. This will reset Google Play services to default and your problem will be now resolved.
Fix Insufficient storage problem in Google Play Store:
This is another common problem in the android smartphone, we install multi apps in our smartphone and never uninstall. This fills your smartphone internal storage (Internet SD Card). and if your internal storage full then When you want to download or update an app from Google Play store then this will not download because When You download or update any app from Google Play store then it downloads first in your internal storage and after this installs. If your internal storage already full then the application could not be downloaded and you will see this message on the google play store screen:
"Insufficient storage
This device doesn't have enough space to download "app name" consider deleting apps or content you no longer need and try again."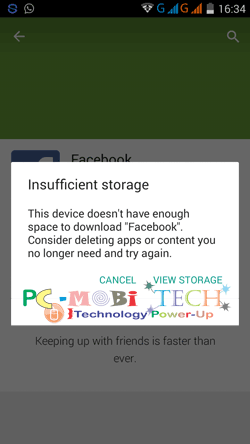 And if you are facing Insufficient storage problem in Google Play store when you want to download an app then follow these steps bellow:
Uninstall unwanted Downloaded apps: Go to Settings>>App manager>>tap on Downloaded tab>>Now uninstall unusable apps one by one. And if you want to uninstall an app completely then read this post- How to completely Uninstall an app on android.
Move Apps from Internal Storage to External Storage (External SD Card): To move your application from Internal to external SD card
Go to smartphone settings>> tap on Apps or Apps Manager>> tap on External SD Card tab from the top (basically 5 tabs available in Apps Manager: Downloaded, SD Card, Running, All, Disabled and you can move between by swiping the tab from left to right or right to left).
In the External SD Card tab check the apps with unticked option. If any apps available without tick then tap on that.
Now in App info tap on Move to External SD Card button. Now the app moves from internal SD card to External and this will increase Internal storage space.
Clean your smartphone garbage data: All android apps store their data on internal & external SD Card in the form of cache and other garbage data. Time to time we need to clear this data to make smartphone faster. To clear smartphone data install a Smartphone Cleaner app such as Phone master app from Google-Play-Store. When you will clear your smartphone with the cleaner app then your smartphone storage also increases.
Also See:
After using above tips, I hope that your problem will be resolved.