Many times when we purchase an app subscription, we are not aware of its pros and cons. And sometimes by mistake we buy the service of such an app which is not even needed. If you have purchased any service through App Store on iOS based device and want to cancel it. So here we will tell you step by step.
Cancellation process of An App Subscription in iPhone/iOS is much easier now, you have multiple option to Activate or Deactivate a service.
I'm using iPhone 11 with lastest version of iOS, so it will work for all iOS based devices including  iPhone, iPod and iPad.
Cancel an App Subscription in iPhone/iOS
In the latest version of iOS/iPhone any app subscription which has been activated through App Store can be cancelled via following ways:
#1: Using iPhone Settings:
In the Iphone/iOS Settings unsubscribe any subscription using following steps: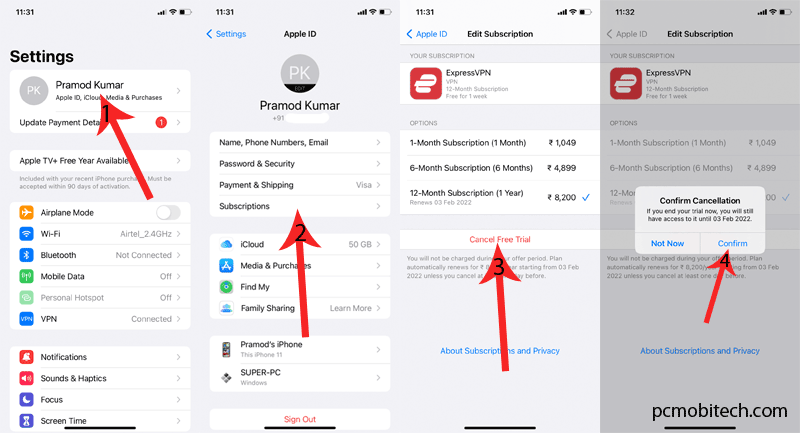 In the 'Settings' tap on the 'Account Settings'.
Now tap on the 'Subscription' option.
At the next screen, you will see list of Your Subscriptions, tap the Subscription which you want to cancel.
Now at the 'Edit Subscrition' screen click on the 'Cancel Subscription' (or Cancel Free Trial) button.
A 'Confirmation Cancellation' box will appear, tap on the 'Confirm' option to complete Cancellation.
#2: Using App
Almost all apps allow to manage subscription within the app, Here I'm showing how to cancel ExpressVPN trial subscription on iPhone/iOS. Similarly, Open the app of which you want to deactivate subscription and follow the instructions below: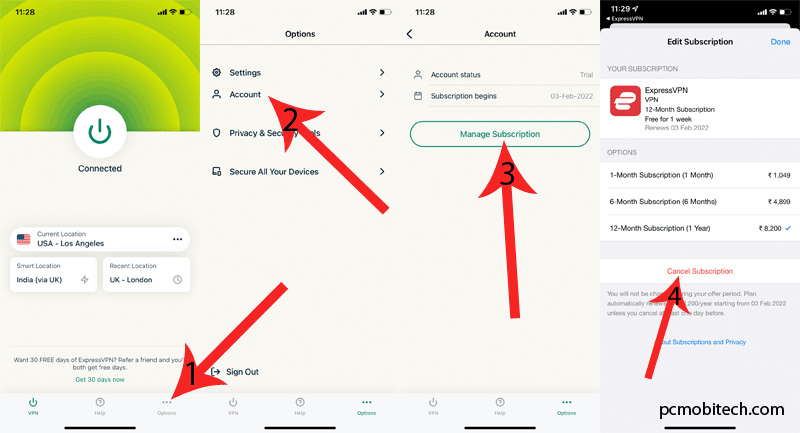 First Find the 'Option' and tap to open this.
In the options, open the 'Account' option.
Next, you will see App account related info such as Status and Subscrition validity. Here, tap on 'Manage Subscription' button.
 Now tap on the 'Cancel Subscription' button and confirm the 'Cancellation' of the application.
#3 Using Application website
This is another way to manage subscription of an application on iOS based devices because when you purchase a subscrition using app website then it can be also managed by website. Just go to application site and login to manage subscription.