We allow many third-party apps to get access Google account information. After giving permission these apps can get all Google account data without any interruption.
For Exmaple:
We allow WhatsApp to store data on Google Drive. So WhatsApp can access Google drive and can read and write data anytime.
Some SEO services need Google Analytics data to provide better SEO suggestion.
Some third-party apps (such as Buffer) need Google+ profile access to directly publish content on your Google+ Page.
But after allowing permission, if we do not use those apps or services in the future then they will continue to have access all the account data and read-write permission. Sometimes the app access permission leaves a security hole into your Google account. So it is always good for your Google account security to remove the unwanted app permission, that makes your Google account more secure.

Make Secure Google account by removing unwanted app permissions.
First, you'll need to sign in to Google account and after sign in Go to this page. On this page, you'll see all connected apps to your Google account (including Google+, Google AdSense, Google Analytics, Google Drive etc).
So if you see any app that you're not using any app from them then it would be good choice remove the unwanted app permission from Google account. To remove an application from Google account access permission click to choose the app and then click on the "REMOVE" button.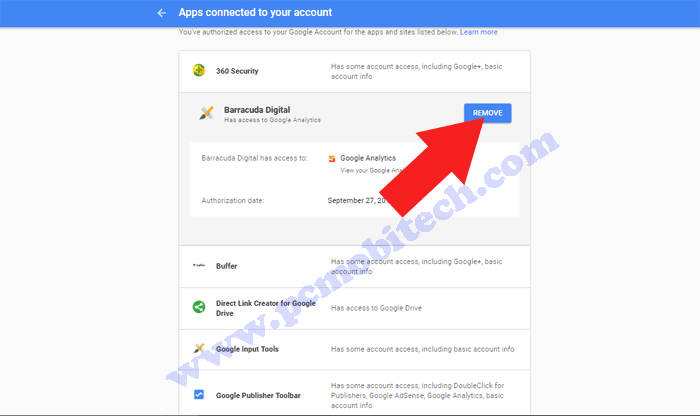 The Remove access permission dialog box will appear, To remove access click on "OK" button.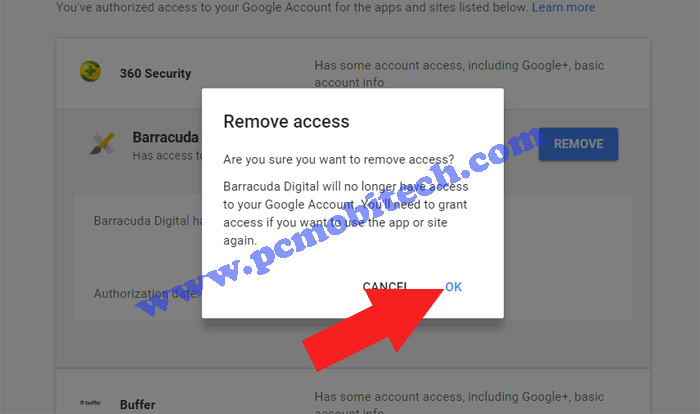 Now the app has been removed from the list and it can no longer access your Google account.
Also See: