Google Drive is the best & free way to backup your data. The Google drive offers up to 15GB online backup under free cloud storage plan. And now the backup to Google drive option is also available in WhatsApp instant messaging app. So you can backup all of your WhatsApp chat histories on free online cloud storage using Google account.
It will useful because after backing up WhatsApp Chat History data when you'll want to restore Whatsapp Chat history from Google Drive on same or another Android or iOS-based device. You won't need other backup devices like Micro SD card or any storage media. You can do a cloud backup of your chat history data via WiFi or Mobile data on Google Drive. Whatsapp Backed up your Chat history data & Store data hidden inside Google Drive.
Also See:
Whatsapp Chat History Data backup and recovery (Google Drive)-
So here is step by step guide how to backup data on Google drive cloud storage-
(i). Open Whatsapp & tap on top of right 3 dotted menu.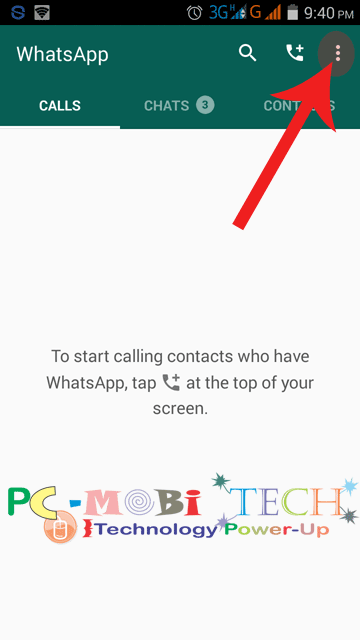 (ii). Now Menu option appears, tap on Settings.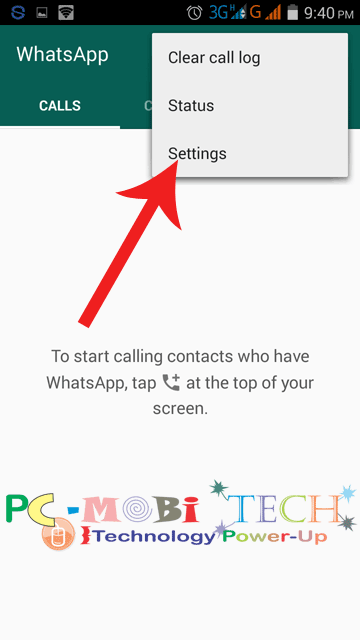 (iii). In Settings option tap on Chat and calls settings.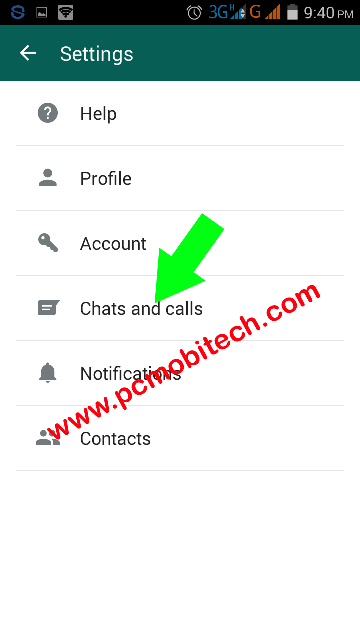 (iv). In Chat settings option Tap on 'Chat backup'.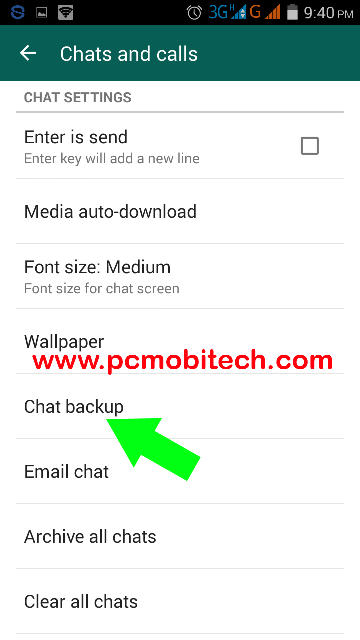 (V). In Chat backup, you will see here Google Drive Settings Option-
Back UP
button, back up to Google Drive, Account, Back-Up over, Include Videos.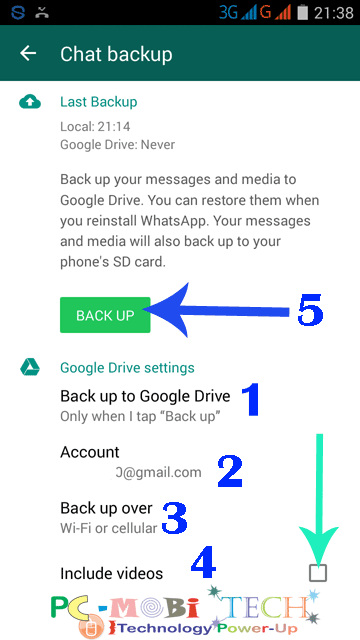 WhatsApp Google Drive Backup Option-
1. Backup Frequency or Back up to Google Drive
Now set frequency type Never/
Only when I tap "Back up"
/Daily/Weekly/Monthly, which means that WhatsApp will upload everything once, then only Updates backup data according to selected option:
Only when I tap "Back up"
/Daily/Weekly/Monthly on Google drive.
Only when I tap "Back up": This option is very useful because if you do not want to that Whatsapp do automatically backup, you can select this option. After selecting this option WhatsApp chat history backup can be only done when you click the Backup button.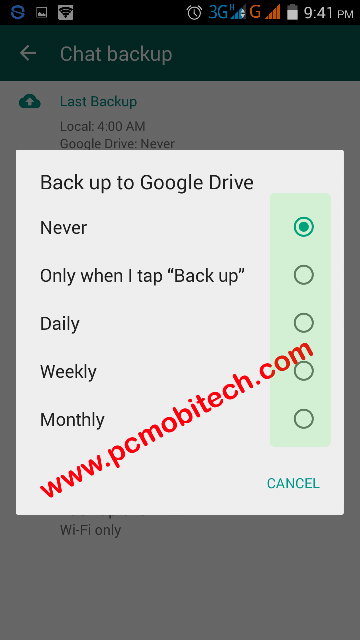 2. Account
Tap on Account. Choose an existing account or you can create a new account via Add Account. After Choosing an account press OK to save it.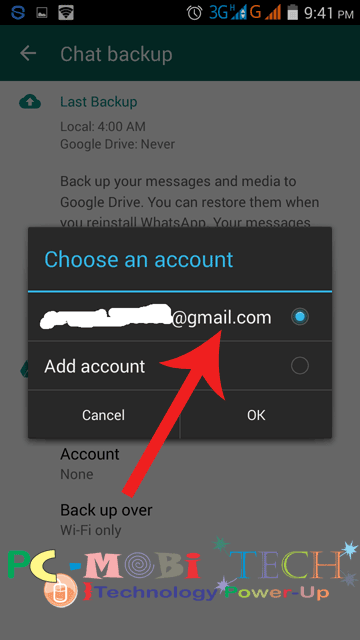 As soon as you will tap on OK. Whatsapp communicates with your Google drive account. After connecting to the account a Google Drive Verification Message appears on the screen, then tap on ALLOW to Verify.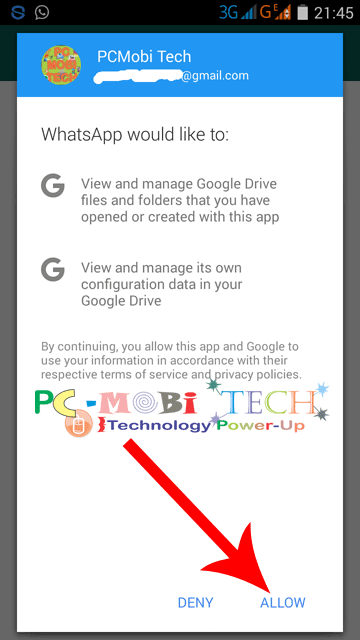 Now You can see that your Whatsapp is connected to Google Drive account.
3. Back Up Over
If you want Whatsapp backup your Chat history 'Over WiFi' then don't change the setting or If you want Whatsapp use your Mobile Data (2G or 3G, 4G LTE) then Choose second option 'Over WiFi or Cellular'.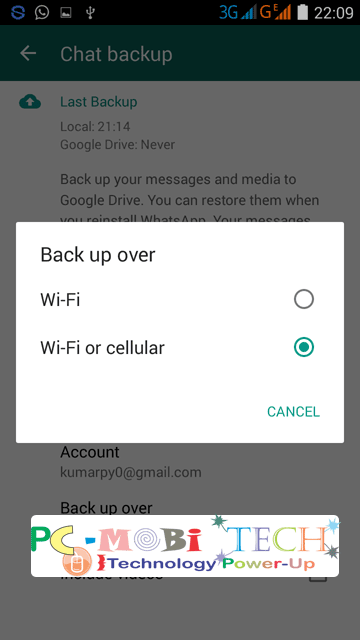 4. Include Videos
If you want that Whatsapp also backed up your videos along with the chat messages & Photos. then tick the Include Videos check box.
5- Back Up
Now tap on the Backup button. First, it will backup on SD card after that on Google Drive.
Restore Google Drive Backup to Whatsapp
When you install WhatsApp on a new or reinstall on the same device again, after registering with your mobile number, First, Whatsapp will check, is there any local backup on SD Card available. If Yes, It'll ask you to restore local backup then you can restore it without Google Drive.
If there is no local backup available on your Phone, then It will check Google Drive backup associated with your Google account and If you have Signed-in your Android Phone with the same Google account then after checking it will ask you to restore your entire data from the cloud (Google Drive account).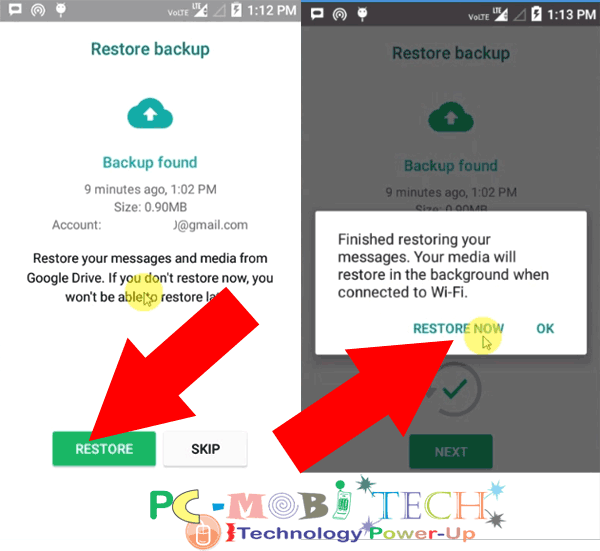 Check WhatsApp Chat History backup on Google Drive
When you Open your Google-Drive account on the web, you'll see Whatsapp listed as having hidden data. If you want to check this then Go to Settings>> Manage Apps. Whatsapp backup only conversations and photos, Videos aren't backed up by default. Or If you want to backup your videos then Tick the checkbox Include Videos in the Chat backup option.

In case you're thinking to remove WhatsApp backup from Google Drive then read this post: How to remove an app access from Google Drive?
Let me know if you have any question related to this topic.
Watch Video: