As we all know, Google Drive is the world most popular easy to use free online data storage service. And we can store data on it directly from the web version, via desktop or mobile application software or with third-party apps. We can easily upload our important files (Documents, Videos, Audios, Photos etc.) via Web, Desktop & mobile app but if you want to use third party apps for backing up data on Google-Drive then you must need to allow Google Drive account access to the third party apps eg: PicMonkey, WeVideo, Draw.io, Obvibase, Audio Cutter, SlideRocket, CloudConvert, Wappwolf Automator for Google Drive, Pixlr Editor, DocHub, HelloFax, Drive Notepad, Gantter for Drive, Lucidpress Layout and Design, WhatsApp, SuparBackup etc.
These are trustable apps, so you can give account access without any tension. When you allow Drive permission once then they can access the Drive for forever. Sometimes, It is not a good idea that gives Google Drive access for forever to a third party app. This may be a security hole because Third Party apps can delete or add data without your permission. Hence, It is good for your account security, disallow those apps from Google-Drive access If you are not using any of them. So today I'll show how you can deactivate third-party access from your Google-Drive account.
How to disable app access from the Google Drive?
Login to your Google Drive Account: >>Click here to go<<
After login click on top right Settings gear icon. A menu will appear, select Settings from the Menu.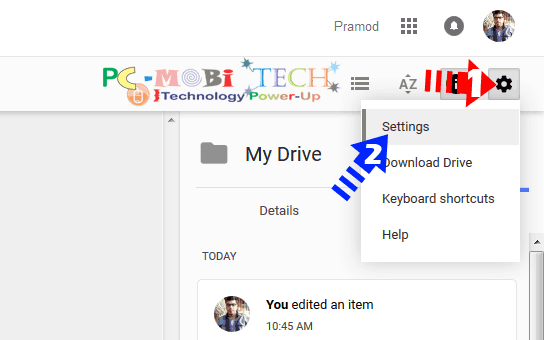 Now you are in Settings:
Click on Manage Apps from the Left. Now Find your app from the list, which you want to remove access from the Google Drive.
After finding click on Options available on the right of the app.
A menu will appear, to remove app access from Google Drive click on Disconnect from Drive option.
Now Disconnect app dialog box screen will appear. Here if you want to delete app data also then select the checkbox: Also delete .. MB of hidden app data created by this app. Or you can uncheck the checkbox if you wish to use app data in the future. After this click on Disconnect button.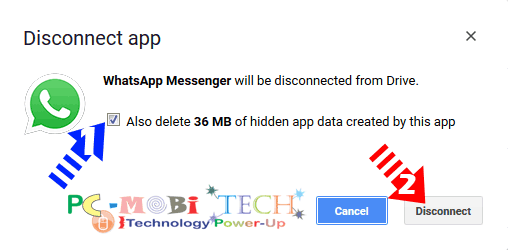 After Disconnection app will be removed from your Google Drive account. Click on Done button available on top right of the Settings box.
I hope that the post will be helpful for you.