Google Now is the best virtual assistant for Android and iOS smartphone. Google Now is available within your Google App, So you will not need to install it. It is most popular free private assistant like Microsoft's Cortana. When you open the Google Now app then you see many news that related to Android, Apple iOS, Windows etc., This is good for some users because Google Now every time shows latest news stories related to your interest.
We don't know how Google guess our interest and shows relevant news. That is a problem for us because many times it happens that we see nonrelevant news in the feed and we can't control it. But now Google offers a way to us with that we can disallow these uninterested news stories and can tell to Google what we don't like to see. If you are tired with the same news stories then here I will tell you how you can get rid these unrelated News stories & can only see your favorite news always.
Download or update app:
How to disallow non relevant news stories in Google Now?
If you want to see only those stories that you like in Google Now then follow these easy steps below:
Open Google Now in your smartphone.
Whenever you see any uninterested news story that you don't like in News Feed then tap on 3 dotted menu, available top right on news story.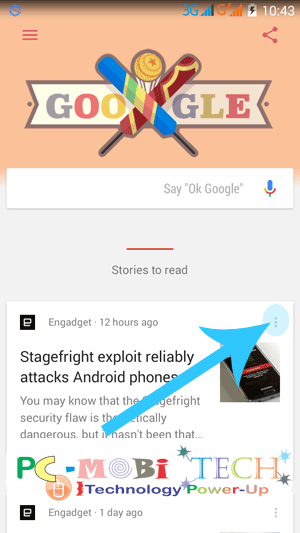 Now a menu will appear on your smartphone screen and then tap on Not interested in

'Story Name'

(eg. Android, Smartphone, Windows etc).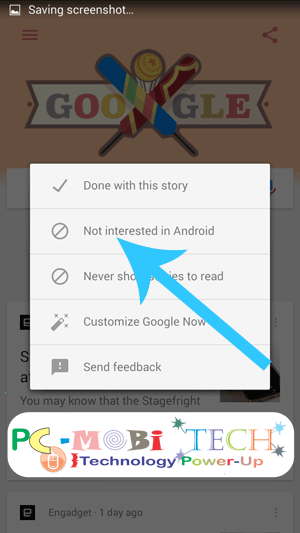 That's it! After tapping on Not Interested in _____. You will never see that non relevant stories again in Google Now. And also whenever you will see another unrelated stories in the Google Now news feed then follow above steps again and disallow those news stories.
Also See: