ICICI Bank mobile app Pockets is a digital wallet for your online transaction. Pockets app allows you to send money, mobile recharge, Pay Bills, Movie Tickets, shop anywhere, split expenses with family & friends and much more. Pockets is a virtual Visa powered card with which you can do the online transaction on any website or mobile application. It works all over India. ICICI Pockets application user also applies for a physical card, which you can use at any retail outlet.
Pockets is a digital wallet and like a saving bank account. Therefore you can also send money to any Pockets wallet, bank account & friends contact. Transfer money to any bank with NEFT service, transfer Pockets app money to your own ICICI bank account. Add or manage payee name, create a fixed deposit. Everything you can do in the Pockets app. This app is for everyone. Means any person use this app. It is not necessary you have ICICI Bank account on not have. Pockets app available for Android & iPhone.
Activate ICICI Bank mobile banking app Pockets on Android or iPhone?
For the activation of your Pockets app, a message will send from your smartphone. Therefore, it is necessary that first select the Mobile number which is registered to your bank account.
Note:
For Older Android OS Pocket app activation require settings up default sim for SMS: Go to your smartphone Settings>> Dual sim Settings>>Messaging and select your ICICI Bank registered SIM (In Android 6.0 MarshMallow and Android 7.0 Nougat Go to Settings>More Connection settings>Sim Card Manager>Text Messages). Now When Pocket app will send verification message then it will automatically send from your registered mobile number.
Follow these easy steps below if you're a ICICI Bank Customer:
Open Pockets app in your smartphone, When the application loads. The Pockets By ICICI Bank screen will appear.
On next you will need to Authenticate your Device (Verify your phone number) enter your mobile number which is registered in your bank branch. And tap on Verify Your Mobile option.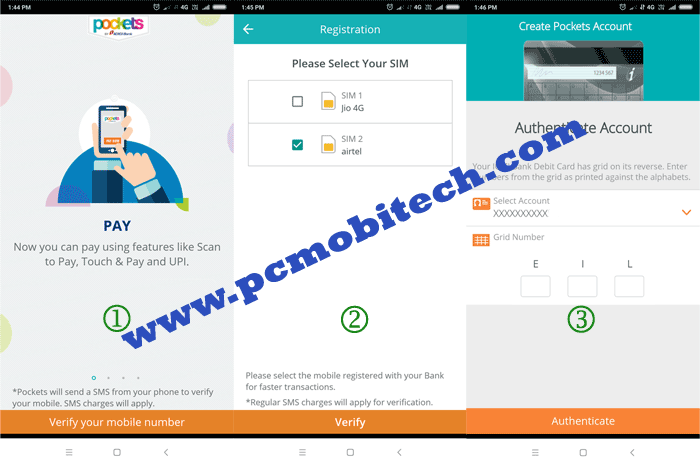 Now, It will ask you to select the SIM with which you want to register your pocket app. (In some older Android OS, the screen will not appear, so Please read above described Note, otherwise you will mistakenly register your Pocket app with wrong Mobile number.) If the screen is appearing select the prefer sim and tap on Verify Button.
As soon as you tap to Verify, Pocket app will send an SMS via selected sim, And you will receive a confirmation message to your registered mobile number. (If it is Android MarshMallow or below version Phone and you have not setup the default SIM for SMS or Message, A Failed to verify mobile number screen will appear, as I have described above. Then you will need to verify mobile number manually. To verify number manually click on Proceed option on Failed to verify mobile number screen. Send verification code manually via your registered mobile number & verify it. After successful verification, you will see Authenticate Account.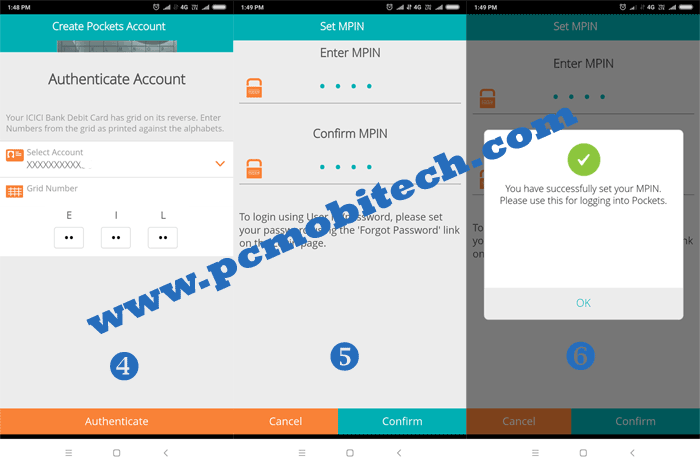 On Authenticate Account screen verify your ICICI Bank debit card grid number (See back panel of the debit card for the grid number) enter 2-2 digits number and after this tap on Authenticate button at the bottom of the screen. If you have entered correct grid number then you will see Set M-Pin screen.
Now Setup MPIN for your Pocket app login. Enter & re-enter 4 digit mobile pin eg- 6254 or something that you want. Please note this is not your ATM PIN. You will have to enter it separately.
After Creating MPIN, You will receive an on-screen message- "You have successfully set you MPIN. Please Use this for Logging into Pockets".
Now you have successfully activated ICICI Bank Pockets app.
Note:- ICICI Bank customers can register Pockets app using the above process. This will not work, if you're not a ICICI bank Customer and you'll need to fill account creation Form after the SMS verification.
If you are not a ICICI Customer and want to use this app. Fill-out the account form. After activation of Pocket account you'll need to fill KYC form and after that following all above steps carefully, if you don't fill KYC then Pocket app will only work for 1 Year and after that the account will be closed.
Also See:
How to Add Fund to your Pockets app?
To Using your Pockets wallet, it is necessary that Add Funds to your pockets account.
After logging with your MPIN. A welcome message will appear. "Welcome to pockets! Get started by funding your wallet!" tap on OK to add fund. If you don't want yet to add fund tap to Cancel. You can also add fund later.
On Next screen Enter an amount & tap on Next option at the bottom.
Now you will see Add Funds through the screen. And also see Four Option-
Linked ICICI Bank account- It's the easiest way. If you have some money in your account so you can transfer into the pockets wallet account. Just tap on Linked ICICI Bank account option>> You will see Add fund from: Account number, Amount, Deal and at the bottom Add Funds option. tap on Add Funds option to add fund in your pockets. You will receive an OTP (One Time Password) as soon as message come, Pockets app automatically detect OTP & fill up. Tap on confirm to confirm the OTP. After verification, your fund will add to your pockets account.
Debit card/Netbanking- You can add funds from your other banks account eg.- AXIS BANK, STATE BANK OF INDIA, CENTRAL BANK OF INDIA, PUNJAB NATIONAL BANK etc.., through Debit card & Netbanking service.
Cash Deposit at ICICI Bank branch- You can also deposit cash at the Bank counter.Fill up the cash deposit slip and deposit cash at the counter.
NEFT from other banks- Transfer fund through NEFT from others banks account. Login to your bank's internet banking>>Add your pockets wallet as a payee by entering the 16 digits pockets card number>> select bank as ICICI BANK and enter IFSC CODE- ICIC0001022 >> now you can transfer funds to the added payee using NEFT.
Thank for visiting.
~Any problem & suggestion leave a reply in the comment box~