Friends, Today I'll tell you how to activate ICICI Bank Mobile Banking App iMobile. ICICI Bank iMobile app recently made many changes, and its activation process is made easier. Activation of the app in the previous version was a bit difficult. But the new version can be activated more efficiently than before. So here I'll tell you to step by step guide how to activate ICICI Bank iMobile app.
How to Activate iMobile App?
To activate iMobile on iPhone and Android app follow these instructions
Before activation, you'll need to check default SIM settings for Messaging (SMS message). Because the ICICI mobile banking app "iMobile" will verify your mobile number by sending a message to ICICI bank's server. So you will need to set primary mobile number as default for SMS, which is registered for ICICI Bank Mobile Banking.
Go to your Smartphone "Settings" & tap on SIM Card or DualSIM option. In SIM Card or DualSIM settings tap Messaging (SMS message) option. Now select the main SIM on which you have ICICI banking facility. In case you are using Android 6.0 Marshmallow or Android 7.0 nougat then "Go to Settings>More Connection settings>Sim Card Manager>Text Messages" and choose sim which is registered in your ICICI Bank account. If you select the option "Always ask" then ICICI iMobile app will ask you to select main sim in STEP 1.
And along with this also check your mobile balance because it will take charge money to send the message if your SIM doesn't have balance then first recharge it.
After the Messaging SIM selection, Tap on the "Activate Now" button. iMobile app will send an SMS or if you have selected option "Always ask" in the Messaging Sim Selection settings, then Please Select Your SIM box will appear on the screen, choose here your preferred sim and tap on the Verify Mobile Number button. As you can see that some amount has been deducted from your mobile balance for the SMS charge.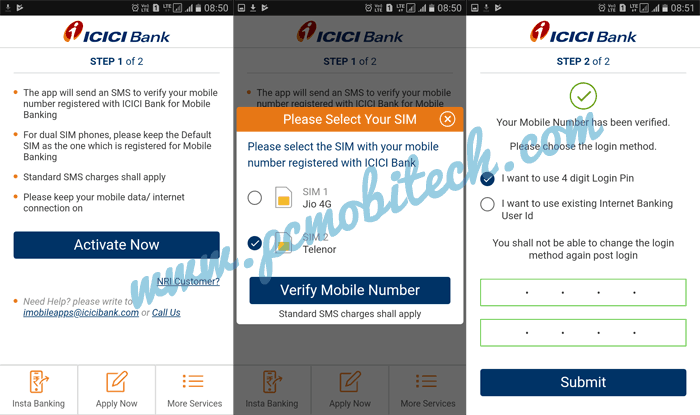 Now, this app is connecting to the server and verifying the registered mobile number. Your mobile number has been Verified.
Next, it will ask Please Choose the login method. So How you want to use your iMobile app? Do you want to login with PIN Password?, or want to login with existing Internet Banking User ID and Password. If you choose the User ID and password login option, each time you will need to enter a user ID and password. So it is better and faster way you choose "I want to use 4 digit login Pin". So you will only need to enter 4 digit pin each time for login. And also keep in mind don't use your ATM PIN here, Choose separate PIN.
If you want to login with four digit code, then enter a four-digit code into the box and enter it again to verify. After this tap on Submit button.
A few moments later, you will receive an Alert message: "You are one step away from Using iMobile. Please complete verification and start experiencing iMobile". So tap on OK.
Now at the "iMobile" login screen, enter the 4 digit PIN again, and it will be automatically logged in.
Next, you'll need to verify ATM/Debit card. On the back of ATM/Debit card, a 2-2 digit code from "A to P" is given. Of which you will have to enter the correct code here. Seeing them fill here.
After filling the code correctly, tap on "Activate" button. If you have entered the code correctly, "Activation Done!" message will receive on the screen. If the code is entered wrongly, then you will need to re-complete the whole process. Now "iMobile" has been fully activated.
On main Screen Feature-
After Login On the main screen, You will see Account and Deposits, Fund Transfers, Recharge, Bill payment & Reminders, Shopping & Offers, Cards, Loans and Forex, UPI, Insurance and Tax Payment, SmartKeys & Services related features. Now Tap on photo icon to set an image as profile Photo. And your ICICI iMobile banking app is ready to use.
I'm Pramod Yadav, the person who owns and leads PCMobitech. I really love technology, and I know a lot about the digital world. This passion pushes me to create interesting content. I mainly write about Windows, Android, iOS, VPNs, and keeping things secure online. I make helpful articles, guides, and share tips & tricks to help you understand and use these things better.