The booming prevalence of iPhones and Android Smartphones are giving rise to confusion over Android Vs iPhone in 2023. With every new model coming in the marketing, lots of discussions and debates get sparked whether Android or an iPhone is the best buy option for you. – And that is why the cold war these two major Mobile Development Giants does not seem to end anytime soon.
Are you also confused about picking the right one between Android and the iPhone? Then by the end of this post, you will have enough comparative info about the phones working upon Apple iOS and Google's Android. So, no more ado let us start delving into the world of Android and iPhone right away-
History of Android Phones
Android Phones work upon Android Operating System which is a mobile operating system. It all started in October 2003 when Andy Rubin founded Android Incorporation in Palo Alto, California, United States. Later on 17th August 2005, Android Incorporation was acquired by Google. Since then, it is in the subsidiary of Google Incorporation.
The main employees of Android Incorporation at that time were Andy Rubin, Chris White, Rich Miner, and Nick Sears. Even at the occasion of its public founding, Rubin said-
"Android Inc was going to develop smarter mobile devices that are more aware of its owner's location and preferences."
Primarily Android OS was made for optimizing the operating systems of digital cameras but later it got shifted towards the Smartphones seeing the better market viability of Android Smartphones.
The name Android came into existence because of the nickname of its founder Andy Rubin who had immense love for the robots. In the year 2007, the development of the Android Operating System was announced by Google and in the year 2008, HTC came up with its first Android phone.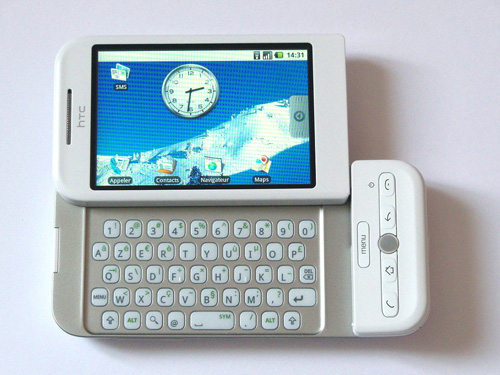 Image Source: Wikipedia
Currently, the top 10 Android Phone Manufacturers and their market share 2023 are as follows-
Samsung- 33.9%
Xiaomi- 14.2%
Oppo- 11.0%
Vivo- 10.6%
Huawei – 6.0%
Realme – 4.03%
Lenovo – 3.14%
Motorola- 2.28%
OnePlus- 1.22%
TCL- 1.04%
About Android Phones
Developer- Various, mostly Google and Open Handset Alliance
Internet Browsing- Google Chrome (other browsers are available), plus any other browser app can be set as default
Web mapping service – Google Maps
Video Chat- Google Duo and other 3rd party apps
Virtual Assistant- Google Assistant
Latest Version: Android 13 was released publicly on 15 August, 2022.
History of iPhones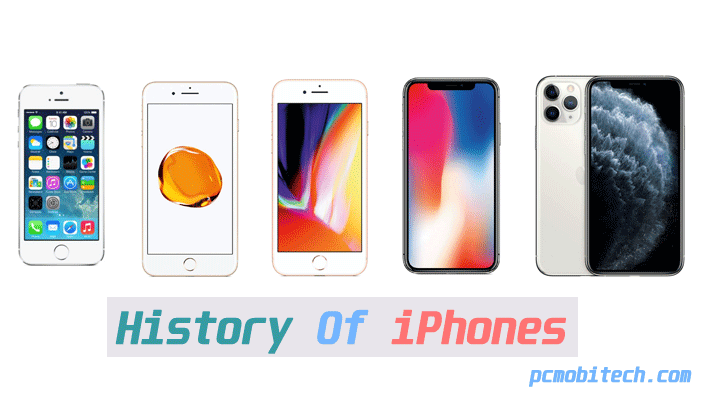 The iPhones are designed and marketed by Apple Inc. The first-generation of iPhones came out in the existence on June 29, 2007, when Steve Jobs announced about this one the stage of MacWorld.
After the first generation of iPhones, many new hardware iterations with new iOS releases have been coming since then. They incorporate Apple's iOS mobile operating system software. Till now, Apple has come up with thirteen generations of iPhone models.
Let us now have a look upon different generations of iPhones that have been launched till now-
Original Apple iPhone (2007)
Apple iPhone 3G (2008)
Apple iPhone 3GS (2009)
Apple iPhone 4 (2010)
Apple iPhone 4S (2011)
Apple iPhone 5 (2012)
Apple iPhone 5C (2013)
Apple iPhone 5S (2013)
Apple iPhone 6 (2014)
Apple iPhone 6 Plus (2014)
Apple iPhone 6S (2015)
Apple iPhone 6S Plus (2015)
Apple iPhone SE (2016)
Apple iPhone 7 (2016)
Apple iPhone 7 Plus (2016)
Apple iPhone 8 (2017)
Apple iPhone 8 Plus (2017)
Apple iPhone X (2017)
Apple iPhone XR (2018)
Apple iPhone XS (2018)
Apple iPhone XS Max (2018)
Apple iPhone 11
Apple iPhone 11 Pro
Apple iPhone 11 Pro Max
Apple iPhone 12 (2020)
Apple iPhone 13 (2021)
Apple iPhone 14 (2022)
About iPhones
Developer- Apple Inc.
Internet Browsing- Safari (Other browsers are there but not as default)
Web Mapping Service- Apple Maps, default as of iOS 6 (Google Maps also available through a separate app download)
Video Chat- FaceTime (Apple devices only) and other 3rd party apps
Virtual Assistant- Siri
Latest iOS version – iOS v16.5 which was released at May 18, 2023.
Now, as you are well aware of the history behind iPhone and Android Smartphones, let us now do a comparative analysis of both of the giants on different grounds-
Android Vs iPhone Comparative Analysis on different Grounds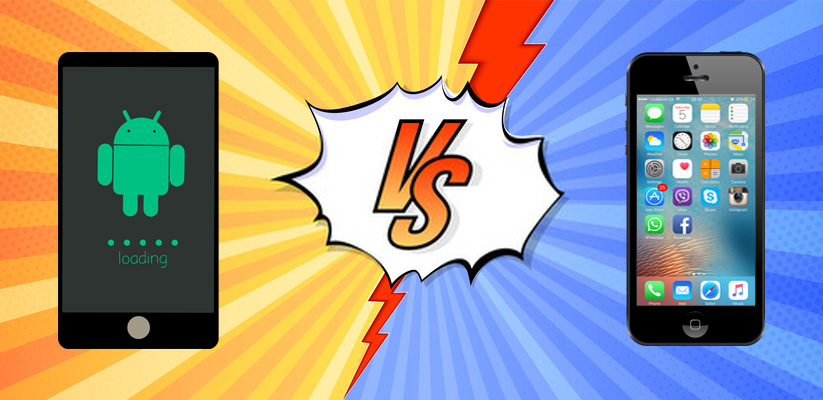 1- Android Vs iPhone on the grounds of Performance
It may seem that iPhone has the hardware of lesser quality in comparison to Android phones with smaller amounts of RAM, lower resolution screens, but it is not true when it comes to actual performance. -And the reason is adequate optimization in iPhones because of which its operating system does not need immense amounts of RAM for its effective channelization.
The resolution of some of the iPhones may be lower but they come up with adequate pixel density. Lower resolution also plays a crucial role in ensuring lesser work for the GPU that reduces the battery drain.
Additionally, CPUs of Apple is also weaker while even mid-range Android phones have octa-core CPUs and better hardware configuration. But the plus point of Apple is always there i.e. Operating System Optimization.
So, on paper, Android may seem better, but when it comes to execution and performance, Apple is still first-rate.
2- Android Vs iPhone on the grounds of Pricing
When it comes to comparison on the ground of pricing, Android is the winner hands down. Even all the devices and accessories that Apple makes are expensive than its competitors.
Along with top-notch performance, Apple phones are considered as a status symbol as well, and even their first or second-generation models are costlier than top-rated Android phones.
So, if you are looking for an affordable Smartphone, opting for Android phones would be the prudent option for you.
3- Android Vs iPhone on the grounds of Software Updates
iPhones get 5 years of Operating System updates following the release of every iPhone. This plays a significant role in making Apple device long-lasting. Because of such automated Software-Update-Facility, iPhones face no any sort of performance drop.
While on the other hand, Android phones are comparatively slow when it comes to software updates. Even flagship Android models online receive two updates for its Operating System.
So, all in all, if you want better Software Updates for your device, you should opt for iPhones.
4- Android Vs iPhone on the ground of Camera
The next ground upon which Android and iPhones will be compared is the camera quality. iPhones are considered the best in class when it comes to their camera quality. However, most of the high-end Android phones also come up with the cameras of similar quality.
So, flagship models of both of these giants have cameras of first-rate quality, and you cannot decide which one is the best. But low-end and budget android phones' camera quality is comparatively lower than the low-budget iPhones.
All in all, when it comes to the camera, the game between Android Phones and iPhones is well-balanced.
5- Android Vs iPhone on the ground of Security
Again this is a factor where the comparison of these two Smartphone giants is quite even. Earlier, if we will not be doing this comparison in 2023, then we would have said Apple is a winner here, but now, with different security updates of Google, Android phones have also become quite consistent with their security.
Google is becoming highly concerned about adding new measures for safeguarding your data and info, plus Google Play Store has also become quite secure now. Inclusion of features like sand-boxing, Google Play Protect along with two-step verification and more controlled app permissions makes Android phones highly secure.
Apple has always been considered the best one when it comes to security. With iPhones, users get consistent updates for their devices in a closed ecosystem of Apple that is almost impossible to penetrate. Besides, Apple offers a fully secure app store as well, so iPhones are for sure tough nut to crack.
So, when it comes to security, Android phones and iPhones both are considered highly secure.
6- Android Vs iPhone on the grounds of Value and Resale Value
You may find a wide variety of options and cost-effectiveness in Android phones, but when it comes to offering value, iPhones are the winners' hands down. Even iPhones also offer better resale value in comparison to their Android counterparts. So, in the longer run, you may find your iPhones more cost-effective and valuable.
The kind of OS optimization that iPhones incorporate makes them faster and better performer, plus iPhones also get consistent OS updates. All such qualities make iPhones' future proof. That is why even second-hand iPhones sell at higher prices than Android Smartphones.
So, if you are in quest of long-lasting, value for money flagship Smartphone that can even offer you good resale value the iPhones are the best option for you. If you do not care about OS updates, and you are looking for a budget or mid-range phone then Android phones will serve the purpose for you at many affordable rates.
7- Customer Support and Service
With Android Phones, you can get a wide variety of customer support and services. Plus, these services will also be cost-effective. Customer support of iPhones is handled by AppleCare and it is quite expensive as well. But, with its warranty and insurance claims for iOS devices, the whole process of customer-support & service becomes hassle-free and so personalized.
Even the retail location of Apple Stores will let you enjoy the most customized services as per your needs. So, if you are searching for comfort and peace of mind then Apple beats android phones by a great margin. But when it comes to affordable options, for sure Android services are more affordable than iPhone services.
Now, after comparison Android ad iPhone on different grounds, let us now have a look upon their pros and cons to get a clearer picture of the best option for your use-
Pros and Cons of Android Phones
Pros-
Android is open source
Cost-effective
Google's product which is Search Engine Leader and offers different games and apps to Android phone owners
Highly user-friendly and easy to access
Offers endless games and entertainment apps
Offers more phone choices as it is accessible to many vendors
Provides you an Android App Market
USB availability
Powerful ROM facility
Support for all cloud services of Google
Cons-
Easy draining of batter
Slower performance
Lack of accessories
More susceptible to viruses
Device defects
System defects
Pros and Cons of iPhones
Pros-
Offers best in class User Interface
Fluid responsive
Design along with metal and the shiny coating is ultimate for Apple devices
Top-notch performance
Best in class software updates
Superior support by Apple Care
Generates less heat than Android phones
Considered best for media entertainment
Fits well for business and gaming
Has more "Intuitive" OS
Value for money and higher resale value
Status symbol
Cons-
Single Vendor
Costly
The review process for developers
No widget support
Repair costs are costly
Lack flexibility and just supports iOS devices
Final Thoughts on Android vs. iPhone in 2023!
On the concluding note, we hope this article would have given you the right picture of both of these giants in the Smartphone market. In some of the cases, Android offers better usability than iPhones, then in some other cases, iPhones fit well with all our requirements.
On the whole, Android enjoys a bigger share in the Smartphone market, but iPhones are known for their class, panache, and fluidic performance. So, both of these phones have their fair share of pros and cons. You need to pick the one that best suits your specific requirements and spending plan.
Feel free to share your thoughts and inclinations with us in the comments below.