In a world where communication is key, call recording has emerged as a powerful tool for both personal and business use. The ability to capture important conversations, meetings, and interactions can be invaluable, ensuring that critical details are never lost in the ether of verbal communication. Call recording is not just about archiving conversations; it also plays a pivotal role in quality control, customer service reviews, and ensuring compliance with regulations.
With the release of Android, the latest operating system update, a new wave of call recording apps has hit the market. In this article, we will explore the 5 best call recording apps for Android, helping you make an informed choice for your call recording needs.
5 Best Call Recording Apps For Android
There are times when we need to record phone calls for various reasons, such as preserving important information, keeping a record of conversations, or simply for legal purposes. Fortunately, Android users have access to a plethora of call recording apps that can fulfill this need. Here, we will explore the five best call recording apps for Android that offer a combination of functionality, user-friendliness, and reliability:
1. Automatic Call Recorder
Effortless Call Recording for Android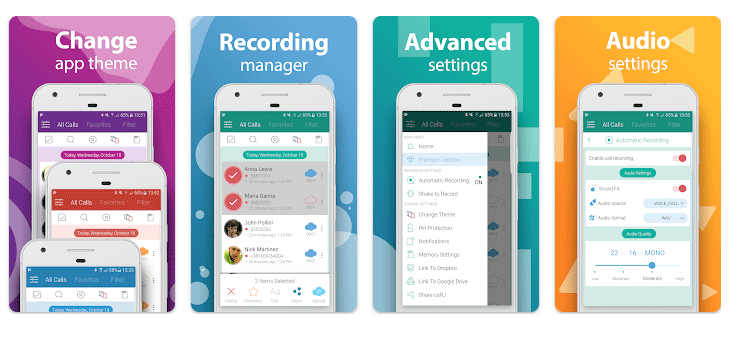 Automatic Call Recorder is a user-friendly app designed to make call recording on Android devices a seamless experience. It boasts a straightforward interface, allowing users to record both incoming and outgoing calls effortlessly. Here are some key features:
Features:
Completely hands-free call recording without compromising on audio quality.
Easy playback of recorded phone calls within the app.
Create categories and assign tags to your call recordings for organized storage.
Share recordings via email and other messaging platforms.
Integration with cloud storage for secure backup.
Pros:
User-friendly interface suitable for all levels of users.
Records both incoming and outgoing calls without manual intervention.
Categorization and tagging options for easy retrieval.
Securely backup and store recordings in the cloud.
Shake your phone to initiate call recording.
Cons:
Lacks advanced features and robust editing tools.
Free version contains ads.
If you're looking for a simple yet effective call recording app for your Android device, Automatic Call Recorder is a solid choice.
» Get Automatic Call Recorder «
2. Blackbox Call Recorder
Streamlined Call Recording and Organization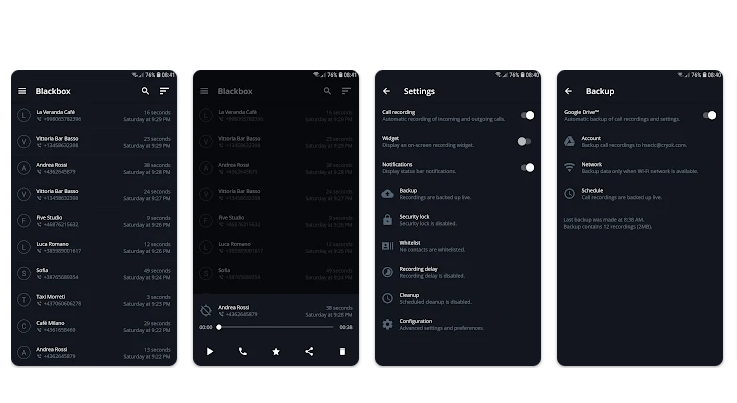 Blackbox Call Recorder is a reliable choice for call recording enthusiasts. This app focuses on providing a straightforward platform for recording and managing phone calls. Here are its notable features:
Features:
Automatically records both incoming and outgoing calls.
Selective call recording based on contacts.
User-friendly interface for easy playback and management.
Cloud backup to Google Drive for secure storage.
Efficient search and management options by date, time, or contact.
Pros:
Effortless call recording without additional effort.
Choose which calls to record with selective recording.
Securely store recorded calls in the cloud.
User-friendly design suitable for all.
No recording of VoIP calls.
Cons:
Advanced features may require a premium upgrade.
Availability might not be guaranteed on the Google Play Store.
For Android users seeking an automatic call recording app with categorization and backup capabilities, Blackbox Call Recorder is a dependable option.
» Get Blackbox Call Recorder «
3. Parrot Voice Recorder
Powerful Audio Recording for Calls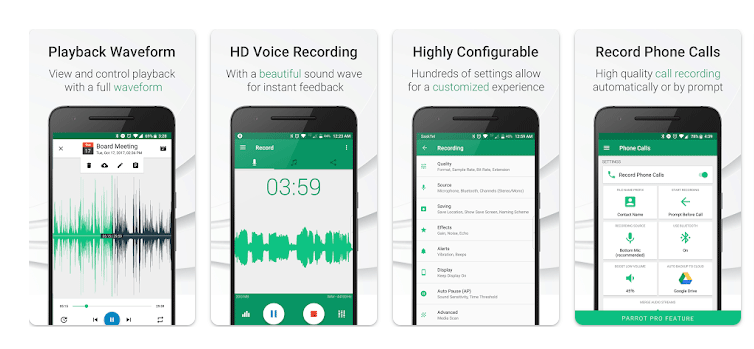 Parrot Voice Recorder stands out as a robust audio recording tool for phone calls. It offers various options for effective and high-quality call recordings. Here are its features:
Features:
Supports automatic call recording for convenience.
Scheduled recording for specific dates and times.
Integration with Google Drive, Dropbox, and other cloud services.
Intuitive interface for easy recording, categorization, and management.
Background recording while using other apps.
Pros:
Time-saving scheduled recording feature.
Secure data storage on external cloud services.
Continuous background recording, even when using other apps.
User-friendly interface.
Cons:
Limited audio editing tools.
Call recording feature requires a subscription.
Parrot Voice Recorder is an excellent choice for Android users who need a call recording app with advanced features and cloud backup.
4. CallApp
Enhance Your Phone Calls with CallApp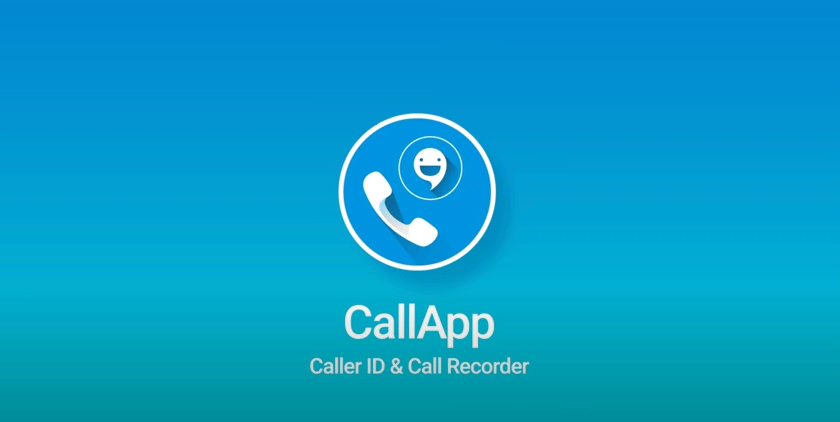 CallApp aims to elevate your phone call experience by offering features like caller ID, call blocking, and automatic call recording. Here are its features:
Features:
Enhanced caller ID that identifies callers, even if not in your contacts.
Efficient spam call blocking to eliminate unwanted calls.
Automatic call recording for easy review of important conversations.
Reverse phone lookup to identify unknown callers.
Backup and restore options for contacts and call logs.
Pros:
Reliable caller ID using an extensive database.
Effective spam call blocking.
Convenient automatic call recording.
User-friendly interface.
Data backup and restoration features.
Cons:
Some premium features may require a paid subscription.
Call recording availability may vary based on local regulations.
CallApp is a solid call recording app known for its spam prevention, user-friendly design, and reliable caller ID. It's an excellent choice for those who prioritize these features.
5. Cube ACR
Feature-Rich Call Recording for Android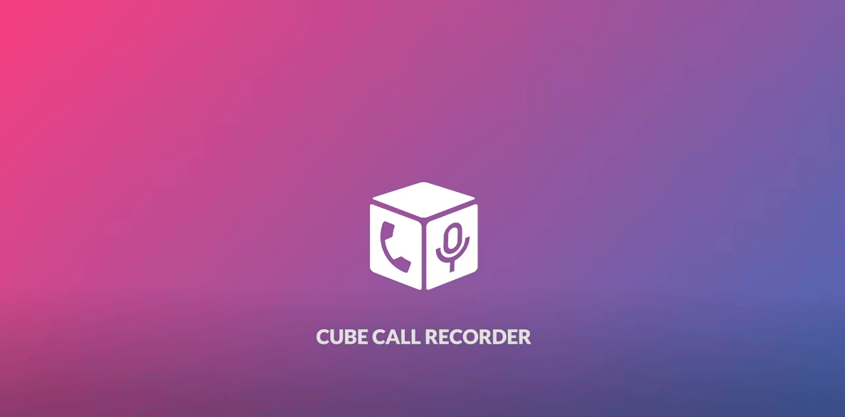 Cube ACR is a versatile call recording app with a wide range of useful tools. It is undoubtedly one of the best call recording apps for Android devices. Here are its features:
Features:
Continuous and automatic recording of all incoming and outgoing calls.
Selective recording for specific contacts.
Compatibility with third-party apps like Skype and WhatsApp.
Option to save recordings in the cloud or locally.
Additional security with a personal identification number (PIN).
Pros:
Selective recording allows users to focus on specific contacts.
Broad compatibility with third-party apps.
PIN protection for private recordings.
Multiple storage options, including cloud and local storage.
Automatic and manual recording options.
Cons:
Advanced features may require a premium subscription.
Limited 7-day free trial.
Cube ACR's flexible pricing tiers and extensive feature set make it a versatile choice for both personal and business users. Consider the cost of additional features when selecting your subscription.
Why Do You Need Call Recording Apps?
Call recording apps serve a variety of purposes in both personal and professional contexts. Here are some compelling reasons why you might need a call recording app:
Preserve Important Conversations: Call recordings serve as a valuable record of promises, agreements, and crucial information shared during phone calls with family, friends, and service providers.
Business Documentation: Professionals can use call recordings to maintain accurate records of discussions related to deals, agreements, and negotiations, ensuring legal compliance and accountability.
Interviews Made Easy: Call recordings simplify over-the-phone interviews, allowing interviewers to focus on the conversation without worrying about taking notes, leading to more informed hiring decisions.
Meeting Minutes: Recording phone meetings ensures that important details are captured accurately, allowing participants to concentrate on the discussion without the need for extensive note-taking.
Preserve Memories: Call recordings can capture cherished moments, such as heartfelt conversations with loved ones or significant life events, serving as treasured keepsakes.
Overcome Default Dialer Limitations: Many Android devices lack built-in call recording features or provide intrusive call recording announcements. Third-party call recording apps offer a solution.
Legal Considerations and Privacy Concerns
It's crucial to be aware of the legal and privacy implications surrounding call recording. Laws regarding call recording vary widely between jurisdictions and can even differ within the same country. Here are some essential considerations:
Consent Requirements: In some regions, you may need consent from all parties involved to record a call legally, while in others, consent from just one party may suffice. Always ensure clarity regarding recording intent.
Transparent Disclosures: Create clear and transparent disclosures regarding call recording, including storage and usage intentions.
Secure Storage: Save call recordings in encrypted cloud services to safeguard against unauthorized access and data breaches.
Retention Policies: Establish clear policies regarding the maximum duration for retaining call recordings.
Education and Training: If using call recording in a business setting, educate your staff about legal obligations and best practices.
Conclusion
In 2023, Android users have a variety of call recording apps to choose from, each offering a unique set of features and capabilities. Whether you opt for a free or premium version, it's essential to find the app that best suits your needs. However, remember that call recording laws vary by location, so always be aware of the legal requirements in your area to stay compliant and avoid legal issues. Happy recording!