World most popular, fastest mobile browser,  UC Browser Provides easy to use add-ons feature. Powerful Ad-blocking Feature that blocks all ads on your Android, iOS, Windows Mobile, Java, Symbian, Blackberry Platform. You can Surf Faster With this feature because page loaded faster than before when ad-block feature running. You feel an excellent Searching, Browsing, Downloading, Video, Gaming, Shopping and Social Sharing experience at the fastest speeds with UC Browser.
How to Block Ads in UC Browser (Android)?
As we block ads on Windows PC browsers, we use Adblock Plus (ABP), Adblock Pro, Adblock Edge (ABE). In the same way, Adblock app is also available in UC Browser Android, Which is already installed. Only you must activate Adblock option.
Must See: 
How to Enable Ad-block Add-ons in UC Browser?
Open UC browser in your Smartphone & tap on Menu option.
A menu will appear, and you will see UC Browser Settings icon at the bottom left of the menu.
In the Settings, tap on the Add-ons option from top.
Now you will see Ad Block option and Data Usage option. To Enable or Disable Ads in UC Browser tap on the Adblock option.
Adblock has two options: Ad Blocker and Powerful Ad Blocker. Now tap on the toggle button to turn on or off adblock in the Browser and also if you prefer to activate powerful adblocking function then you can enable the second option too.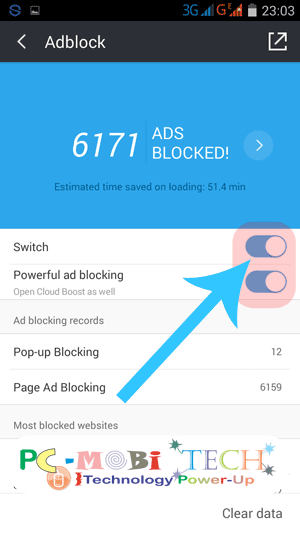 Adblock in enabled mode with powerful adblocking feature enabled
Now you can surf ads free web browsing.
Note: When you want to disable Adblock simply tap on blue (Orange in the New UC Browser) Toggle button & the toggle button color will be changed to gray.
Common Question-
How to block ads on websites?
How to block YouTube ads?

Ans.- You don't need to do anything else. Just to follow all of the above steps and must be turned on powerful Adblocking feature.