Do you have Samsung Galaxy J 2016 Series Smartphone, and thinking to install a call blocker app. Then please stop, because you don't need to install an additional call blocker if you have latest Android MarshMallow 6.0 based Samsung Galaxy J 2016 series smartphone such as J1, J2, J3, J5, J7 and all pro version of 2016.
When we receive many unwanted calls from know & unknown callers. And these callers always disturb us when we busy in our work. To solve the disturbance problem we search the best call blocking app in Google Play Store. I have also written about how to block calls using 360 Security Call Blocking option. So if you are already using 360 Antivirus Security then 360 Security Call blocker is also a good option.
But in case you have Android MarshMallow 6.0 based Samsung Galaxy Phone then you may feel happy because they have included a Call blocking ability into their Phone Dialer app. So today I'll show you how you can use Samsung Call Blocking feature and can block unwanted call with it without installing any additional app from Google Play Store.
Must Check: 5 Best free Call Blocker apps for Android Smartphone.
Block call in Samsung Galaxy Android Phone.
To Block a mobile number in Samsung Galaxy J1, J2, J3, J5, J7 2016 and all pro Marsh-Mallow 6.0 series phones. Follow the steps below:
Tap on Phone dialer icon.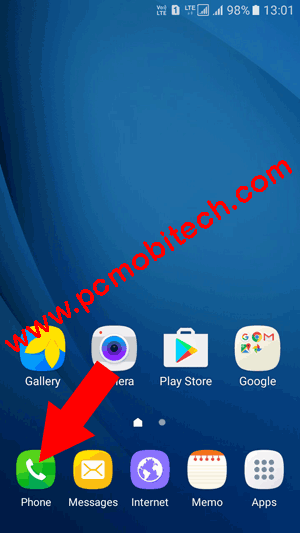 Now you'll see Phone Dialer options, tap on MORE option available on the top right section of the screen and choose Settings from the menu.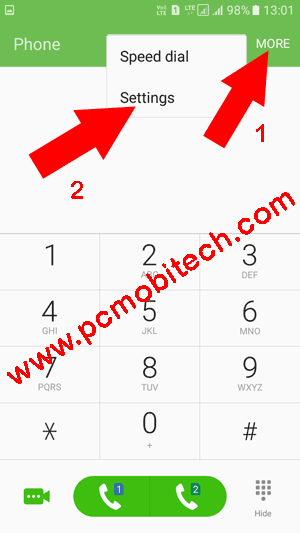 You'll see the Call settings option, here tap on Block list option.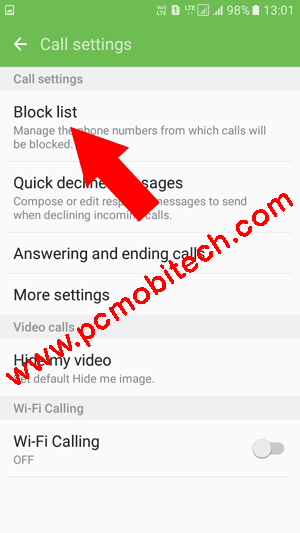 In the Block list enter your phone number in Add phone number box and also don't forget to add your country code before the number. Eg: use +1 if you're from US or +91 if you're from India. And if don't know your country code then check here. After adding the tap on

+

icon to add the number into Block list.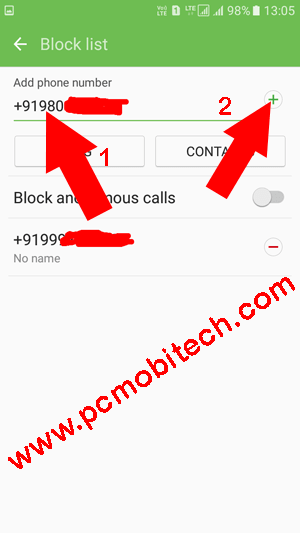 You can also choose numbers from your Call Log or from the Saved contacts list.
Block Anonymous Phone Number.
If you are getting many unwanted calls from the private numbers or unknown numbers, that are not revealing their identity. Then the call can't be blocked because you don't know the actual number. In this situation Block anonymous calls option will help you. In the Block list just tap to Block anonymous calls "toggle button" available on right.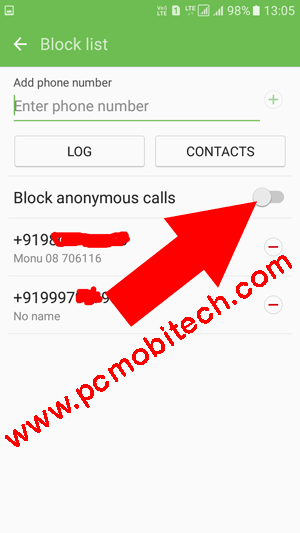 After enabling this option all unknown number and private numbers call will be blocked with this option. And unknown caller will not irritate you anymore.
Remove a Phone number from call blocking list.
If you're thinking to remove the Blocked number from the Samsung Call Block list then tap to (–) icon available on the right of every Blocked number. And the Blocked mobile number will be removed from the Samsung call block list.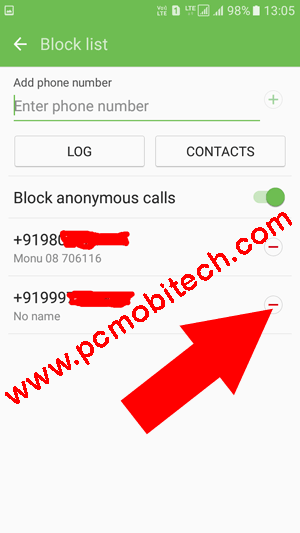 After blocking number when someone will call you, he/she will listen to a ring on their phone and after this, the phone will be cut and the answer will come "The person you are calling is currently busy right now please call again later". And a Blocked call notification you'll see in your Call history.
Also See: