A call recorder app can record your voice call conversations. These call recording app also helps you to store a proof of the call which has been done between you and other callers. Every Android Smartphone user want to install a good call recorder app and there are lots of call recorder apps available On Android Platform. If you are thinking to install call recording app then it can be easily installed via Google Play Store. But most of Android Phone users don't know that now many phone developers already including a call recording option in the default call dialer app. If you are not doing automatic call recording then this option will be very helpful. So how to record a call on Android with or without (manually) call recording app.
Record Calls on Android Device Without App.
As I said, there are many phone companies such as Xiaomi, Samsung, One Plus, etc. Which provide inbuilt call recording feature within the call dialing app. To record a voice call you don't need to setup anything. Just dial call when it gets connected. You will see a 3 dot menu option. And when you tap on the menu then a menu will appear on the screen and tap on Record call option.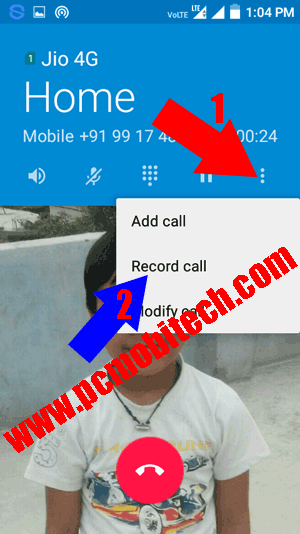 After tapping on "Record Call" voice conversations recording will be started and you'll see a call recording icon notification on the screen. And when you disconnect the call, the call recording will be automatically saved in CallRecord folder on SD card.
In recent days, Android Smartphones are also coming with Automatic Call recording option. Same feature is now available in latest Samsung Android devices such as Samsung A50S and M30S which is based on Android Pie 9.0. To enable automatic voice recording in these devices, you will have to open Call dialer app and then tap on top right 3 dot menu and choose Settings from it. In the Call Settings you will see Recording calls option, go to inside this and tap the Auto recording toggle button.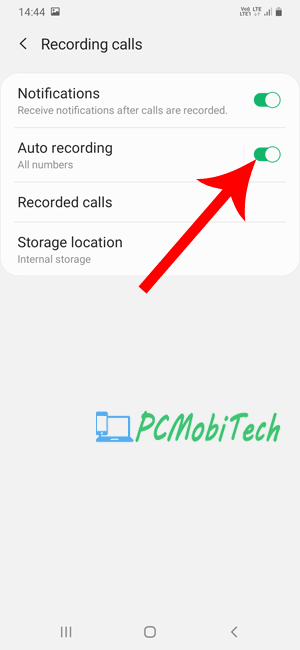 Read Full steps: Automatic Call recording in Samsung M30S. And we can say all future coming smartphone will offer the same auto call recording option and we will not need to install additional recording app.
Also See:
Record Call With Call Recording Apps
Many Android Phone developers doesn't include a call recording feature and then without the call recording app, it is not possible to capture voice calls. So if your smartphone doesn't have builtin Call Recording feature, you will have to install best call recording app from Google Play Store. Here I'm listing few call recording apps with that you can easily start call recording automatically:
These call Recording Apps are most popular in Google Play Store and well rated. So you can use any one of them to record call, only in case if your device doesn't have builtin call recording ability.