When we download a file using any Web Browser (Internet Explorer, Microsoft Edge, Mozilla Firefox, Google Chrome, Opera, Safari etc.). It will be automatically downloaded into default Downloads folder in Windows 7, 8.1, 10. Default Downloads folder doesn't create any problem and Works well without any issue for all web browsers and downloading softwares such as IDM (Internet Download Manager).
However, we can change download folder location individually by changing download file location in any browser and software-app. But What if you want to change default file download path for all Web browsers, softwares and apps in Windows 10.
Yes, we can change default download folder at the system level. So all Internet Web Browsers, Softwares, and apps will automatically follow system level settings and will automatically change download folder location according to your System Download folder location settings.
Change default Downloads Folder in Windows 10
If you want to change default downloads folder location in Windows 10 at the system level follow the steps below: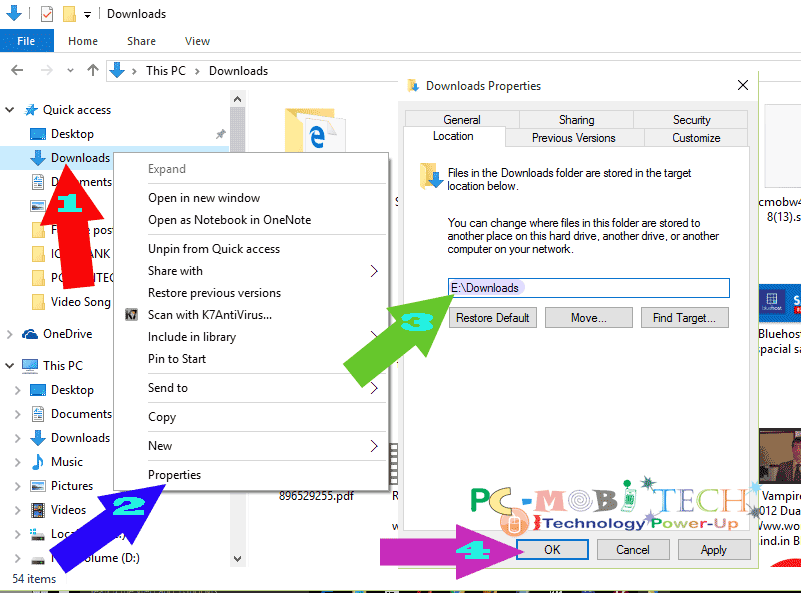 Open Windows File Explorer and right-click on Download available in the left tree.
Now context menu will appear to choose Properties from the menu.
Downloads Properties dialog box will appear, Change the Downloads folder location according to your need. By default it is set to C:\Users\username\Downloads and you can easily change it by entering a location eg C:\Downloads or other drive folder location E:\Downloads etc. If you want to select folder manually then you can use Move.. button. After clicking on Move.. you can choose the choose location where you want to save default download files. And here it is not necessary to give name Downloads you give other alternate names as you wish.
After changing folder name or location click on OK button.
Now you have been successfully changed Downloads folder name or file store location in Windows 10.
Also See: