Punjab National Bank is a largest and Popular Bank in India. PNB provides World Class facilities and Day by day it PNB is improving their online banking service & online payment system. Now they are offering ATM/Debit card Pin change/reset feature with Internet Banking service. So now you can change your Debit card Pin anytime anywhere without going to the bank or to an ATM Machine. When you would like then the Pin can be changed with PNB Internet Banking service. So how to change/reset Punjab National Bank ATM/Debit Card Pin/password online.
Reset Punjab National Bank (PNB) ATM/Debit Card PIN online
If you are looking to change your ATM/Debit card PIN online using Internet Banking, Then first you'll need to get an OTP (One Time Password) to your registered mobile number. Otherwise, you can't change PIN using Internet Banking service. To get the OTP code on your registered mobile number, Send a Message (SMS) DCPIN Cardnumber to 5607040 or +919264092640. eg: DCPIN 4566896475896459 . After getting the OTP code follow the process below to change or reset Punjab National Bank (PNB) Debit card PIN Password using Internet Banking.
Login to your Punjab National Bank Internet banking account.
After login click on Generate Card PIN button from left.
Now Choose Account Number from the drop down menu and click on Continue button.

On next Enter your Debit Card Number available on the front side of the card. Choose Expiry Date (valid Upto) and Enter 6 digits OTP which you have received on your registered mobile number. After this click on Submit button.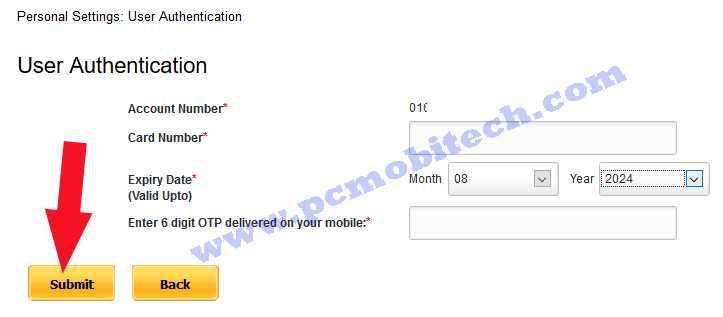 On next page, you can set a new Debit card PIN. Enter and Re-enter a new Pin for your debit card. And click on Update button.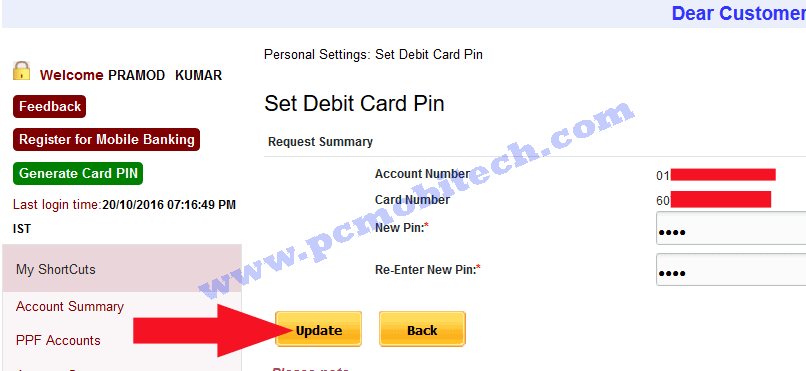 Now you have successfully changed your ATM/Debit card Pin password online using your PNB Internet banking service.
Must See:
Reset PNB Debit Card Online but Without Internet Banking Service
But wait before going to reset you'll need a Debit Card Reset PIN, otherwise the PIN can't be reset. So for getting Debit Card 6 digit OTP pin, you'll need to send an SMS to +919264092640 (as I mentioned above) from your registered Mobile number. Once you got the 6 digit OTP click on the Continue button.
First you'll need to go on the official PNB Retail Banking page. Click here to go. On the Netpnb Retail banking page click on the Generate Debit Card PIN.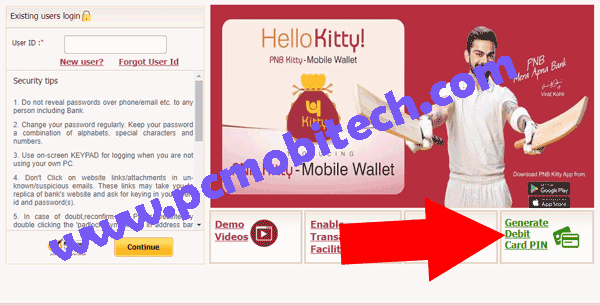 Now you'll be redirected Set Debit Card Pin page. Here Enter your Saving Account number and click on the Continue button.

On the next, User Authentication page will appear and a 4 digit OTP for verification will be sent to your registered mobile number (This OTP is different from Debit card 6 digit OTP). When you receive the 4 digits code enter in the One Time Password Box and click on the Continue button.

Once you click Continue, next enter the Debit Card Number into the Card Number box and also enter the 6 digit code which you got on your registered number when you had sent the message on +919264092640. After this verify the captcha code as you see in the image. After doing all the necessary steps click on the Submit button.

After clicking on the Submit button, you will see Set/Reset Debit Card PIN page. Here you can create a new PIN, Enter New 4 digit PIN and Re-Enter the same PIN to verify and click on the Submit button again.

Now the Debit Card PIN will be reset and you can start using new PIN with your existing Debit Card.
You May Also Like: