In the latest release of WhatsApp Instant Messenger a new feature has been added. Now It is easy to send documents & you don't need to use any Email Service. And you can send any format of Document file via WhatsApp Document feature to any of your WhatsApp contact number easily. WhatsApp supports PDF (Portable Document Format), MS Word (DOC, DOCX). Excel (XlS, XLSX), Power Point (PPT, PPTX), Text (TXT) file format. If you want to send word, Excel, Power Point documents then you can't do that. Here I'll tell how you can send PDF, MS Word (DOC, DOCX). Excel (XlS, XLSX), Power Point (PPT, PPTX) & other documents files to your friends using WhatsApp instant messenger.
How to send Document files via WhatsApp Document feature?
If you don't have latest version of WhatApp then first upgrade:
Upgrade WhatsApp from official site
If you have latest version then open WhatsApp in your smartphone.
After opening you'll see Chats screen.
Tap on the friend contact from the Chats screen with which you want share your documents.
Now tap on file attachment icon from top right & then tap on Document option.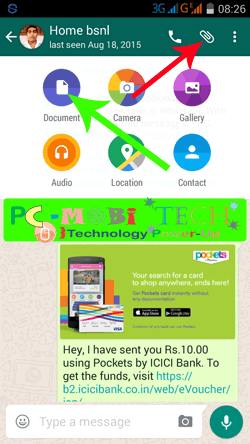 Now you'll see all documents (pdf, doc, docx, ppt, pptx, xls, xlsx, txt etc..) list that available on your smartphone disk. Tap on the document which you want to send via Whatsapp Instant messenger.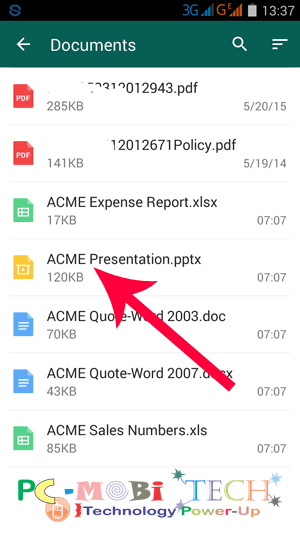 After tapping on the document file, WhatsApp will ask you with an onscreen message then tap on the Send button. And now you have successfully shared your Document to your friend.
I hope, this article will help you.