In this post I will explain that How to download YouTube videos with UC Browser? Downloading videos from YouTube with UC Browser was working fine until before UC Browser 10.8.820 version update. After the update, UC Browser is Stopped downloading support for video via inbuilt video downloader addon. Now when you'll click on the download icon you will see "Due to copyright issue content cannot be downloaded" message and the video you can't be downloaded.
Video Downloader for android UC Browser is stopped working but only for YouTube Website. You can still download videos from other sites eg: Dailymotion, Metacafe, and Vimeo. However, you still prefer to use UC Browser for downloading YouTube videos. And want to save from YouTube website to Android Smartphone. So here I'm going to share how to download YouTube Videos using UC Browser.
Before going to steps below, you must install this Video downloader app on your Android phone: FVD – Free-Video-Downloader. After Downloading and installing FVD follow the steps:
Read Also: 
Download YouTube Videos via UC Browser Android
Open YouTube website in UC Browser and play your Video in Full-screen mode. When video running tap on top right 3 dots and you will see a menu. Now tap on "Ply with…" option from the menu.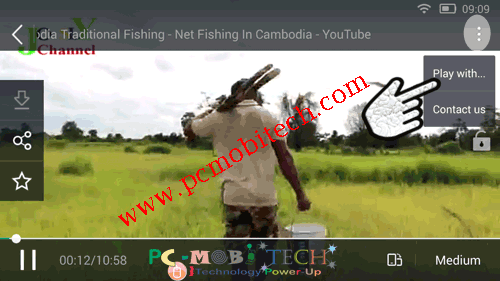 Now if you have installed "FVD (Free Video Downloader") then you will see FVD option on Complete action using screen. Now tap on FVD twice or you can choose Just once option.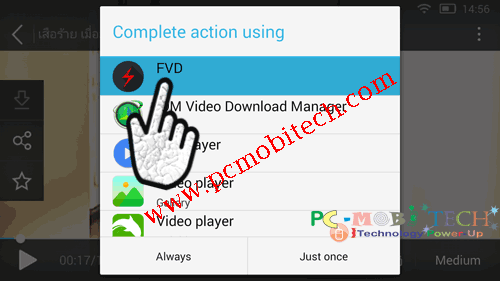 On next FVD will be automatically started and you will see FVD Save Video as screen. And below the "Save video as" you will see the file name and you will need to change the Video name and need to give the extension name .mp4. For example, your video name is "My YouTube Video" then you can give the name "My YouTube Video.mp4" otherwise FVD will save the file without any extension. And after the download you will see unsupported file because of it doesn't have an extension and the file will not be played. After changing the video name tap on DOWNLOAD button.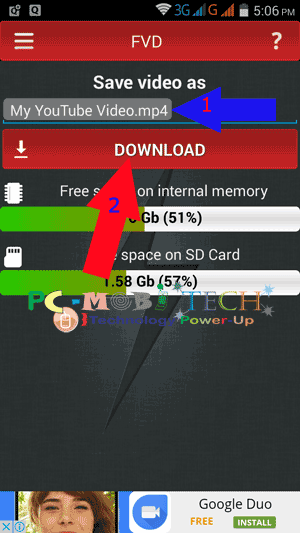 Now FVD will show you an on-screen warning message. Don't worry this is normal. If you are going to download a copy for personal use then tick the Don't ask again checkbox and tap on Accept.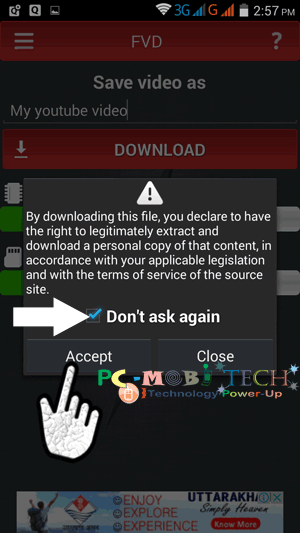 Now Video Download has been started successfully and you can see video download progress in the notification bar. After download this video will be available on the SD card>>Xvideo folder. If you have forgotten to add file extension along with the file name. You can try to rename file name using file manager and can give any name as you desire but include .mp4 extension. So your video will definitely playable on any Android Video Player.
There are some other alternatives also available for Android or iPhone based smartphone, if you don't like to above YouTube Videos download process then you can try: Firefox or TubeMate app to download the videos instead of using UC Browser.