Do you know how telecom companies charge money after the end of Internet data pack? Has this ever happened to you that after the expiring of the data pack suddenly, the entire mobile balance is over? Telecom Companies Charge up to 50 times extra money after expiring the Internet data plan.
Even some companies do not send a confirmation message to inform you after the data pack expiry. And start taking normal charges, which continues until your Mobile balance is not over. It is like a scam, So in this post, I'll tell you how to track Internet data on the Android phone and protect yourself to avoid unnecessary data charges.
How to protect yourself from over data use
After expiring data plan, the telecom companies use a clear approach, The more data you use, the equal amount will be deducted. This will most people know. But many times we tend to ignore it and we lose too much money due to this. So here I'm sharing few tips with that you can track android data usage and can save your mobile main Balance.
Do not keep too much balance in your mobile.
If you use your SIM for the Internet then It would be always good that do not keep too much main balance in your SIM. Because when your mobile Internet data will end then you'll not lose much money.
Use a Good Internet Service Provider:
You can also choose a good Internet Service Provider, which will send you time to time message. eg: Dear Customer, You've used 90% of your data plan.
Disable Background Data use.
Many apps keep running in the background and continue to use Internet data. This causes unnecessary data use. When you're relaxed that some data is available on your phone right now and after some time all the data will be gone automatically due to these background apps. So if you block Internet access to these background running apps then you can save a lot of data.
Read about this: Disable internet access to all android apps & save 3G, 4G Data Usage
Set monthly data usage reminder & Limit on your Android Phone.
If your Internet Service Provider is not providing any warning before the data end. Then you have only a good option that set monthly data usage reminder & limit on your Android Phone.
To enable Data Usage reminder & limit you'll need to go in the Phone Settings. And in the Settings tap on Data Usage option.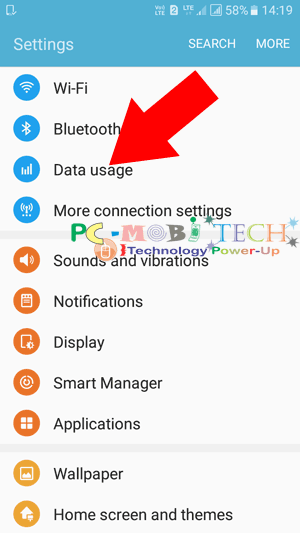 In the data usage option select the preferred SIM on which you're using Internet plan and find the Set Mobile Data limit option & Turn ON it. After that set the data usage warning and data usage limit.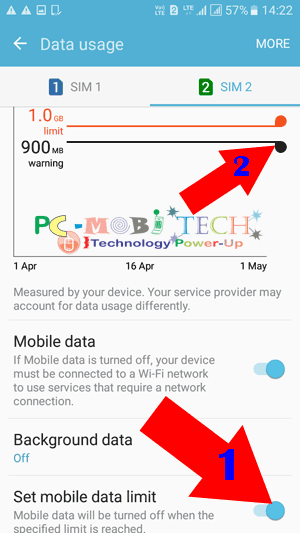 The difference between the warning and limit option: Warning means when you will reach on the set warning then a warning message will be showed on the phone screen. And the limit means Mobile data will be automatically turned off after reaching the specified limit.
For example: I'm using 1GB Internet data plan on my SIM2. So I have set data usage warning on 900MB and data usage limit to 1GB. This means when I'll be used 900mb data, then a warning message will be displayed and when It will reach to 1Gb then the mobile data will be automatically closed.
Also See: