On Android Smartphone, every app running in the background always use Internet data without your permission. If you're on an unlimited data plan, then there is no problem because you don't have any restriction of data, but if you have limited data usage plan, your data will be wasted due to Background Data usage. Therefore, blocking an app from accessing the Internet will a good idea.
I already described the process how to disable Internet to all apps on Android 4.3, 4.4 & 5.1 and to the specific app such as WhatsApp, Facebook, etc. But the method only works with the previous version of Android OS. If you're using the latest Android version such as Android Nougat 7.0 or Android Oreo 8.1, and Android Pie 9.0+, then you'll not get exact settings as it was available in the previous one.
Block Internet on Android Pie 9.0, Oreo 8.1 & Nougat
In the previous Android versions, We had settings "Restrict Background Data". But after the Android Marshmallow update, the feature was removed and replaced with "Background Data" option, and the option location again changed in Android Nougat. So for Android Nougat users can also try the following methods because it will also work for them. You can block Internet access on Android Oreo 8.1 or Android Pie 9.0 via two ways:
Block Internet to a specific app.
Block Internet to all apps.
Block Internet to a specific app:
If you want to disable Internet for a single app, then this trick will work. First, you'll need to go to the Android Phone "Settings", and insight the Settings tap on the "Network & Internet" option. Once you come in the Network & Internet tap on the "Data usage" option.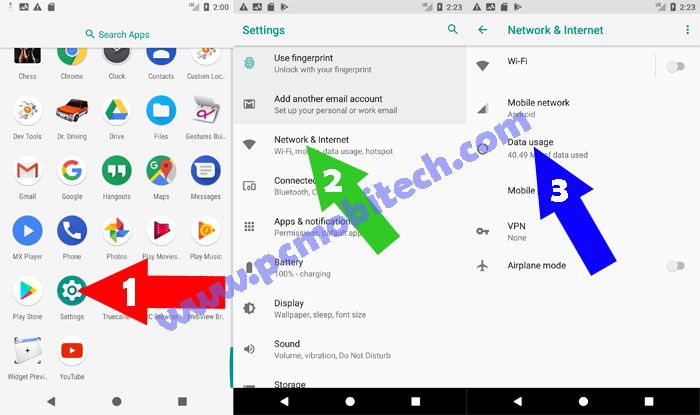 Now tap on the Mobile Data Usage option, and you'll see a list of all installed apps. Scroll down the page and tap on the app which you want to block from accessing the Internet. Now you're in the "App data usage" option, tap on the "Background data" toggle button.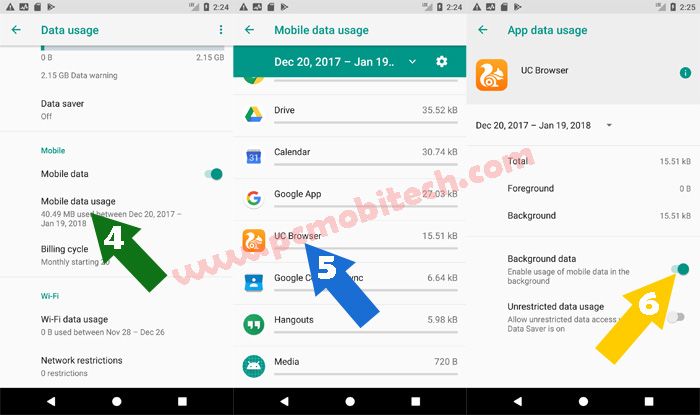 It will restrict the app from using Internet data until the app will run as a background service. But when you use the app then it can access the Internet.
You May Also Like:
Block Internet to all apps Android Nougat, Oreo and Pie.
Above method works for a specific app. Means if you want to restrict Internet to all apps then you'll need to disable Background data for every app one by one. So above method will take more and more time to turn-off and turning-on Internet data. Here is another simple process that you can block Internet to all apps in just one step.
If you need blocking Internet data for all running Background services. Go to (1) Settings >> (2) Network & Internet >> (3) Data usage. In the Data usage settings tap on the "Data saver" option and finally tap on the Data saver toggle button to Turn-Off Internet data to all apps.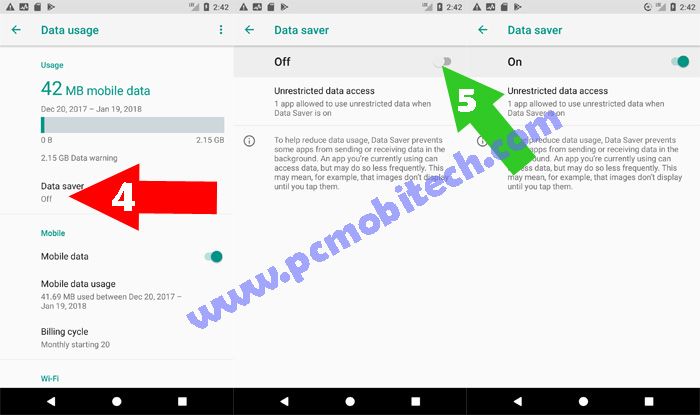 After disabling Internet to all apps, when you need to re-enable data, then follow the same steps and tap on the Data saver Toggle button "On" to unblock it and again all background apps start accessing the Internet without any restriction.
Disable Internet access to all android app: Old Android Phone
I recharged 1gb 3g data plan on my idea prepaid mobile no. And only used this data for surfing the Internet with UC Browser & all my 3g data used within 10 days. I don't know where my data had gone. After some days I noticed that when I open mobile data on my Android smartphone, many apps show the notifications that appear in notification bar. I checked and found that many unwanted Apps are running in the background. So these apps use data in the background. It is huge problem in the Android smartphone because when we open mobile data, Apps (software update, Google Play Store, Google Play services, Whatsapp, Antiviruses, Google+, Vibe, Facebook & others) that running in background use the data every time & update itself without your knowledge. you can't control it, but if you want to save your data, You can disable background data usage by Restrict background data option.
If you are running an Android phone that have older Android Operating System such as Jellybean 4.3, Kitkat 4.4, Lollipop 5.1, then Android Oreo or Android Pie steps won't help you because of many changes in GUI and Settings. When you have Android Lollipop 5.1 or lower version smartphone then You can try following method to restrict the background data without root:
Restrict background data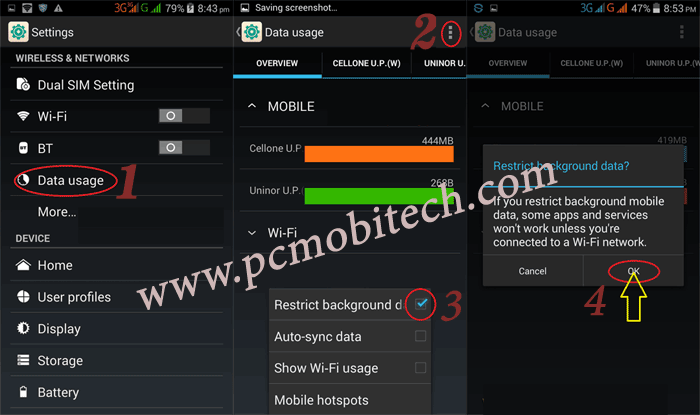 First Go to Smartphone Settings and tap on Data Usage option.
Press menu option key on your smartphone or tap on top of right 3 dot menu button, a menu will open now tick the box Restrict background data.
Tap on OK to verify. Now You can check that Restrict background data notification will show in the notification bar. You can re-enable background data by opening the notification bar & tapping on background data restricted
Block single App on Old Android Phone without Root
Follow the below step for blocking INTERNET access to an android app without rooting your Android Phone: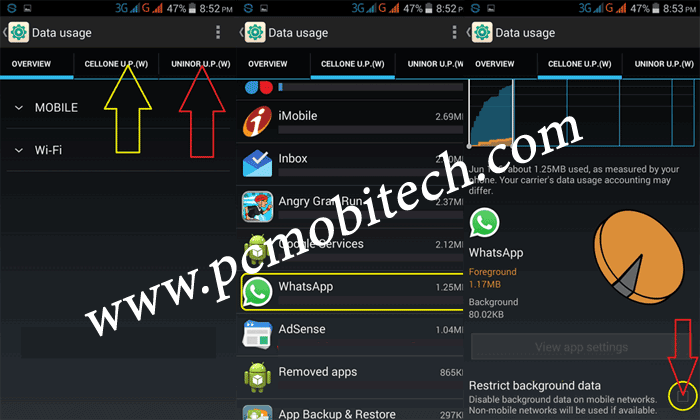 Open Smartphone Settings and in the Settings find out Data usage Option & open it.
In Data Usage select any Sim by tapping on the SIM name tab. Here select the only SIM on which mobile data is running.
Now scroll down the list and

tap to open any app. For example, if you want to stop INTERNET access to WhatsApp then choose WhatsApp from the list.

Now under the "View app settings" tick the checkbox "Restrict Background Data" Option.
Now you have been successfully disabled and blocked Internet access to your chosen app, and the app will not be able to access your SIM Internet 2G, 3G & 4G LTE data, as long as you do not open the app yourself.
Note: This trick only block Internet to the app when it is running in the background and as long as you don't open the app yourself. And when you open the app, then only It will use the Internet. You can also re-enable background data use by following the same process to turn on Internet access.

Block WiFi With Third Party Apps
If you are using WiFi then above described steps won't work for you, with WiFi network all the apps get connected to Internet immediately because Android system doesn't block Internet to any app which is restricted with Mobile data. So for this you will have to install third party app which will work like a firewall and will stop internet connection to selected app even when you are using WiFi Internet Data. Here are few apps that will help you to do this task very easily and without rooting your phone:
NoRoot Firewall
NoRoot Firewall is most popular Internet Blocker and firewall app which is downloaded upto 5,000,000+ times and rated 4.5 by 85,159+ users. It doesn't only block Internet to app, also allows to filter specific Domain and IP. It is available for free and can be downloaded via Google Play Store.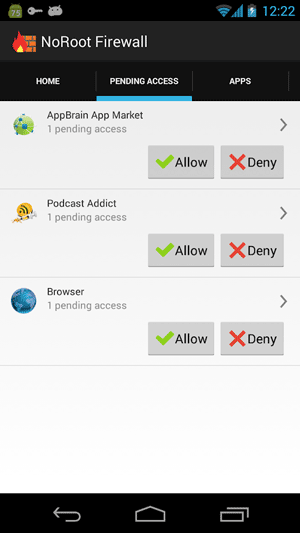 NetGuard – no-root firewall
NetGaurd is another best Internet blocker for both Mobile Data and WiFi. It has been downloaded 1,000,000+ & which is rated 4.3 by 14,638 users. It is free app and can be easily installed from Play Store.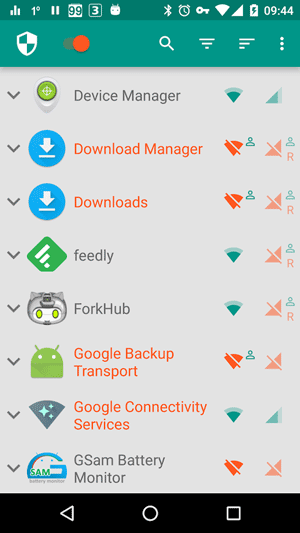 Mobiwall: Firewall
Mobiwall is also a popular Firewall for Android, it has simple user internet and has the option to block all apps on Mobile data or WiFi. It has been installed on 50k+ devices and 4.2 rated by 491+ users. Available Free to download in Google Play.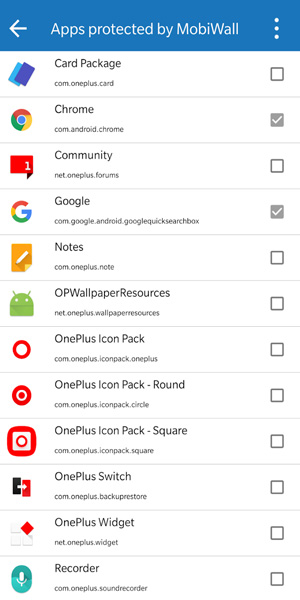 It is most useful for me because I want to use this data only for surfing. All Apps that running in the background can't use this data without my
permission
. it is useful for WhatsApp or Hike user because WhatsApp or Hike running in the background if they don't want to show their last seen status to. When you open WhatsApp or Hike after than all messages starts to come.