Privacy is most important us. We store many private files (Videos, Audios, Photos, and Documents) on our Android Phone. And don't want anyone see them. Friends always take our Smartphone and check available audios, videos, apps, and files. This is a big problem because they are our close friends and we can't deny their request. Android phone has one biggest issue that if we store any file in any folder on Internal Memory or on Micro SD card. All files can be viewed by a special app.
For examples:
We store many photos in different folders on Internal and external memory but all photos can be viewed by Gallery app, which comes preinstalled in your android phone.
We can store multiple videos in different folders and memory card but all videos can be viewed by a special app eg: MX Player, which we can be easily installed via Google Play Store.
If a person take a look at these files, we have to face the shame. Because of which we always hesitate when someone asks to give the phone. However, there is several ways available for Android Smartphone with that we can prevent our friend to see this sensitive information. So Follow below topics to protect files-folder with apps and without any app.
1. Protect Files-folder with AppLock security app
There are many AppLocking apps available in the Google Play Store, These apps can protect your files, folder, and apps with a password Lock and pattern Lock. So when a friend will want to open any app then they will not be able to access files without the password. I also wrote some post on these apps. You can read more about how to Lock and Unlock apps from an AppLock application:
This is the best way to prevent unauthorized file access to private files but if you have a close friend and he is asking your password to unlock AppLock protection. Then this will not work for you.
2. Protect and hide Files-folder without any app
Protect files-folder with applock is easy, But there are two another ways also available with which you can Hide & Protect your files without any app.
(i) Hide files with .nomedia file
On Android platform .nomedia file plays an important role. Because you install many apps that contain different types of media files. And .nomedia file tells to the system or other apps that don't include media files available in the folder. If a .nomedia file exists in the folder then all android app will exclude all media available in the folder or subfolder.
Create .nomedia file in Android
To create a .nomedia file in any folder download ES File Explorer app: Click here to go to download page. After download and install, launch the ES File Explorer and follow the step below to create a .nomedia file.
Browse the folder that you want to hide from other apps.
In the folder, tap the 3 dot menu button and select +New option.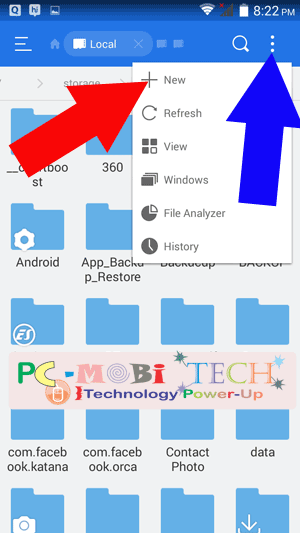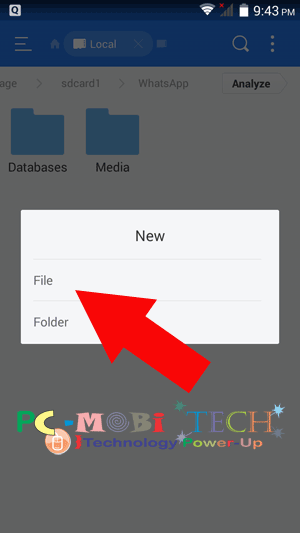 Enter filename .nomedia and Tap on "OK" to create a .nomedia file.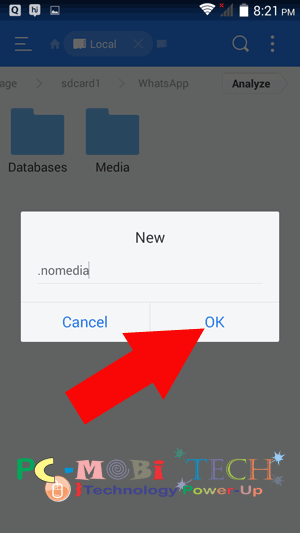 That's it, now you have been successfully hidden your private folder and all the files stored in the folder will be also hidden from all apps.
(ii) Hide Folder with (.) dot character
With the .nomedia file we can only hide files from the app. But anyone can browse the folder by using any file explorer app such as ES File Explorer. If you want to completely hide the folder and want no one can see this then Android has a great ability to hide the folder. And for this, you'll need only create a folder with the dot (.) eg: .myvideo
Create a ".name" folder.
To create a with . character you will need follow same steps as I have described for .nomedia file. So open Es File Explorer and follow these steps:
Browse the place where you want to create a folder with . dot.
When you are in that place tap the menu button and select "New" option.
Now New File Folder Creation box appear to choose Folder option.
Enter a name with .(dot) eg: .myvideo
Tap on OK to create the hidden folder.
Note: After creation folder will be hidden automatically. And if you want to Copy or move your files in the .name folder then you will need to use ES File Explorer. Follow below steps to unhide and copy-move content in the folder.
How to Copy Content and open .name folder?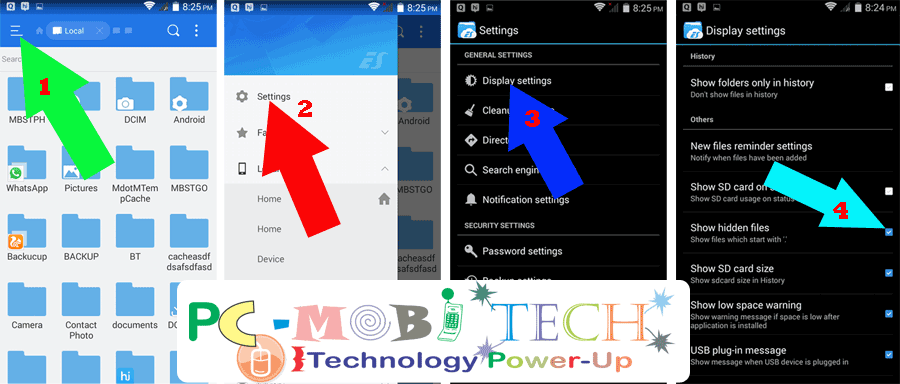 Launch ES File Explorer and browse the place where you have created the folder with dot. And follow the step:
Tap on top left 3 line menu.
Choose Settings from the Menu.
Tap on Display Settings.
Tick the checkbox Show Hidden Files.
Now You can see all files and folder with dot name. You can also rename any existing folder and can add a dot before the name and your folder will be hidden automatically from the Explorer as well as from other apps.
Also See: