FileZilla Client is a free & simple solution for the webmasters. FileZilla supports FTP, FTPS (SSL Secured FTP) and SFTP connection over the internet. It can easily connect a PC to CPanel or FTP account directly. With FileZilla Client software we can download & upload large files without any interruption. If a File transfer interruption occurs then it can be easily resumed with its unique file Resume feature. If you are facing the problem with file resuming function and don't know about how to resume a file Download and upload transfer then here I'll tell how can you resume a broken file transfer in FileZilla Client software.
Resume file transfer in FileZilla Client?
Sometimes file transfer interrupts due to internet failure If file transfer failed then the file will be moved to Failed transfers tab.
To resume a failed transfer click on Failed transfers tab. Now right click on the file and choose Reset and requeue selected files option from the context menu.
Now the Failed transfer again will be moved to Queued files tab. Again click on Queued files tab. Right-click on the file & choose Process Queue option from the context menu.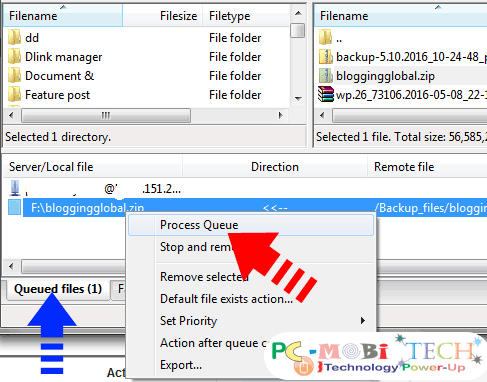 Now FileZilla will re-authenticate the connection with your specified account. As soon as it will re-authenticate the account, a

Target file already exists

dialog box will appear. From the Dialog box select Resume radio button & click on OK to verify.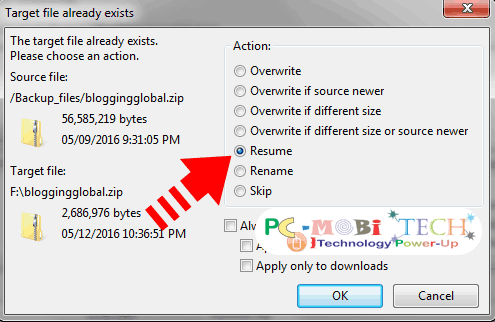 And now you will see your download or upload restarted from the same point.
Resume the file transfer after restarting the FileZilla:
Sometimes we need to stop or close FileZilla for some reason and the file download is still in progress. Then you can pause the download and resume back it later. To pause download simply click on the Close (X) button and click Yes for verify stop the download.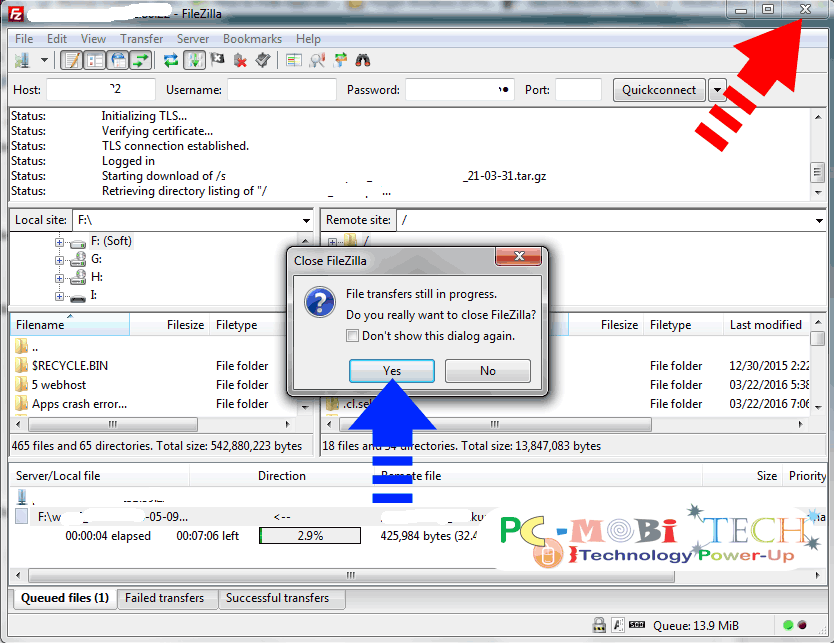 And when you restart the FileZilla Client, you will see the file is still available in Queued files tab, to resume the file connect your PC to CPanel/FTP/FTPS/SFTP account and after connection simply right click and choose

Process Queue

option. A Target file already exists dialog box will appear, select Resume radio button & click OK to verify. Your file will start at the same point where you had paused the download.
Note:
Now, Filezilla also supports direct broken download/Upload resume system. Hence, when the file download or Upload interrupts, then you'll only need to again right click on the source file and choose the Download or Upload option from the menu. If the download or Upload folder consists previously downloaded file part, the Target file already exists dialog box will appear, So you can select the Resume Action radio button and finally click on the OK button to resume the Download/Upload file.
If you have found this helpful then please share it with others.
Also See: