Many times we want to try a service before buying. Same if you thinking to try TunnelBearVPN before making purchase its premium service, then here I'm sharing the steps, by following you can easily subscribe Tunnelbear VPN free trial for 7 Days.
Get Upto 58% Discount on TunnelBear VPN
TunnelBear VPN 7-days Free Trial
It is an excellent opportunity for you because TunnelBear is giving 7-days free trial for Premium VPN services. So if you want to check paid plan before going to premium purchase, then it would be a good idea try Tunnel bear seven days under the free VPN trial offer.
After clicking on the above link you will land on the Tunnelbear vpn trial offer page, Here click on the Try free for 7 days button.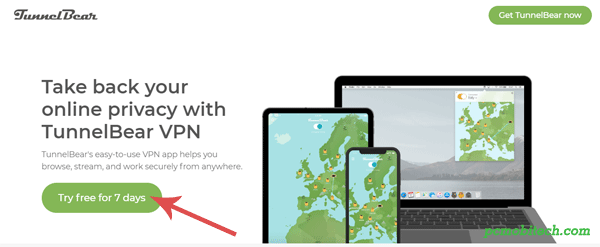 Next, you will have to fill your credit or debit card detail, now you will say why share credit or debit card detail, then here it is the answer:
To prevent free trial account fraud it is must required thing to ask card detail because no one is going to fill these detail until they truly want to try free trial. If they will not ask for the these details, then many times people create free trial account and after the 7 days, another free trial account can be created with another name and email id. So service provider can't catch to fraudsters and VPN's provider will come in huge loss.
Hence, every service provider start asking card details before giving to premium trial for free. And you can share the detail without any tension because they will not charge you anything during the trial period and you can cancel the subscription anytime within 7 days, in case you don't get full satisfaction. After filling Card details, click on the Start Tunneling button.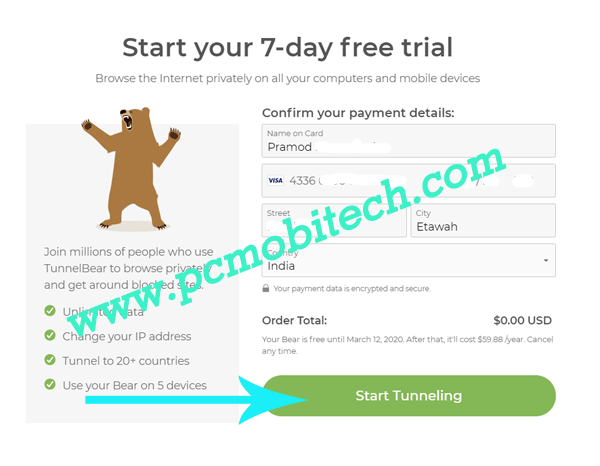 As soon as you click on the Start Tunneling button, you will see account sign up popup screen. Here enter the working email Id and strong password. After filling details hit the Create Account button.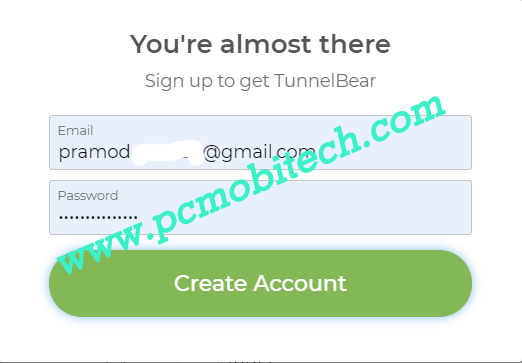 Now go to email account and verify the email address and you have successfully signed up for free 7 days trial.
Please Note: If you don't cancel you trial within 7days, then Tunnelbear will charge your card and upgrade your account to 1 year Premium subscription.