We lock some important files & folder with folder-protecting software, such as Folder Lock. Because we don't want that anyone sees our personal, sensitive information. Folder Lock hides our private files/folder & protect our privacy and only we can open the secure folder by unlocking password. In the previous version of Folder Guard, we can easily unlock all files & folder in Windows Safe Mode when we have forgotten the password.
Now Folder Guard has the more advanced security feature. So this has become a good folder encryption software but what will we do, if forgotten the password. There are lots of tricks available on the internet but they are not working with latest Folder lock. So how to unlock file/folder from Folder Lock software, if we have forgotten the Folder Lock password.
Unlock File/ folder from Folder Lock without password?
Here I'm sharing a simple process with which you can easily stop Folder Guard folder protection & can get your files back. But for this, you'll need to restart PC into Safe Mode.
Start Windows in Safe Boot Mode.
Press Windows + R key together. (Or you can type RUN in Start menu search box)

Run

Dialog box will appear.
Type

MSCONFIG

in RUN dialog box.

System Configuration

dialog box will appear. Click on

Boot

tab.
Tick the

Safe Boot

check box with

minimal

radio button.
Click on

OK

.
Now another dialog box will appear and ask you to

restart Windows

in safe mode.
Click on

Restart

button to restart Windows in Safe mode.
Also See:
Having any Problem to starting windows in safe mode, read this post with pictures detail:
How to start Windows XP, Vista, 7 (Seven), 8, 8.1 and Windows 10 in safe mode.
After the restart in safe mode run original setup installation of Folder-Lock software. If you don't have the Installation software of Folder-Lock, then download it from here: Click here to download Folder-Lock.
After installation of Folder Guard, Don't click on Finish button. Otherwise, it asks to restart the windows, if you did it then Folder Lock will lock the folder/file again. So don't do anything and leave the box to remain as it is.
Now go the file/folder location, where your folder is locked. You will see your locked folder but when you want to open the Folder/File, It will not open because folder/file access permission is denied. Now you'll need to remove file/folder access permission.
How to remove Folder Access Permission?
Right-click on the file/folder & choose Properties option from the context menu. After this follow these point:
In the File/Folder Properties dialog box click on Security tab.
In Security click on Edit button.
Now you will see Group or user names box. The usernames are SYSTEM, Your Name, Administrator etc.
Select the first name and you will see Deny checkbox list (Full control, Modify, Read & Execute, List Folder Contents, Read, Write etc.) in Permission for "username". Now untick all Deny check box. And do the same process for all other usernames.
Click on OK.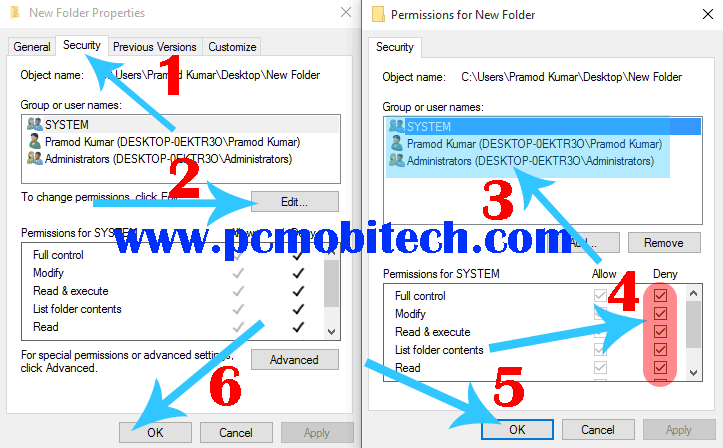 Sometimes windows ask you to verify then click on Yes to change the folder permission.
That's it! You have successfully stopped folder password protection and now open the password protect folder & cut/copy the content & paste it to another place or folder.
This is working for me. Please let me know, Whether it is working for you.