Now all functions of the Android OS will be available on PC because Remix OS has been released for the PC. Remix OS is an android based Operating System. The Remix OS enables all the PC functionality along with the Android such as Multitasking, Keyboard support, Mouse right click support, Taskbar, Google Play Store, File Manager, Updates, Notification, Taskbar. It is great for android lover because now don't need to install Bluestacks which gives us leggy performance. The operating System gives full power of PC, Use two or more app at same time on same window & don't need to minimize. The Remix operating system is installed on the USB Drive and does not Affects any existing Windows, Linux, Mac PC files. So you'll need a fast USB drive. The Official OS developer Jide recommends an USB Flash drive with 20MB/s or faster write speeds. If you have a faster USB Disk Drive then you can easily use Remix OS any where. Just create an USB bootable disk & use this with any PC. Lets ready how to download & create a Remix Os Bootable USB Disk.
How to create a Remix OS Bootable USB Drive Using Remix OS USB Tool
Requirement-
An 8GB+ more USB stick with 20MB/s write speeds (Minimum 10MB/s write speeds).
Windows running operating system to make USB disk because USB tool only supports Windows.
Remix OS ISO with USB tool.
Note: Before creating Remix OS bootable USB disk, Insert a blank USB Flash disk drive into the USB Port. After this format USB disk-
Right click on USB drive icon in Explorer window & click on Format.
Select Fat32 from the file, tick the Quick Format check box.
Click on Start.
Download Remix OS for PC from official site-
Remix OS is right now only available for developers. But anyone can download it. On the download page tick the check box- I am a developer and have read the above message. After that click on Download button. or if you want to download Remix OS via Torrent downloader such as Bit Torrent or u Torrent then download file using Torrent Download button.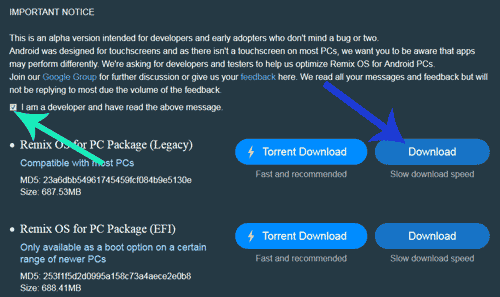 Save file in your computer.
When the download is complete. Open the Remix OS download containing folder. This is a ZIP compressed file which you will need to un-compress. to Uncompress the file, right-click on the remix OS files and click on Extract All or if you are using Winrar then Extract files. If asking to verification for Uncompress click OK to verify.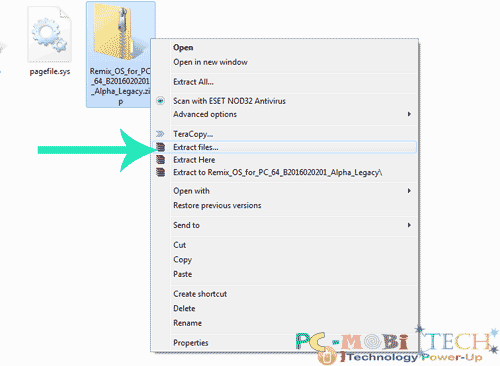 After this go to the uncompressed folder. Folder contains three files How to Launch Remix OS for PC.txt, Remix_OS_for_PC ISO file & Remixos-usb-tool. Now Right click on remixos-usb-tool & click on Run as administrator from the context menu.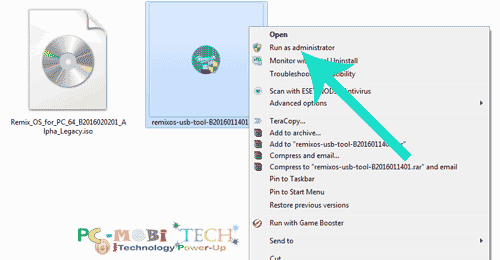 You will see Remix OS USB Tool main screen-
Click on Browse & select Remix_OS_for_PC ISO file from the explorer.
Select USB Disk from the dropdown list menu.
Click on OK.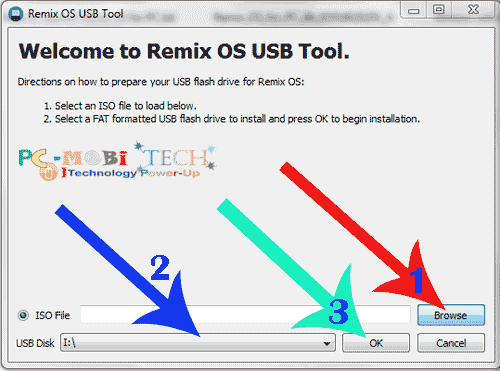 Now Wait for few minutes. When USB stick ready for use then USB Tool window will ask you to restart the window. Then click on the Exit button, or if you want to run it immediately then click on Reboot Now button to restart.
I hope this tutorial will help you!